Platinum is used in catalytic converters, laboratory equipment, electrical contacts and electrodes, platinum resistance thermometers, dentistry equipment, and jewelry. Because only a few hundred tonnes are produced annually, it is a scarce material, and is highly valuable and is a major precious metal commodity.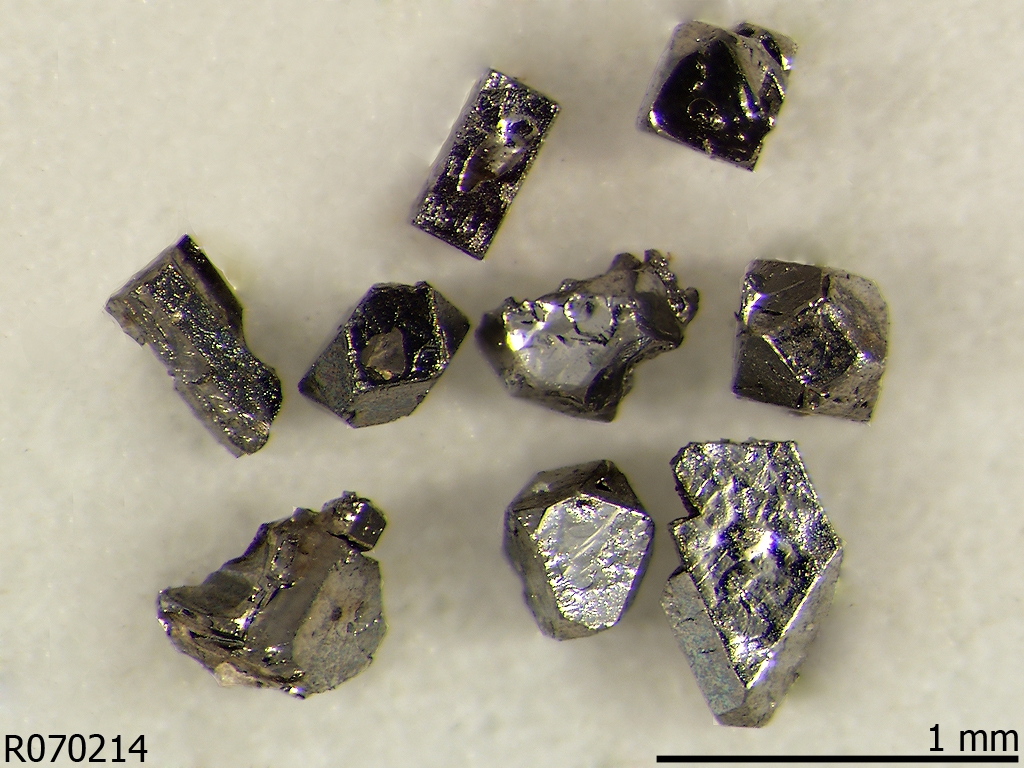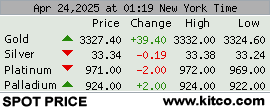 Platinum price: 12 months
It was announced in October 2014 ago by the London Platinum and Palladium Fixing Company Limited (LPPFCL) that the responsibility for administering a new electronic Fixing process for the two metals has been awarded to the now Hong Kong-owned London Metal Exchange (LME).
The LPPFCL had previously announced the setting up of a Request for Proposal (RFP) following a review of its Fixing process at the end of July. This was with the aim of appointing a third party to assume responsibility for the administration of the Fixing in place of the LPPFCL. The recent announcement was that the LME had been selected and has committed to become the new administrator of the Fixing process.
The LPPFCL is now finalising arrangements for the transfer of the administration of the Fixing to the LME with effect from 1 December 2014 while the LME has in the meantime developed a bespoke platform (LMEbullion) that will provide for the necessary electronic pricing solution.
The LPPFCL had been administering the pricing system for the metals for the past 25 years utilising a closed telephone call system but had decided, in the light of doubts being cast on the integrity of the various precious metals fixing processes, to seek a new electronic answer to pricing the metals.
Historical platinum price forecasts
Links to platinum supply and demand
Global mine platinum production wss expected to reach 7,3 million ounces in 2007 from seven million ounces in 2006, led again by South Africa, which drove the six percent increase in output in 2006. Johnson Matthey's review in May 2007 of the platinum and palladium markets concludes that platinum should during 2007 continue its ten year record of continuous growth, with the auto industry continuing to consume increasing amounts of platinum in emission control catalyst. Demand is likely to be increased further by increasing Asian automotive production.
Johnson Matthey estimates 2006 supplies at 6,79 million oz, up from 6,64 million oz in 2005, with the increase accounted for by rising mine supplies from South Africa, notably from the two new mines Everest and Two Rivers (Aquarius and Impala), while Anglo Platinum contributed an additional 180,000 oz.
Russian and North American supplies were both slightly reduced. If scrapped autocatalysts are added into the supply side, then supplies increased from 7,41 million oz to 7,64 milling oz. Demand grew from 7,47 million oz to 7,63 million oz, a rise of 2.1 % and giving a very small surplus of 10,000 ounces.
An estimated 2.5 million oz of platinum from junior projects in South Africa could come on to the market in five years, combined with two million more oz from expansions by the major companies, Investec platinum analyst Leon Esterhuizen said in July, 2007. According to Investec's Junior Platinum Project Review, the current platinum supply of eight million oz/year could grow by 50% over the next five years. It is unlikely that demand will keep pace with this size of increase.
Processing problems, strikes and closures related to safety issues knocked South African platinum production which is expected to be 7% below forecasts in 2007, said Johnson Matthey in November, 2007. The market would change course in 2007 and see a deficit of 265 000 ounces. It had a surplus of 65 000 ounces in 2006 after seven successive years of deficits.
The outcome was that platinum shipments from South Africa were, at an estimated 5,2 million oz, likely to be 70,000 oz lower year-on-year. Global platinum supplies were expected to fall 2% to 6,66 million oz.
The Zurich Cantonal Bank (ZKB) announced in April 2007 that it is launching ETF's backed by physical supplies of platinum, palladium and silver. The ETF's will begin trading on the Swiss Exchange from 10 May 2007.
ZKB envisages an ETF accounting for 70,000 oz of platinum and 200,000 oz of palladium in the first year and has already bought, paid for and stored that metal.
Three days later, London-based ETF Securities announced that it would be opening a similar fund on the London Stock Exchange on 24 April 2007.

Note on the geology of the Bushveld Complex, South Africa
The Bushveld Complex is the world's largest source of platinum group metals (PGMs).
(In 2006 South Africa supplied 77,5% of global supply - 5,4 million oz of the total 7 million oz of supply and 7,02 million oz of demand.) It is an igneous intrusion measuring approximately 450 km east to west and 300 km north to south, with a thickness of between 7 and 9 km. The complex comprises a variety of diverse igneous rocks which range in composition from ultramafic to felsic, with the lateral persistence and regularity of its layers an outstanding characteristic. The Rustenburg Layered Suite, in which both the Merensky Reef and the UG2 Chromitite Layer are found, comprises a well-layered ultramafic to mafic succession. These two horizons are exploited for PGMs and base metals. The PGMs - platinum, palladium, rhodium, ruthenium, osmium and iridium - are recovered along with small amounts of gold, and quantities of associated nickel, copper and cobalt. The Bushveld Igneous Complex is also host to the largest resources of chromium and vanadium in the world.
In 1924 Hans Merensky followed up the discovery of alluvial platinum by A F Lombard on his farm in Lydenburg and discovered its source in the Bushveld Igneous Complex.
Source:
http://en.wikipedia.org/wiki/Hans_Merensky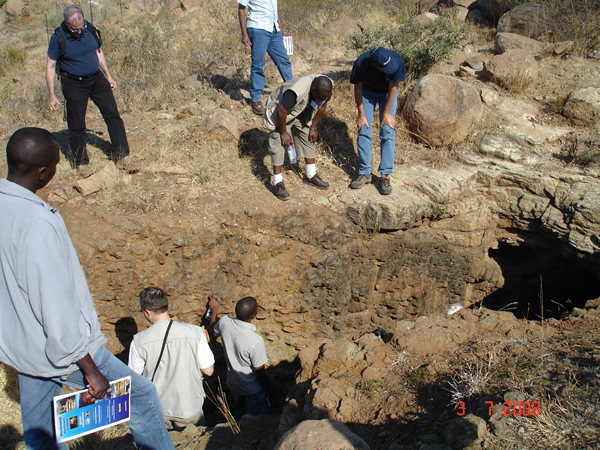 Outcrop of the Merensky Reef, Eastern Bushveld Igneous Complex, South Africa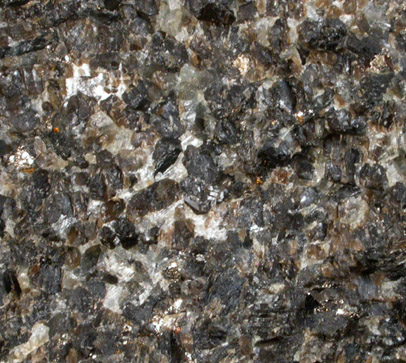 Detail of platinum ore from the Merensky Reef, Rustenburg, South Africa.
Click HERE for an image showing the locations and descriptions of the Bushveld Complex mines.
Note on the geology of the Great Dyke in Zimbabwe
Source: Implats


The Great Dyke in Zimbabwe is a layered complex that extends for 550 km and has a maximum width of 11 km. The stratigraphy is broadly divided between a lower ultramafic and an overlying mafic sequence. The ultramafic sequence hosts the P1 pyroxenite, directly below the mafic-ultramafic contact, which, in turn, hosts the economic PGM-bearing main sulphide zone (MSZ). The MSZ is generally 2 m to 3 m thick.
Zimbabwe platinum poised for a lift-off
Click HERE for

THE PLATINUM AND PALLADIUM RESOURCES OF THE BUSHVELD COMPLEX

(South African Journal of Science)
Click HERE for

PLATINUM-GROUP METAL MINES IN SOUTH AFRICA

(Minerals Bureau)

and produced 1,815,000 oz in 2005 from
Impala Platinum mine

Marula Platinum mine ( 87,5%, Tubatse Platinum and the Marula Community Trust-15%, Mmakau Mining -7,5%)

Mimosa mine (50%) (Zimbabwe)

Zimplats (86%) (Zimbabwe)
Total reserves, as all categories of mineral resources: 215,100,000 oz

The company has plans to boost production to 2,3 million oz by 2010 and by another 500 000 oz per year of platinum beyond that.
In February, 2007, Impala made a cash takeover bid of 297m pounds (R4.2bn) for African Platinum, the AIM-traded company. Afplats has resources of 92 million oz on the southern portion of the Western Limb of the Bushveld Igneous Complex. It was involved in developing a R2,3bn, 1,35km deep mine at Leeuwkop to produce 300,000 oz of platinum group metals in concentrate for treatment at Impala's facilities starting in just over four year's time.
Western Platinum Mine

Eastern Platinum Mine

Karee Mine

Lonmin Platinum Limpopo (formerly Messina) Mine
Total reserves, as 3PGE+Au: 143,340,000 oz
Five underground mines;

Oktyabrskiy Mine

Komsomolskiy Mine

Taymirskiy Mine

Severonkel Mine (Kola Peninsula)

Perchenganikel Mine (Kola Peninsula)
Reserves are reportedly sufficient to support 50 years' output at current rates.
Norilsk is the largest mining and metals company in Russia and is one of the world's largest producers of nickel, palladium, platinum and copper. It had a market capitalization of $36-billion (U.S.) in 2007 and claimed it was the sixth-largest publicly traded mining company in the world, as measured by market capitalization.
Reserves, as all categories, 3PGE+Au: 30,115,000 oz
The platinum transaction between

Northam

,

Mvela Resources

and

Anglo Platinum

said to have transformed Mvela into the fourth large platinum producer in South Africa, has been found wanting as Northam has found the Booysendal 4PGE resource lower than estimated.

The parties announced in January, 2008, that Northam - more than 60% owned by Mvela after the transaction - will now pay Mvela 4m new shares less for a larger property as its independent due diligence study has found 94 million oz of 4PGE (platinum, palladium, rhodium and gold) on the Booysendal property instead of 112 million oz of 4PGE originally sold to it.
Stillwater Mine

East Boulder Mine
Reserves, proven and probable, of platinum and palladium: 24,100,000 oz
Kroondal Mine

Marikana Mine

Mimosa Mine (50%) (Zimbabwe)


Chromite Tailings Retreatment Plant
Everest Mine being established, planned production 225,000 oz per annum
Total reserves, proved and probable, 3PGE+Au: 9,410,000 oz
Modikwa Platinum mine (50%)

Nkomati Nickel mine (50%)
Two Rivers Platinum project (55%) to produce 220,000 oz per year
Kalplats PGM Exploration Project
Reserves, Modikwa, 3PGE+Au: 2,460,000 oz (UG2)
Reserves, Two Rivers, 5PGE+Au: 5,230,000 oz (UG2)
Inferred resource, Kalplats, 3PGE+Au: 2,820,000 oz
Total resources, all categories, 89,700,000 t at a grade of 4,40 g/t 3PGE+Au or 12,680,000 oz.
Indicated UG2 reserve of 152,100,000 t at a grade of 5,41 g/t 5PGE+Au or 26,475,000 oz PGM (11,813,000 oz platinum)
Indicated Merensky Reef reserve of 96,500,000 t at a grade of 3,88/t 5PGE+Au or 12,038,000 oz PGM (10,500,000 oz platinum)
Elandsfontein Platinum Mine.

The opencast operation will deliver 160,000 oz of the four platinum group elements, while the underground operations will boost output to 270,000 oz of the four elements. Eland had a stockpile of 60,000 tonnes of ore in March, 2007, which was in line with the schedule for the project just over half way to completion. On 21 December 2006 the mine was awarded a mining right covering both the original Elandsfontein prospecting area, acquired from Rustenburg Platinum Mines Limited, and the contiguous `triangle' land owned by the state. In January 2007, the group announced the following SAMREC-compliant UG2 mineral reserve estimate for Elandsfontein Platinum Mine: 42,029 million tonnes at 3,41 g/t 4E or 4,617 million oz of contained metal (4E). It was announced in January 2007 that the DME had consented to the transfer to Eland Platinum of prospecting rights over the Zilkaatsnek properties, which add approximately 1,5 km of UG2 outcrop to the mine's resource base. Work has begun to determine the nature and extent of theUG2 deposit on the Zilkaatsnek properties.
Total UG2 resource, all categories, 165,400,000 t at a grade of 4,05 g/t 4PGE+AU or 21,580,000 oz.
Inferred reserves of palladium 2,455,000 oz
Reserves, proved and probable, of 14,100,000 oz platinum
Resource of 140,800,000 oz platinum at a grade of 3.52 g/t.
Zimbabwe Platinum Mines commissioned a new underground mine at Ngezi under phase one of its ambitious US$258 million long-term expansion programme at the end of April 2007. The underground mine, named Bimha Mine, is expected to increase ore production to 4,5 million tonnes per year and boost platinum output to about 160 000 ounces annually when it comes into full production in 2009.

In addition, Zimplats will produce 130 000 ounces of palladium, as well as significant quantities of gold, nickel and copper.
The Greater Leeuwkop property in the Bushveld Complex has a resource of 92 million oz of four PGMs.
The Akanani project in the Bushveld Complex has a resource of 33,7 million oz of three PGMs.



Great Australian Resources announced on 5 October, 2007, the consolidation of its strategic platinum projects in South Africa after reaching agreement to buy the outstanding 50 per cent shareholding in Platinum Mining Ventures Ltd. The move to 100 per cent will give Great Australian full ownership of the Mooiplats project and two additional grassroots exploration projects.