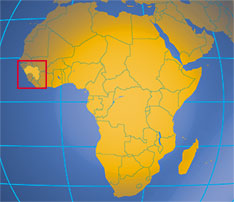 Direction Générale des Mines et Géologie
CIA Factbook
Political rights and civil liberties (Freedom House)
Guinea World Bank Involvement
French-English online dictionary
Travel and accommodation
The contribution of
mining to total exports in 2010 amounted to 65.2%
Guinea Mining News
Geology
Major parts of Guinea are underlain by crystalline basement Precambrian rocks comprising gneiss, migmatites and granitic intrusions that correspond to the southern portion of the West African Craton. The eastern two-thirds of the country is dominated by schists of the Kenema-Man domain and the Paleoproterozoic Birrimian System. Neoproterozoic and Paleozoic sediments with a basal tillite and overlying sandstones, marls and quartzites form wide parts of northern Guinea. Along the coast there occurs a strip of Neogene marine and alluvial sediments. A major N-S line of kimberlite dykes and pipes is present in southern Guinea.
Guinea is a country rich in various mineral commodities albeit largely under-exploited, among its mining resources bauxite is the major source of revenue historically providing over 60% of foreign exchange. It was the fifth largest producer of bauxite in 2008 accounting for 8.78% of global production and was Africa's leading bauxite producer with 92.2% of the total output. Guinea possesses over 25% of the world's known bauxite reserves which are of exceptional quality. In 2008 bauxite production decreased by 4.52% but alumina production increased by 9.56%. Installed alumina production capacity will increase from its current 640,000 tonnes to 7.1 Mt/ year by 2012. The bauxite and alumina sectors are expected to continue to play a major role in Guinea's economic development over the next decade.
Mining
Diamonds and gold also are mined and exported on a large scale. Guinea was the fifth largest producer in Africa of both these commodities in 2008 accounting for 3.2 per cent of the diamond and 4.35 per cent of the gold output respectively. Diamond output, mostly artisanal production from alluvial deposits sourced from kimberlites, more than tripled in 2008. Gold production which increased by 22.68 per cent in 2008, which was largely attributed to expanded capacity at the Lefa Mine and the Lefa corridor has a reported gold resource of 150 tonnes of gold. Gold is primarily found in shear-zone hosted Paleoproterozoic greenstone belts and associated placers. Guinea's mineral wealth also includes more than 4-billion tonnes of high-grade iron ore including the Mount Nimba and Simandou (BIF) iron ore deposits; the Mount Kakoulina copper-nickel-cobalt-PGM polymetallic deposit and as yet undetermined quantities of uranium in the north of the country along the border region with Mali. The Simandou iron ore project in the south-east of Guinea aims to be "the largest integrated iron ore mine and infrastructure project ever developed in Africa, with the potential to transform the Guinean economy and transport infrastructure
Oil & Gas
Richly endowed with minerals, Guinea possesses over 25 billion metric ton of bauxite--and perhaps up to one half of the world's reserves. In addition, Guinea's mineral wealth includes more than 4 billion tons of high-grade iron ore, significant diamond and gold deposits, and undetermined quantities of uranium.
Map showing location of bauxite deposits
The country has reserves exceeding 25 billion metric t of bauxite or approximately half the known world reserves.

Joint venture bauxite mining and alumina operations in northwest Guinea historically provide about 80% of Guinea's foreign exchange. The

Compagnie des Bauxites de Guinea

(CBG) is the main figure in the bauxite industry. CBG is a joint venture, in which 49% of the shares are owned by the Guinean Government and 51% by an international consortium led by Alcoa and Alcan. CBG exports about 14 million metric tons of high-grade bauxite every year. The

Compagnie des Bauxites de Kindia

(CBK), a joint venture between the Government of Guinea and

Russki Alumina

, produces some 2.5 million t annually, nearly all of which is exported to Russia and Eastern Europe. Dian Dian, a Guinean/Ukrainian joint bauxite venture, has a projected production rate of 1 million t per year, but is not expected to begin operations for several years. The

Alumina Compagnie de Guinée (ACG)

, which took over the former Friguia Consortium, produced about 2.4 million t of bauxite in 2004, which is used as raw material for its alumina refinery. Both

Global Alumina

and

Alcoa-Alcan

have signed conventions with the Government of Guinea to build large alumina refineries with a combined capacity of about 4 million t per year.

Alcoa

is present in Guinea as a 45% shareholder of

Halco Mining

, a partnership which owns 51% of

Compagnie des Bauxites de Guinee

(CBG). CBG, a partnership with the Government of Guinea, has exclusive rights to mine bauxite in Guinea's Sangaredi Plateau. In addition to mining in Sangaredi, CBG operates a port in Kamsar for drying and shipping bauxite to refineries worldwide.Global Alumina Corporation is negotiating to form a joint venture to develop and operate the company's 2,8 million tonne alumina refinery project in the Republic of Guinea with the BHP Billiton group, Dubai Aluminium Company Limited (DUBAL) and Mubadala Development Company PJSC . DUBAL is the owner of one of the largest single site aluminum smelters in the western world. It is wholly owned by the Dubai government and produces and exports primary aluminum products to more than 40 countries world-wide. Canada-based Global Alumina Corp. would retain a one-third stake in the refinery, which is due to start production early in 2009. The Sangaredi Refinery project involves construction of a three million tonne/year alumina refinery, a nine million tonne/year bauxite mine, and associated infrastructure. Global Alumina retains a 33.3% stake with Dubai Aluminium and Mubadala Development Company owning 25% and 8.3% respectively.
In November of 2005,
Chalco
was awarded 21 bauxite prospecting licenses for an area that covers a total of area of 10,488 sq km and lies between the regions of Kindia, Mamou, Dalaba and Mali. The value of this project is $63 million USD. Completion was expected within three years. It is unclear if the project was completed.
Click

HERE

for an overview
Map showing location of diamond occurrences
Stellar Diamonds

plc recovered the first diamonds from the Baoulé kimberlite pipe, in Guinea, following the commissioning of the mine's 100 t/h treatment plant, in September 2014. First ore processed yielded over 50 ct, including stones of 3.76 ct and 1.37 ct. CEO Karl Smithson said the company's next objective was to improve the efficiency of the commissioning of the plant before increasing the throughput of kimberlite ore, which could take a few weeks. While this large-scale bulk-sampling, or trial mining, is expected to establish the diamond grade and value of the kimberlite pipe to a high degree of confidence, it is also expected to provide cash flow to the company over the next 12 months," he outlined. Stellar now planned to move into full-scale trial mining once plant optimisation was complete and would look to process at least 100 000 t for diamond grade and value estimation. Meanwhile, as announced in December last year, Stellar signed a joint venture (JV) agreement with local group Société Tassiliman in relation to a licence to mine an area covering 1 km that hosted the Baoulé kimberlite pipe. Under the terms of the deal, Stellar was entitled to earn a 75% interest in the JV project once it had spent $5-million. "Stellar has now achieved this milestone … through a combination of expenditure by Stellar and vending into the project of plant and machinery. As a result, a new JV company has now been created and the licence is being transferred from Tassiliman to this JV," the company outlined. Stellar had the option to buy the remaining 25% of the new JV at fair market value and with the agreement of the JV partner.

Stellar Diamonds is targeting an overall resource base of 7.5 million carats across its portfolio in Guinea and Sierra Leone with an in-situ value of US$1 billion. The current focus is on fast-tracking its Baoulé kimberlite pipe project in Guinea to trial mining in 2014 and also on delivering a Bankable Feasibility Study at its 1.1 million carat JORC resource Tongo Dyke-1 in Sierra Leone in 2015.
AREDOR

, a joint diamond-mining venture between the Guinean Government (50%) and an Australian, British, and Swiss consortium, began production in 1984 and mined diamonds that are 90% gem quality. Production stopped from 1993 until 1996, when

First City Mining

of Canada purchased the international portion of the consortium.
De Beers

systematically prospected for kimberlites within Guinea between November 1995 and February 2004

. During this period, geophysical surveys were conducted along with the collection of reconnaissance and follow-up samples. From these activities De Beers were successful in the discovery of 25 new kimberlite occurrences. Between beginning of 2004 and May 2006, no active exploration was taking place, but De Beers still maintained a presence in the country.

In 2006, the Guinean subsidiary company Debsam Guinea was awarded three exploration licences in the eastern part of the country. Currently a team of geophysicists is on site conducting preliminary assessments.
Trivalence Mining Corporation (Canadian, TMI.V, also active in Botswana) has restarted its diamond production at the Aredor alluvial mine. Two of the company's Manitowoc draglines are operating at BAX Block, based on the sampling data from Bridge Oil the BAX Block is estimated to contain an indicated resource of approximately 1,8 million tons of gravel to yield a projected 100,000 carats.
West African Diamonds

plc

, the AIM-listed diamond exploration firm, has won the right to explore the six hectare Droujba kimberlite pipe in Guinea.
Click HERE for an overview
Map showing gold exploration and mining in 2011
Geology
Proterozoic Birmian rocks which consist of turbidite facies sedimentary sequences. There are two main types of gold deposits that occur in the Siguiri basin: laterite mineralization and in situ quartz-vein-related mineralisation. The laterite mineralization occurs as aprons of colluvial or as palaeo-channels of alluvial lateritic gravel adjacent to and immediately above the in situ vein-related mineralisation, which is hosted in meta-sediments with the better mineralization associated with vein stockworks that occurs preferentially in the coarser, brittle siltstones and sandstones.
A

ngloGold Ashanti

(NYSE:AU; JSE:ANG) operates the Siguiri

mine

, situated in the Siguiri district in the north-east of Guinea, about 850 kilometres from the capital city of Conakry. It produced 246 000 oz gold in 2005. Proved and probable ore reserves amounted to 60,3 million t grading 0,85 g/t Au
Crew Gold Corporation

(UK, TSX:CRU.TO) operates the

Lefa mine

(Lero-Karta mine)

,

approximately 700 km north-east of Conakry. Proven reserves amount to 24,9 million t at a grade of 1,7 g/t Au or 1,43 million oz gold. After completion of a new CIP plant, expected production will be between 320 000 and 350 000 oz gold per year.
Nordgold now operates the Lefa mine. Commercial production began at the Lefa mine in 2008. The mine was acquired by Nordgold at the end of July 2010, as part of the Crew Gold acquisition, with financial results consolidated from August 2010. Lefa gold mine operates a typical modern open pit operation with drilling and blasting followed by load and haul allowing for selective mining of the ore. The three major mining areas are the Fayalala, Lero-Karta and Kankarta pits. The Fayalala and Lero-Karta pits are approximately 8km apart and will be mined over the entire life of the project. Several smaller, higher grade satellite pits will provide supplementary feed for the mill over the life of the project.
Wega Mining

is exploring gold anomalies in the north-eastern part of the country called Haute-Guinée, in Mandiana and Siguiri préfectures.
Cassidy Gold Corporation

announced on December 4, 2007, that drilling resumed at the company's 100% owned Kouroussa Gold Project in Guinea.

Siguiri Basin Mining Inc.

(SBMI) has a joint venture with

Consolidated Mining Inc

which includes 5 miles of the Tinkisso river. A dredging permit was granted on August 9, 2002 for a period of 10 years. The permit is renewable in incremental five-year periods and it awarded the exclusive right to mine for gold and related minerals in the bottom sediments of the Tinkisso river.
Iron Ore
Map showing iron ore occurrences
Bellzone Mining plc is a publicly listed company on the London Stock Exchange and was admitted to the Alternative Investment Market (AIM: BZM) on 1st April 2010. Bellzone Mining plc ("Bellzone" or "the Company") is an exploration and resource development company with iron ore and nickel/copper permits in the Republic of Guinea, West Africa. Kalia Mine: The Company's flagship project, the Kalia Mine Project, is planned to commence production in 2015 and be producing iron ore and iron ore concentrate at a rate of 50 million tonnes per annum. The Kalia Mine Project has 1.46 billion tonnes of contained iron JORC resources in 6.16 billion tonnes of magnetite, 193 million tonnes of oxide and 9.25 million tonnes of Supergene BIF. The oxide and Supergene BIF resources have been established from just 10.5% of the 55km2 of the mapped surface oxides on the Kalia permit while the magnetite has been established over 7km of the 19km Kalia I strike. Drilling results and internal estimates indicate that the Kalia Mine Project has the potential to host more than 10 billion tonnes of magnetite and 2 billion tonnes of oxide. Forécariah JV: Bellzone and CIF have fully funded a joint venture to undertake the accelerated exploration and development programme at CIF's Forécariah iron permits that lie between 30 and 80 kilometres from the Guinea coast. The Forécariah permits are held in a CIF subsidiary, Guinea Development Corporation ("GDC") and will be transferred to the JV operations company, Forécariah Guinea Mining SA as per the terms of the definitive and JV shareholder agreements. Commissioning production commenced on schedule Q1 2012 and production will be at an initial rate of 3-4 mtpa ramping to a rate of 10 mtpa. Other activities: Bellzone has completed a mapping and surface sampling programme identifying highly prospective targets at it's Sadeka Nickel/Copper Project. A VTEM aerial survey has been completed and prospective targets have been identified and a drilling programme has commenced with initial results expected Q4 2012. Bellzone said on 17 September 2013 it expects its Kalia iron ore project to produce 7 million tonnes per year with production to start in 2015. In its feasibility study Bellzone said the cost of the first phase of the project, which has resources of 124.2 million tonnes, would be $865 million. A second phase would then use existing cash flows to extend the project by mining a lower iron ore grade. Bellzone has struggled to successfully ramp up its other Guinea project, Forecariah, saying that it would miss already lowered shipping targets.
Vale to prioritise Brazil iron ore mine over Guinea project

.

Vale, the world's second-largest mining company, is likely to make its $19.5 billion Serra Sul iron ore mine project in Brazil

a priority over a similar development in the West African nation of Guinea, a source with knowledge of the firm's strategy

said.

The emphasis on the project in the Amazon comes as Guinea, which holds rich deposits of iron ore and is the world's top

supplier of the aluminum ore bauxite, struggles to maintain foreign investment amid deepening political turmoil, labor

unrest and a government review of mining contracts.

The granting in June of a so-called preliminary environmental license for the Sierra Sul project, which includes railway and

port investments, means the development of the Simandou site in Guinea is less urgent, the source said on Tuesday.

"All things considered, projects need to be prioritized," said the source, who asked not be named as his employer does not

allow him to speak to the press. "The priority has become Serra Sul."

Serra Sul is an extension of Vale's giant Carajas iron, copper and nickel mining complex in Brazil's Para state. It is expected

to have a capacity of 90 million tonnes a year, about 9 percent of current world iron-ore exports, helping maintain Vale's

position as the No. 1 producer.

Simandou, while holding enormous high-quality reserves, faces major political, commercial and transportation hurdles

before it can be developed.

Guinea recently revised its mining code, raising the state's mandatory stake in mining projects to 35 percent from 15

percent and plans to change other clauses in the code after consultation with mining companies.

"I believe it will be difficult for Vale to invest in both projects at the same time because it would require very high capital

spending for the company," said Marcelo Aguiar, metals and mining company analyst with Goldman Sachs in Sao Paulo.

"Vale investment in Simandou appears to have lost a bit of its urgency after getting the license for Serra Sul."

Vale gained the rights to develop iron ore in Simandou in 2010 when it agreed to pay $2.5 billion for a 51 percent stake in

the Guinea iron-ore mining operation of BSG Resources Ltd, the London-based mining group controlled by Israeli

businessman Beny Stenmetz.

A newspaper in Brazil reported on Sunday that BSG was preparing to sue investment bank BTG Pactual, which it accuses of

misusing its role as an adviser to Guinea's government to win licenses for a holding company at BSG's expense.

Guinea's mines minister Mohamed Lamine Fofana called BSG Resources threat to sue BTG "insulting" in an e-mailed

response to questions from Reuters.

The Serra Sul mine is at the center of plans to boost Vale iron ore output by 40 percent to 460 million metric tonnes a year in

2017.

Serra Sul and Carajas are two of the largest high-grade iron ore projects under development to meet soaring demand for

iron ore from China.

Vale produces more than a quarter of the world's sea borne iron ore exports of more than 1 billion tonnes a year. Work to

gain the preliminary Serra Sul license took nearly a decade.

Vale, though, has been re-evaluating its investment plans in the wake of a slowdown in China and sluggish growth in the

United States, Europe and Japan. In late 2011, it cut planned 2012 spending 11 percent to $21.4 billion.

As iron-ore prices fell to three year lows earlier this month, slashing billions from revenue, further cuts came under

consideration.
Sable Mining Africa Limited is an AIM listed resource company primarily focussed on the development of the 123.5 sq km Nimba Iron Ore Project in south-east Guinea. Nimba is a significant new iron ore discovery, which, with a current mineral resource of 135.5Mt at an in-situ grade of 59.4% iron estimated at an iron cut-off of 40% and a current DSO exploration target of 45-80Mt, makes it the second largest on- or near-rail DSO deposit held outside of the majors in West Africa. Sable Mining is confident it will get a decree from the country's government to export iron ore through Liberia in the coming months, a move which would dramatically improve the project's viability, its chief executive said in September 2013. Liberia, which neighbours Guinea, has an existing rail link and offers a far closer export route meaning companies with iron ore projects in Guinea, including Vale and Rio Tinto, are jostling to export through the country. But the Guinean government has been reluctant to permit this out of a desire to improve its own infrastructure. The giant Simandou project, which lies further in-land than Sable's Nimba, is one of the world's largest untapped deposits of iron ore and seen as a unique development opportunity for Guinea. "I'm 110 percent sure we'll get the papers," Andrew Groves, chief executive of Sable Mining, told Reuters in an interview referring to the decree from the Guinean government allowing export through Liberia. West Africa, and Guinea in particular, is seen as the next major frontier for iron ore, but a dire lack of infrastructure and the huge investments needed have crippled projects. Groves, who runs the company with former England cricketer Phil Edmonds, said he also expected the mining licence to be awarded this quarter, with capital raising starting next year. "We'll have to raise about $200-300 million and we'll start doing that in the new year," he said. This is likely to be made up of an equal split of bonds, equity and offtake agreements. In terms of offtake agreements Groves said he was not only looking at China, whose demand is the main driver for West African iron ore, but also at Europe. "Our grades are so high (60 percent iron grade) that we're also looking at Europe," he said. The existing rail line is used by steel giant ArcelorMittal which exports iron ore from the Yekepa mine in Liberia, just on the other side of the border from Sable's project. Groves said the line had ample spare capacity to support the 5 million tonnes of production a year Sable is targeting after 2015. But back in June head of ArcelorMittal's West African operations, Joseph Mathews, told Reuters the line was at capacity and new producers could not rely on it. Permission to export through Liberia and the mining licence would put Sable back on the map, according to Groves. In 2010 Groves, who successfully sold a previous venture, Congo-focused copper miner Camec, for nearly 600 million pounds to ENRC, said Sable would be worth $1 billion within a year. The company, whose shares have more than halved since January, is now worth $50 million. "We'll get there," he said. "In the next few months people will start taking us more seriously."
Nemex Resources Ltd

is sufficiently advanced in negotiations with joint venture partners and banks in South Africa, the Middle East and Europe to finance its proposed iron ore project Télimélé in western Guinea. On July 24 2013, the company listed on ASX welcomed the progress made ​​in the negotiations and announced a funding opportunity offered by South African banks for an initial annual production of 2.5 million tonnes of iron ore. " We are looking for several other sources of funding, including strategic partnerships with groups that are able to finance the preparatory work of the project or the relatively minor capital costs required for setting up the project , "said Peter Turner , CEO Nemex Resources. In its draft Télimélé, Nemex Resources have drilled only 5% of the area which revealed mineralization resources are estimated at 258 million tonnes grading 37.3% iron, including 16.8 million possible tons of ore grading 55.1% iron..
Mega Uranium Ltd (MGA.T) explored the Mt Kakoulima Cu-Ni-Co-PGM Property in Guinea. The project, located 35-50 km northeast of Conakry, the capital and principal port of Guinea, comprises two contiguous exploration licences (total 298 km2), covering a 30 km strike length of the northern and southern margins of the mafic/ultramafic Kaloum Igneous Complex (KIC). Between 1996 and 2001, previous explorers

Semafo/Afcan

and

Rio Tinto

intersected several narrow high grade Ni-Cu-Co-PGM sulphide intervals within a gabbro-pyroxenite unit in the upper part of the KIC. In 2005, drilling continued to intersect sulphide disseminations and blebs in the immediate vicinity of the basal contact within pyroxenite/gabbro plus transitional and brecciated lithologies. Overall, in 2004 and 2005, a total of 9303,5 m was drilled in 23 diamond core holes, 16 on the northern contact zone and 5 in the southern area. Drilling results included 14,7 m @ 0,35% Ni, 0,39% Cu, 0,17 g/t Pt and 0,79 g/t Pd, and maximum values over one metre intervals of 0,45% Ni and 0,47% Cu.
FNX Mining Company Inc

(AMEX:FNX) (TSX:FNX) announced in February, 2008, that they have signed an option/joint venture agreement with

Maple Minerals Corporation

(MPM-TSXV) on FNX's recently optioned Mt. Kakoulima Ni-Cu-Co-PGE exploration project in Guinea. Maple will provide the initial exploration funding and FNX will provide the mineral rights along with geological and exploration expertise.
Houston's

HyperDynamics Corporation

has been meeting with government officials to discuss hydrocarbon development plans in the country. The company has exploration and data marketing rights for the entire continental margin of Guinea, which covers 210 miles of coastline and up to 150 miles offshore.
Murchison United NL

(Australian) has been granted six uranium exploration licences and started drilling the Firawa prospect in southern Guinea in May, 2007. The company intends drilling the Bohoduo prospect and doing reconnaissance exploration at the Sesse uranium prospect during 2008.