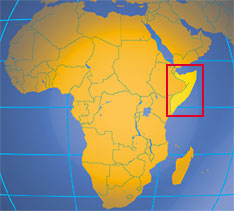 Geological Survey Department
Ministry of Minerals and Water Resources
P.O. Box 744, Mogadishu
CIA Factbook
Political rights and civil liberties (Freedom House)
Arabic-English online dictionary
Travel and accommodation
The contribution of
mining to total exports in 2010 amounted to 33.4%
Somalia Mining News


Source: CIA Factbook
Legend
Geology
Somalia is divided geologically into two broad regions, one in the extreme northwest which comprises mostly crystalline (Proterozoic) basement rocks and minor components of a Mesozoic sedimentary marine succession and the remainder of the country comprising dominantly sedimentary sequences. The latter can be subdivided into a southern region which consists of a Phanerozoic basin enclosing an inlier of Proterozoic metamorphics and a northern basin of Cenozoic age. The northern Somali crystalline basement consists of metasedimentary sequences and plutonic complexes recording a complex tectono-metamorphic history involving juvenile Pan-African crust and older reworked terranes.
Mining
Somalia's mineral-mining output is an insignificant part of its economy. The mineral industry produces small quantities of gemstones, salt, gypsum and marble. Other natural resources include uranium and largely unexploited reserves of iron ore, tin, tantalum, gypsum, bauxite, copper, salt, sand & gravel, natural gas and possibly oil.
Proven natural gas reserves at the beginning of 2009 were estimated at 5.663 billion m3. Mineral production data is scant to non-existent.
Click

HERE

for an overview
Somalia has no proven oil reserves, and only 200 billion cubic feet of proven natural gas reserves. Somalia currently has no hydrocarbon production. Oil seeps were first identified by Italian and British geologists during the colonial era. Exploration activities were focused in northern Somalia, and several foreign firms, including

Agip

,

Amoco

(now part of

BP

),

Chevron

,

Conoco

and

Phillips

, held concessions in the area. The firms all declared force majeure following the collapse of the central government.
Exploration activity remains hindered by the internal security situation, and the multiple sovereignty issues.
Natural gas proved reserves:

5.663 billion cu m (1 January 2005 est.)
In February 2001,

Total

signed an exploration agreement with the Transitional National Government (TNG). The twelve-month agreement granted Total the rights to explore in the Indian Ocean off southern Somalia. Hassan Farah, TNG's Minister for Water and Mineral Resources, stated that the government would provide security during the exploration activities. Several factional leaders denounced the agreement, and stated that the TNG did not have the authority to sanction the agreement, nor the power to guarantee the safety and security of the exploration operations.
In May 2001, Somaliland signed an agreement with U.K.-registered

Rovagold Ltd

and two Chinese firms,

Continental Petroleum Engineering Company (CPEC)

and

China Petrochemical Cooperation (CPC),

for the right to explore for oil.
Dubai-based

Zarara Energy

also signed an exploration agreement with Somaliland. The Somaliland government has said it will honor, until they expire, the existing contracts foreign companies signed with the Barre regime that are in their territory. None of the firms have resumed operations in Somaliland.
Known occurrences at Alio Ghelle;Jach Brava (metasomatite) and Dusa Mareb (surficial).
References