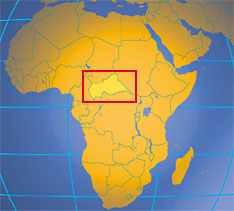 Ministére des Mines, de l'Énergie et de l'Hydraulique
B.P. 26, Bangui
Phone:
+236 61 58 63
Fax: +236 61 60 76
CIA Factbook
Political rights and civil liberties (Freedom House)
French-English online dictionary
Travel and accommodation
The contribution of
mining to total exports in 2010 amounted to 35.8%
Central African Republic Mining News
Source: CIA Factbook
Legend
Geology
About 60% of the CAR is underlain by basement rocks of Precambrian age, comprising high-grade granitic-gneiss, migmatites and amphibolitic Archean units succeeded by weakly metamorphosed supercrustal meta-sediments and schist of Neo-Proteozoic age. Parts of the western and central areas of the country are covered by, most probably, Palaeozoic aged glaciogene sediments unconformably overlain by flat-lying Cretaceous sandstones.
Mining
Diamonds, gold and construction materials were the only mineral commodities produced in 2008. Diamonds, mined exclusively in Quaternary alluvial deposits, constitute the most important export of the CAR, accounting for 40-55% of export revenues, but an estimated 30-50% of the diamonds produced each year leave the country clandestinely. CAR ranked ninth in Africa in terms of diamond production accounting for 0.4 per cent of the regions total output. Gold production to date has been artisanal but the likely source of the gold is ultrabasic rocks of the greenstone belts. The Passendro gold mine is currently under development and is expected to begin production at 6.2 tonnes per year in 2010. Undeveloped mineral resources include copper, graphite, ilmenite, iron ore, kyanite, lignite, manganese, monazite, quartz, rutile, salt, tin and uranium.
Click

HERE

for an overview
The government keeps statistics concerning diamond production and trading through the

Bureau d'Évaluationet de Contrôle de Diamant et d'Or (BECDOR)

. BECDOR was established in 1982 to oversee the internal diamond market and to valuate official exports. It also maintains a database concerning all diamond production in the country. It estimates that there are approximately 50,000 licensed diamond diggers, or

creuseurs

, in the CAR.
United Reef Ltd

(Canadian) investigated an alluvial diamond project. The diamond project advanced through several stages of exploration and small-scale production and was closed in early 1998.
DiamondWorks Ltd

took 100% control of Central African Mining Company SARL for CDN $53m, payable by shares. Most of the country's annual output of >600,000 carats of high-quality diamonds via legitimate channels is from artisan workings for alluvial

placer diamonds

in the company's 6 concessions totalling 11,577km².
Gem Diamonds

, through Gem Diamond Centrafrique, currently holds a 25-year mining permit and a three-year research permit for the Mambéré River project which covers an 80 km stretch with a strip approximately 5 km wide on either bank of the Mambéré River near the town of Berberati. Current exploration focus is on the area known as "le Buckle". Diamondiferous gravels have been identified by previous explorers throughout the area. Development of the project is through a joint venture owned 75 % by Gem Diamond Centrafrique and 25 % by the Government of the CAR.
Pangea Diamond Fields plc is exploring the Dimbi Project concession area, situated in southern CAR along the DRC border between the Oubangui River in the south and the Kotto River in the north, and has commenced a bulk sampling exercise. The alluvial diamond deposits of the Dimbi area are associated with a palaeo-channel system of the Kotto River, which originally flowed southward past Dimbi. BRGM monitored pits in the Akongo River close to the bulk sample plant site reported grades of between 0,25 and 3,56 ct per cubic metre. In May, 2007, the company acquired a second project; the Etoile project covers an area of 3,872 square kilometres and is located some 300 kilometres northeast of the Dimbi project, but within CAR's Mouka Quadda diamond province.
Energem Resources Inc (Canadian, ENM.TO) is exploring the Bangana (743,6 km²), Bria (74,.7 km²), Kotto (962,5 km²) and Ouadda (1683.0 km²) concession areas.
Geology
Birimian greenstone belts host the known structurally controlled mineralization.
Artisanal mining in the Bandas greenstone belt
Asquith Resources Inc (merged with AXMIN in 2001) had an advanced gold exploration program in the Bandas Greenstone belt, north of the capital, Bangui. Asquith also is continuing work on the Roandji gold property, which has identified a 90 km strike length of virtually unexplored greenstone belt, which has historically produced around 1.75t of alluvial gold over the last twenty years. A more defined zone of some 5km strike has been identified hosted within a banded iron formation with grades up to 4.8 g/ton. Drilling has intersected fresh sulphides below the iron formation. Exploration at the Passandro Project Area has delineated seven substantial gold targets within a 5 km radius including the Main Zone and French Camp prospects where gold-bearing structures of economic significance have been identified by reverse circulation (RC) drilling. In the Main Zone, some 7,000 m of RC drilling has delineated 1.6 km of continuous mineralisation open at depth and along strike. There are multiple parallel gold zones over a 100-300 m wide corridor with widths of 2-15 m and an average composite grade of 2.9 g/t Au. At the Ngodo prospect, 2 km northwest of French Camp, 29 RAB holes drilled on two lines to test a 1.2 km soil anomaly identified a 20-40 m wide gold halo. At the Ngetepe prospect, 1.2 km southeast of French Camp, 18 RAB holes drilled on two lines testing an 800 m soil anomaly identified a 20-40 m wide gold halo.
AXMIN Inc (Canadian, TSXv:AXM) drilling has indicated 18, 62 million tonnes grading 2,6 g/t Au in six zones in the Bambari-Passendro project area. In April, 2006 resource estimate from the Passendro Gold Project along the 140 km Bambari-Bakala permits exceeded 2.5 million oz in all resource categories and in May, 2006 the Board approved the initiation of a definitive feasibility study targeting 200,000 oz per annum development following postivie pre-feasibility study results.
Pan African Resources plc

(AIM:PAF) (Metorex, JSE:MTX) is engaged in early stage explorationon on their Bogoin and Dekoa projects. It is a joint venture arrangement with CARGold in which Pan African Resources holds 50% and manages the exploration project.
UraMin Inc stated on 15 January 2007 that initial exploration results for the Patricia deposit at Bakouma in the Central African Republic have exceeded expectations. "High grade mineralization was encountered with significant intersections at the Patricia uranium deposit," it said in a statement. "The open ended mineralization and high grade intervals identified thus far could result in the historical resource target of 18,000 tonnes U3O8 (uranium oxide) being exceeded," said chief executive Ian Stalker.