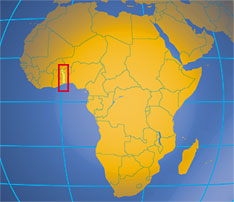 General Directorate of Mines and Geology (DGMG) (Direction Général des Mines et de la Géologie)
Ministry of Equipment, Mines, Energy, Post and Telecommunications (Ministère de l'Equipement, des Mines, de l'Energie et des Postes et Télécommunications)
B.P. 356, Lome
Phone:

+228-221 3001


Fax: +228-221 3193
Togo Mining Code
CIA Factbook
Political rights and civil liberties (Freedom House)
French-English online dictionary
Travel and accommodation
The contribution of
mining to total exports in 2010 amounted to 15.2%
Togo Mining News
Source: CIA Factbook
Legend
Geology
Togo is largely underlain by Proterozoic granitoids and gneisses in the central and southern regions and Neoproterozoic metasediments in the north. Cretaceous to Recent basin sediments are restricted to the southern coastal area.
Mining
Mineral commodities produced in Togo include gold, diamonds, phosphate rock and other industrial minerals. Most of the industrial activity, which contributed 25% of GDP in 2008, was limited to phosphate rock production. Togo was Africa's sixth largest producer of rock phosphate accounting for 2% of total output. Phosphate production increased by 12.3% in 2008 but overall has declined by 20 to 27% over recent years due in part to the depletion of easily accessible deposits. Togo also produces significant amounts of gold and diamonds by artisanal working. It was the sixth largest gold producer in Africa (comparable to the DRC) comprising 2.18% of the total. Diamond production has declined in recent years and Togo slipped in the rankings from 14th to 16th in 2008. Undeveloped mineral resources included bauxite, gypsum, iron ore, manganese, marble, rutile and zinc; there is potential for uranium and lithic metals on the basis of preliminary investigations.
Lithic Metals and Energy Ltd

(previously

Zambezi Nickel

Ltd

) (AIM: LMY), the AIM-quoted African nickel and uranium exploration and development company, acquired the entire issued share capital of RRCC in October, 2007. RRCC, through its wholly owned subsidiary, owns 90% of 19 granted mineral exploration licences in Togo (the government of Togo holding the balance).
Premier African Minerals Ltd'

s

Dapong Project consists of two permits, covering 400 sq km, for the exploration of gold and associated metals, which are valid for an initial period of three years. The Project is underlain by volcanic and sedimentary Birimian-aged intrusive rocks with minor volcanosedimentary sequences, quartz veins and pegmatites, which form part of the larger West African Craton geologic region. Gold mineralisation generally occurs along north to north-east trending shear zones and faults that cut Birimian belts or form the margins of these Birimian belts where sedimentary rocks often include paleo-placer gravels. Substantial gold mineralisation has previously been discovered within Birimian-aged formation belts located in Ghana, Côte d'Ivoire, Mali, Guinea and Burkina Faso. Major gold mines in the region include Tarkwa in Ghana operated by GoldFields which has a 15.Moz resource and produces circa 700,000 oz per annum; Oubasi mine in Ghana operated by AngloGold which produces circa 300,000 oz of gold per annum; and the Youga gold mine operated by Etruscan Resources in southern Burkina Faso which produces circa 80,000 oz of gold per annum. Multiple rivers draining Birimian rocks in the West African Craton hold alluvial gold deposits and an initial reconnaissance visit by Premier geological teams have already identified four areas in the drainage systems where there has been recent artisanal activity. The Project is considered to be highly prospective for gold, having extensive artisanal activity but has not yet been the subject of systematic exploration. The Board believes that the area offers excellent development potential due to its location and geological signature. Accordingly, using its existing resources in Togo, the Company intends to immediately commence exploration in order to quantify the full potential of the highly prospective area.
Manganese
Ferrex plc holds an 85% interest in the Nayega manganese project in northern Togo, which consists of five Exploration Permits covering 92,390 hectares. The project is 30km from a main road which has direct access to the regionally important deepwater port of Lome 600km away and has 350,000t per annum back loading capabilities. A Definitive Feasibility Study is currently underway and due to be completed on receipt of the Mining Licence which is under application. The Board believes the project has the potential to develop in to a low capital and operating cost manganese mine in the near term, which would generate significant cashflow for the Company. Nayega is a residual manganese deposit, comprising lateritic and saprolitic mineralisation extending up to 10m below surface blanketed by a veneer of detrital material that averages 0.5m thick. Pitting has revealed that mineralisation, which is on average 3.3m thick, occurs over a strike length of 2.2km at widths of up to 500m. A total of 193 pits were dug in three phases, for 767.49m cumulative total depth. Pits were dug on 100m centres, with an infill area where 50m spaced offset pits were dug, to depths ranging between 0.15 and 10.7m with an average depth of 4.38m. Continuous vertical channel samples 10cm wide by 10cm deep were collected at 50cm intervals (maximum) from the top to the bottom of each pit and submitted to a commercial laboratory for assay by XRF. These assay results allowed the Company's resource consultant to estimate a Measured JORC Code (2012) compliant resource of 2.0Mt @ 17.1% Mn over the infill area and an Indicated JORC Code (2012) compliant resource of 9.0Mt @ 12.2% Mn for a total compliant resource of 11.0Mt @ 13.1% Mn. Initial metallurgical testwork, has shown that ore is beneficiable via a low-cost process route of screening and gravity concentration to produce a saleable manganese product of 38% Mn.
Nickel
Oil and Natural Gas
Premier African Minerals Ltd'

s

Southern Togo Priject is located approximately 25km northeast of Lomé is an exploration-stage project with the potential to host phosphate mineralisation. The three contiguous exploration permits are also prospective for attapulgite, rare earths and uranium. The immediate area benefits from good access to rail, power, road and port facilities, as a result of two adjacent mining operations: a major phosphate open pit mine (Société Nationale des Phosphates du Togo, SNPT) and a limestone quarry and clinker facility (West African Cement S.A.). The deposit occurs in a sedimentary basin with proven economically viable deposits and strong indications that the ore bodies or extensions of them are present on Premier's properties, which align along strike of the SNPT operations. It is likely that a potential phosphate deposit in the Exploration Permit area is simple and amenable to low cost open cast mining. Premier's work programme, funds permitting, aims to demonstrate the potential for 75 million tonnes of phosphate rock at 32% P2O5. The Bassar Project is a large-scale phosphate resource. Drill testing at the Bassar I, III and IV license areas has revealed economic widths and grades, which indicates that this project may be amenable to open cast development. Bassar is located approximately 350km north of Lomé and comprises two contiguous permits and one separate permit granted for phosphate and associated minerals. The project has good road access to the N1 tar road and is situated 10km from the power grid at Bassar. A non compliant estimate by Premier, based on mapping and a small number of boreholes gathered during historical exploration, indicates 22 million tonnes at 22% P2O5, which will require verification through an exploration programme. Historic exploration has proven the presence of acceptable quality phosphate ore. Premier intends, funds permitting, to conduct a 1,000m core drill programme to establish both the grade-width characteristics of the deposits and their dip. The project will be re-evaluated once this work has been completed.

Premier African Minerals Limited announced in June 2013 that, further to the announcement of

24 May 2013 relating to the acquisition by Ethiopian Potash Corp. ('EPC') (TSX Venture: 'FED'), of

Premier's Mali subsidiary G and B African Resources Mali SARL ('Mali Sub'), and its Togo subsidiary, G

and B African Resources SARL ('Togo Sub') for an aggregate consideration of 120,000,000 new shares in

EPC on 3 June 2013 certain amendments to the sale and purchase agreement in respect of the Togo Sub have been agreed to satisfy the requirements of the TSX Venture Exchange ('TSXV'). The announcement dated 24 May 2013 stated that the Combined Transaction was

subject, inter alia, to TSXV and EPC Shareholder consent.

Commenting on the proposed transaction, George Roach, Premier Chairman said; "The net effect of these

transactions will be that Premier acquires a significant interest in EPC that in turn retains a 30% interest in

their highly prospective Danakil basin property. At the same time, EPC will re-focus on development of

Agricultural and Industrial minerals through the Togo and Mali acquisitions. In particular, the properties in

Southern Togo are attractive, as much for the exploration potential as for the presence of extensive

infrastructure and proximity to tide-water."
Uranium
Sondage 1 and Extension
Structurally controlled

Alteration controlling precipitation of uranium

Mineralisation associated with biotite schist
Siou
Premier intends, funds permitting, to drill test the two top priority targets at Sondage 1 and Siou with a combined total of 1,500m core drilling. Further work will be dependant on identifying sufficient potential mineralisation to warrant more extensive drill programmes.
Lithic Metals'

Pagala Project covers a known SEDEX zinc deposit previously explored by Anglo American. Substantial, wide-spaced, historical drilling targeted geophysical

anomalies generated by multiple ground and airborne surveys. Drill intercepts include 6m @ 11.37% Zn.

Premier African Minerals Ltd'

s Pagala Project is located 20km west of a main North–South road artery in Western Togo and within access of a freight rail connection. The Pagala Project consists of four contiguous Exploration Permits issued for zinc and associated minerals. Mineralisation is hosted in a graphite-sericite schist and sideritic breccias within a volcano sedimentary sequence. Exploration of this area began in 1983, since when both BRGM and Anglo American have previously undertaken drill testing. In 2000, Ambase Exploration Limited recorded a non-SAMREC compliant 'exploration target', as defined in the SAMREC code, of 3.6 Mt at 2.7% zinc. Premier believes that BRGM and Anglo American may have failed to recognise the controlling geological structures and did not drill deep enough to identify the deposit's true scope. A 2,000m core drilling programme is planned, funds permitting, to drill test the portions of an untested nappe structure where duplication and an increase in grade of the mineralisation may exist. Further work on the project will be results driven.