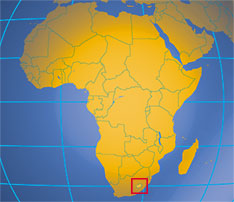 Department of Mines & Geology
Ministry of Natural Resources
P.O. Box 750, Maseru 100
Phone: +226-32 3750
Fax: +226-31 0498
CIA Factbook
Political rights and civil liberties (Freedom House)
Travel and accommodation
The contribution of
mining to total exports in 2010 amounted to 10.8%
Lesotho Mining News
Source: CIA Factbook
Legend
Geology
Lesotho is almost exclusively underlain by rocks of the Karoo Supergroup, overlying crystalline metamorphic basement, comprising sediments in the northwest and southwest and basaltic volcanics of the Drakensberg Group that dominate the central and eastern part of the country.
Diamonds are the main economic mineral of Lesotho and their production contributed almost 7% to the GDP in 2008. Diamond production increased by 10.5% and the country was ranked 12th in Africa for volume of production in 2008. The main resource of diamonds has been the Letseng mine which produces stones with the highest dollar ratio per carat of any diamond mine in the world. The Kao diamond mine entered its first production phase in 2008 and is expected to produce about 700,000 carats per year. The main Kao kimberlite pipe with a diamond resource of 12.4 Mct is the largest in Lesotho and fourth largest in Southern Africa. Karoo sediments are potential low tonnage sources of uranium and semi-precious stones such as agate, amethyst and zircon are exploited on a small scale. Additionally coal and coal-bed methane are unproven energy mineral possibilities.
Minki van der Westhuizen, at the
Letseng mine
in Lesotho, displays four diamonds with a combined weight of 366 carats. At the time, the operating company expected them to fetch a minimum of US$6 million.
Source: JCI
Click

HERE

for an overview
Lesotho contains some of the most elevated diamond deposits in the world, all of which are hosted by kimberlite. The first discovery was made in 1954 at Kao 1, 50 km southeast of Buthe Buthe, though several nondiamondiferous kimberlites were known prior to that time. The first kimberlites were found by locating abandoned workings that had been used to exploit ilmenite for pigments. Later, kimberlite indicator mineral sampling, supplemented by airborne and ground magnetic surveys, photogeology, pitting and drilling were the methods used for kimberlite exploration. Approximately 200 kimberlite bodies have been discovered, only eight of which, in northern Lesotho, are significantly diamondiferous. Five of these have been exploited on a small scale since 1955.
A large proportion of the country is underlain by the southern portion of the Archean Kaapvaal craton, host to kimberlites and economic diamond deposits in southern Africa. More than 200 kimberlite occurrences are known in Lesotho, primarily dykes but including approximately 33 volcanic pipes of which 24 are reportedly diamondiferous. They are Cretaceous in age and intrude flat-lying Triassic sedimentary rocks and a thick sequence of Jurassic flood basalt.
The country has a long history of diamond production, mainly from alluvial deposits. De Beers mined the Letseng la Terae kimberlite between 1976 and 1982 and produced in the order of 280,000 carats. The Letseng la Terae kimberlite was recently put back into production and has the distinction of producing some of the highest dollar value per carat diamonds in the world. Diamond grades at Letseng la Terae are very low, between 2 and 2,5 carats per one hundred tonnes of kimberlite, but diamond value is reported to be over US$1,000 per carat. This high average diamond value is a result of consistent but infrequent recovery of very large, exceptional quality diamonds.
Other Lesotho kimberlites of economic interest and in varying stages of development / evaluation include the Liqhobong, Kao and Kolo occurrences.
Lesotho Kimberlite Locality Map
Gem Diamonds Ltd

[LSE:

GEMD

] is operating the

Letšeng mine

. It has been producing 50,000 carats a year, but, with fresh investment under its new owners, it plans to double that to about 100,000 carats a year.

Letšeng Diamonds Limited is owned 70% by Gem Diamonds and 30% by the Government of the Kingdom of Lesotho. Operated by De Beers between 1977 and 1982, Letšeng was reopened in 2004 and acquired by Gem Diamonds in 2006. Letšeng Mine consists of two primary vertical kimberlite pipes, together with deposits of alluvial gravels. The two pipes are adjacent with cone-shaped sections and confirmed vertical depths of 495 m and 655 m, respectively. Recent average grade across the two pipes is 2,06 cpht. Letšeng currently has a processing capacity of approximately 2,6 million tonnes per annum, but a recent decision to invest US$45 million in its processing capacity will see this double to 5,2 million tpa by end 2008. Letšeng has produced two of the world's largest diamonds - the 601 cts Lesotho Brown in the mid 1960's and the 603 cts Lesotho Promise recovered in September 2006 (the 15th largest diamond ever recovered). The Lesotho Promise was sold for US$12,4 million.
The Lesotho Promise diamond weighing 603 carats which was sold for $12,4m.
Source: Gem Diamonds
Letseng Diamond Mine
Source:
http://sprottglobal.com/natural-resource-investing/site-visits/?albumId=1508
Source: http://www.miningweekly.com/article/gem-diamonds-lowers-production-guidance-for-2013-2013-07-29
Mothae kimberlite where previous sampling undertaken in 1966 by Lonrho Ltd , yielded a grade of approximately 2,8 carats per hundred tonnes. is exploring the
European Diamonds plc

[AIM:EPD] has a near-surface resource at its Liqhobong project in Lesotho of 13,4 million tonnes at 0,283 carats per tonne with a gross value of $265m at an estimated $70/carat. The company is currently (2007) producing around 20,000 carats/month from the mine, with plans for an expansion. The independently verified resource at the main pipe kimberlite has been measured to 45 metres below surface. The main kimberlite pipe is known to extend to 650 metres below surface. Shareholders of European Diamonds approved the proposed name change to

Kopane Diamond Developments

in November, 2007. The company's stock ticker number, which was previously EPD, will become KDD, and the new website address will be http://www.kopanediamonds.com