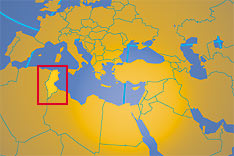 Office National des Mines
CIA Factbook
Political rights and civil liberties (Freedom House)
Arabic-English online dictionary
Travel and accommodation
The contribution of
mining to total exports in 2010 amounted to 1.9%
Tunisia Mining News
Source: CIA Factbook
Geology
The northern and central regions of Tunisia are underlain by sedimentary rocks ranging from Permian to Recent and belong to the Atlas structural Domain. Mesozoic and Cenozoic sediments overlying the Saharan Platform are well developed. Northwest Tunisia comprises the Tellian structural Domain which is part of the Alpine orogenic system
Mining
Tunisia is the world's fifth largest producer of phosphate rock accounting for 5.4% of the total output. In Africa it was second only to Morocco (including Western Sahara), accounting for 18.6% of output.

.
Tunisia was a minor producer of crude petroleum and was ranked 12th amongst African producers in 2008 accounting for 0.86% of total output. Production decreased by 7.6% in 2008. Most of the recorded production came from five of the 12 oil fields, the main one being El Bourma. Tunisia is the sixth largest producer of natural gas in Africa accounting for 1.4% of total output. Most of the production comes from the offshore Miskar gasfield. Output increased by 30% in 2008 but Tunisia remains a net importer of natural gas. At the beginning of 2009 proven reserves of crude petroleum and natural gas stood at 57.97Mt and 65.13 billion m3 respectively. Iron ore production decreased by 40% in 2008 but Tunisia maintains its ranking as Africa's fifth largest producer. This follows on from a decline of nearly 27% the previous year attributable to the diminishing iron ore reserves at the Djerissa and Tamera mines in Sedjnane. Crude steel output, by contrast, increased by 246% in 2008. This substantial increase in steel production was achieved with imported iron ore and raised the country from 7th to 6th place in Africa. Lead, zinc and silver were being exploited up to the closure of the Bougrine mine in 2005. There has been no recorded production of these metals, fluorite or barytes in recent years.
Maps and images
The Zriba-Guebli Fluorspar Project of

Fluormin plc

in Tunisia consists of a dormant mine with surrounding prospects, which is classified as a brownfield exploration project. Mining occurred in underground developments at the Zriba-Guebli mine until 1992, at which time the mine was closed, largely due to low fluorspar prices. The project is situated 70 km southwest of Tunis and comprises a single exploration permit, 34.6 km2 in extent, within the Hamman Zriba mining district, a renowned fluorspar-barite-lead-zinc metallogenic province. The project has an extensive poly-metallic,fluorspar-barite MVT deposit, with associated lead-zinc, which straddles the northwest-southeast trending Zriba-Guebli graben. The project has been subdivided into three prospect areas, namely, the western Guebli horst, the Graben Valley and the Zriba horst block in the east. The mineralisation is structurally and lithologically controlled and hosted in the shallow dipping unconformity between Upper Cretaceous reef limestone units and Jurassic carbonates
Geology
Granites and volcanic rocks are associated with gold-copper mineralization. Anomalous gold values are associated with silicified and pyritised volcanic breccias. The younger rocks are interpreted to have potential for epithermal gold deposits.

Click

HERE

for an overview
As estimated by

Oil and Gas Journal

, Tunisia had modest proven oil reserves of 308 million barrels as of January 2006. The majority of Tunisia's oil reserves are located in the Gulf of Gabes and the Ghadames Basin in the southern part of the country. In 2005, Tunisia produced around 75,000 barrels per day (bbl/d) of crude oil. This represents a 37 percent decline from Tunisia's peak output of 120,000 bbl/d between 1982 and 1984. Currently, the country's domestic oil production capacity cannot meet the country's consumption demand, which in 2005, was 94,000 bbl/d. Tunisia should to be able to supply at least part of its own petroleum needs for the next decade, but significant production thereafter will be contingent upon new discoveries.
The majority of Tunisia's oil production (73 percent) comes from six concessions, which include Adam, Ashtart, Didon, El Borma, Miskar and Oued Zar. The remaining production comes from 26 smaller concessions.
The Tunisian government created the country's state-owned oil company,

Enterprises Tunisienne d'Activités Petrolières (ETAP),

in 1972. ETAP's mission is to manage the oil and natural gas exploration and production activities for the Tunisian government. ETAP has worked to attract foreign firms to fund oil exploration, particularly of the country's smaller fields. To help achieve this, Tunisia reformed its hydrocarbons laws in August 2000. One of the most important provisions of the new laws for foreign firms is a reduction in the tax rate from 75 percent to 50 percent if ETAP takes a 40 percent share of the concession. To date, ETAP has granted a total of 44 exploration licenses to 42 international and domestic companies that operate in the country.
In addition to granting domestic exploration licenses, ETAP is pursuing overseas exploration and production. The company is working in

Syria

with

Preussag

of Germany to develop small oilfields and has signed an oil cooperation agreement with

Iraq

. In December 2004, the Syrian and Tunisian governments signed an agreement to explore for oil in northeastern Syria.

ETAP

also has joint venture agreements with

Sonatrach

of Algeria and

Libya's National Oil Company

.
Oil and gas fields and infrastructure


Source:
ETAP
Oil production:

81,530 bbl/day (2004 est.)

Oil proved reserves: 1.7 billion bbl (2006 est.)
Natural gas production:

2.4 billion cu m (2004 est.)

Natural gas proved reserves: 77.87 billion cu m (1 January 2005 est.)
In 2005, Adam field, located in the Borj el Khadra prospect in Ghadames basin, became Tunisia's largest producing oilfield at 18,000 bbl/d. The Borj el Khadra prospect is operated by

Agip

, with partners

Pioneer Natural Resources

,

Paldin Resources

and

ETAP

. The onshore El Borma oilfield, which Agip discovered in 1964 near the Algerian border, produces around 12,000 bbl/d. This production level is down from the 1985 peak of 70,000 bbl/d.
Ashtart field, which is operated by

ETAP

, produces around 11,500 bbl/d.
In addition to Tunisia's producing oil fields, foreign and domestic operators are continuing to explore and develop new hydrocarbon discoveries in the country. A partnership between a Tunisian and a Kuwaiti oil firm is drilling an offshore well with expected reserves of 6 million barrels of oil.
Sweden's

PA Resources (PAR)

is involved in development and exploration in the Douleb field, the Zarat concession and the Tamesmida field and Sweden's

Lundin Petroleum

operates a number of offshore fields - notably, the Isis and Oudna fields.
In February 2004, Tunisian independent

HBS Oil Company

announced an oil discovery on Djerba Island.
Petroceltic

International plc

announced in December 2004 that it had struck both oil and gas at its Sidi Toui 3 well in the Ksar Hadada Block in southern Tunisia.
In April 2005, the U.A.E.'s

Mabdallah Saad al-Thani Corporation

announced a five-year exploration agreement with

ETAP

for the El Jem block, while U.S.-based

Rigo Oil Company

announced an exploration agreement for the Tozeur-Sud block.
In February 2006, Tunisia awarded

Petro Canada

and

Anadarko

2-year, production sharing agreements (PSAs) with

ETAP

for the Cape Sirat and Bashtar blocks.
In February 2006, a 35-year-old oil exploration dispute between Tunisia and Malta came to a close. The two countries signed an agreement that provides for joint oil development of the continental shelf between Malta and Tunisia. The ministers who signed the agreement are hopeful of finding oil in the continental shelf area, which is located near the Tunisian Isis field and Libya's offshore Bouari field.
It is over a 100 years since CPG (Gafsa Phosphate Company) started the exploitation of phosphate deposits in Tunisia. Currently, the mining operation is principally based around the deposits in the Gafsa basin

located in the south of the country, north of

Chott el jerid. Today, CPG works ten surface

mines in 5 phosphate fields, all situated in the

same Eocene geological level.

For many years, CPG has been investing

methods of reducing production costs while

increasing capacity. This has been generally

achieved by developing opencast mines to

replace underground capacity. All Tunisian

phosphate rock mines are now opencast.

The move to open cast mining has brought

significant savings in labor costs and increased

productivity. Over the last 10-year period, CPG

has seen its merchant rock output rise from 6

million metric tons in the late 1980s to more then

8 million tons in 2007.

Tunisian phosphate concentrates range

in two main categories based upon the content

of P2O5; the merchant-grade 65-68% BPL

grade mostly used for chemical process, and

the merchant-grade 60-62% BPL grade, well

suited for direct application. CPG supplies

around 80% of its phosphate production to

the GCT plants for local processing. GAFSA is

marketed in more than 20 countries throughout

the world either for processing or direct application.
Celamin Holdings NL has received results from a preliminary program of drilling in the Chaketma exploration permit in Northern Tunisia that confirms highly promising phosphate mineralisation grades and thicknesses. The analytical results have been received for the first 187 samples from six of the twelve drill-holes completed, with the thickest intercept at the Gasaa El Kebira prospect in hole three returning 24 metres at 19.8 % phosphate at a 10% phosphate cutoff grade. This first class program is designed to determine the depth of over burden and the thickness and grade of the phosphate zone, before committing to the resource definition phase of the exploration program
Albidon Ltd holds extensive tenement interests that are prospective for zinc and lead in north-central Tunisia, covering 4,000 square kilometres including the historical zinc mining district of Bou Aouane at the Nefza project area in the north west of the country. It has signed an option and earn-in letter with Zinifex Ltd for exploration and development of the zinc projects. Zinifex may earn a 51% interest in the projects through the expenditure of US$6 million on exploration within three years. The company may then spend a further SU$5 million within two years to earn a total interest of 70%. Albidon may thereafter elect to contribute to project expenditures in proportion to its 30% interest or sell its interest for cash plus a retained royalty.
Maghreb Minerals plc

has agreements and rights over three past-producing lead-zinc mines in Tunisia , as well as exploration rights over 9 other permits. Maghreb Minerals holds twelve exploration permits in Tunisia , three of which cover past producing mines. Maghreb Minerals bought all the rights to properties in Tunisia from Consolidated Global Minerals in exchange for shares.
References
Academic Geological Studies and Resources in Tunisia
Geometry and internal discontinuities of an Ypresian carbonate reservoir (SIT field, Tunisia) (PhD thesis, HASLER Claude-Alain).
Commercial Geological Studies in Tunisia
North African Sequence Stratigraphy & Petroleum Geology, Tunisia Field Course by Neftex
.