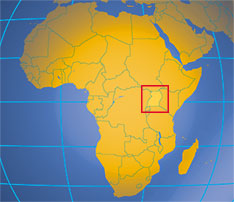 Geological Survey and Mines Department (GSMD)
CIA Factbook
Political rights and civil liberties (Freedom House)
Uganda World Bank Involvement
Travel and accommodation
The contribution of
mining to total exports in 2010 amounted to 5.4%
Uganda Mining News
Source: CIA Factbook
Legend
Two thirds of Uganda is underlain by Archean and Proterozoic basement rocks. In addition to the Archean Gneissic-Granulite Complex in the north, there are three major Proterozoic belts exposed dominantly in the southern part of the country, the Paleoproterozoic Buganda-Toro System, the Mesoproterozoic Karagwe-Ankolean System and the Neoproterozoic Mozambique Belt. The former comprises dominantly argillaceous rocks and quartzites of varying metamorphic grade that are host to gold and base metal mineralisation as well as colbalt, nickel and coltan minerals. The Karagwe-Ankolean System is lithologically similar but commonly host porphyritic granites; the system is a major host of (alluvial) gold, tin, tungsten, and iron plus coltan, lithium and bismuth. Tertiary to Recent sediments fill parts of the down-faulted Western Rift. Tertiary carbonatites and Cenozoic volcanics related to rift activity occur along the eastern and western borders of the country. The carbonatites ring complexes, of Cretaceous age, are important sources of vermiculite, titanium, vanadium, uranium, thorium and phosphate such as at Tororo and Sukulu.
Mining
Uganda has substantial natural resources, including well watered arable land (21.6%), and its economy is dominated by agriculture, hydropower, sizeable deposits of copper, cobalt, gold among other minerals, and largely the just discovered reserves of crude oil and natural gas. With resources of more than 50 minerals, it ranks amongst African countries as having one of the most diverse mineral endowments.
The mining industry in Uganda reached peak levels in the 1950's and 1960's when it accounted for up to 30% of Uganda's export earnings. However, the recent global economic slowdown led the sector to decline drastically and the political instabilities of 1970's. It should be noted that the decline in mineral production is not due to resource depletion, but poor governance at one time coupled with the global product price decline. Uganda is the third largest tungsten producer (2.5%) and fifth largest tin producer (0.27%) in Africa. Uganda has one of the largest high grade vermiculite resources in the world and was the fourth largest producer in Africa in 2007. There was no recorded vermiculite production for 2008 following temporary closure and a change of mine ownership, but in the beginning of 2010 a total of 517 licenses were issued leading to 12.8% sector growth in the FY2009/2010 Uganda Investment Authority.
Oil & Gas
After the first discovery of oil in 2006, Uganda is now considered an important oil and gas nation of sub-Saharan Africa and has become an attractive destination for oil and gas investment. It is notable that the earliest oil deposits discovered in 2006 werre clustered underneath important areas for tourism and nature conservation, viz. the Murchison Falls and Queen Elizabeth national parks. As a result, much of the resulting early exploration has been undertaken with phased, single-vehicle mounted rigs (one third of the height of the usual 50m structure), being undertaken to minimize human and wildlife disruption.
That said, the presence of petroleum underneath the Albertine rift valley has long been suspected, with the first report on this subject dating back to 1927: "Petroleum in Uganda", E.J.Wayland. The 2006 test made this suspicion official, with significant reserves of oil in the Lake Edward-Albert bains along the Ugana-DRC border, along the same Albertine rift valley first mooted for petreloum reseves nearly eighty years ago.
The Albertine Graben is Uganda's prime prospective sedimentary basin for hydrocarbons in Uganda which forms the northern most part of the western arm of the East African Rift System, stretching from the border with Sudan in the north to Lake Edward in the south, a distance of over 500km. Although of variable width, the Graben is commonly 45 km wide and extends into the Democratic Republic of Congo in some parts[1].
In contrast, the other basins[2], i.e. the Hoima basin, East of Lake Albert; the Lake Kyoga basin, further East in the country; and the Kadam-Moroto basin, still further East of the country in the Karamoja sub-region, are all still under investigation (2012)[3].
There are currently four active Production Sharing Agreements (PSAs) that have been signed with international oil and companies as detailed below:
Exploration Area 1: this Licensed Area is comprised of 3,058km2 and has been licensed to Total E & P Uganda BV (Total), Tullow Uganda Limited (TUL) and China National Offshore Oil Corporation (CNOOC) Uganda Limited in February 2012 and is currently being operated by Total;

Paara Discovery Area 1A: this licensed area is comprised of 598km2 and has been licensed to Total E & P Uganda BV (Total), Tullow Uganda Limited (TUL) and China National Offshore Oil Corporation (CNOOC) Uganda Limited in February 2012 and is currently being operated by Total;

Exploration Area 2: this licensed area is comprised of 4,675km2 and has been licensed to Total E & P Uganda BV (Total), Tullow Uganda Limited (TUL) and China National Offshore Oil Corporation (CNOOC) Uganda Limited in February 2012 and is currently being operated by Tullow; and

Kanywataba Prospect Area: this licensed area is comprised of 344km2 and has been licensed to Total E & P Uganda BV (Total), Tullow Uganda Limited (TUL) and China National Offshore Oil Corporation (CNOOC) Uganda Limited in February 2012 and is currently being operated by CNOOC.
More than 17,400 square kilometres
[4]
of Albertine Graben is still unlicensed shall be licensed through a licensing round after the Petroleum (Exploration, Development and Production), Bill 2012 is enacted.
To date, Uganda's hydrocarbon exploration activities have had an unprecedented 90% drilling success rate, with eighty deep wells drilled and seventy two of which have encountered hydrocarbons in the subsurface. The flow testing of some of the wells with multiple horizons have registered cumulative flow rates in excess of ten thousand barrels of oil per day (10,000 bopd)[5].
GEOLOGICAL OVERVIEW BY THE UGANDAN GEOLOGICAL SURVEY
Uganda lies within the African plate, which is a continental crust that contains Archaean cratons that date at least 2700 Ma. The country's geology endowed with a wide variety of minerals has been grouped into the following geological litho-stratigraphic domains.
Basement Complex-

is of predominantly granitic metamorphic rocks of Archaean shield in central and northern areas of the country. Little mapping has been undertaken to differentiate the rock units. This domain has a variety of minerals which include asbestos, graphite, kyanite, garnet, talc, felspar, kaolin, clays and stone for aggregate.
Nyanzian System-

this is situated in the southeast of the country and is comprised principally of mafic volcanic rocks and sediments. It forms gold-bearing greenstone belt which is part of the famous Lake Victoria gold field of northern Tanzania and western Kenya. Gold mineralisation is confined to quartz veins within the basic metavolcanics, within banded-iron formations (BIF) or in the rocks adjacent to the BIF units. Currently, Tira Gold Mine is in production.
Buganda-Toro System (2000-1800 Ma)- is composed of argillaceous rocks together with quartzites and stretches from the southwest of the country through Rwenzori Mountains swinging eastward to north of Lake Victoria. In some areas in central and southern parts within this belt, the rocks are metamorphosed to a higher degree reaching the almandine-amphibolite facies. The system is a host to gold, base metals such as copper, cobalt, nickel, columbite-tantalite and tungsten. Copper was mined at Kilembe from 1957 to 1978 and contributed 95% by value of all the country's mineral exports. At closure of the mine in 1979, reserves were approximately 6 million tonnes of which 4.2 million tonnes with copper and cobalt content of 1.77% and 0.185 respectively were in proven category.
Karagwe-Ankolean (1400-1300 Ma) System-extends from southwest of the country for over 2000 kilometres to Katanga in the Democratic Republic of Congo. The rocks are similar to those of the Buganda-Toro System but are usually less metamorphosed. Intrusive porphyritic granites within the cores of anticlines are a common feature. The system is a major host of gold, tin, tungsten, beryl, lithium, columbite, tantalite, bismuth and iron ore. Most gold workings in the belt have been largely by artisans.
Karasuk Group (1300 Ma)- this group comprises of rocks from Archaean to Upper Proterozoic which were overprinted by events of the Mozambique orogenesis. The group is found in the northeast of the country in Karamoja region and consists of acid and basic flaggy gneisses, quartzites and marbles. A unique feature of this group is the occurrence of chromite-rich "pods" thought to represent an ophiolite suite of rocks. The group also hosts gold, nickel, platinum, copper and gemstones.
Carbonatite ring Complexes- these are of as early as Cretaceous and represent eroded remnants of volcanics of similar geological suite and occur in several localities in the eastern part of the country. They host limestone, pyrochlore, vermiculite, titanium, vanadium, zircon, baddeleyite, uranium, thorium and traces of copper. Vermiculite at Namekhara has been developed into an active mine at a production rate of tonnes per month.
Bunyoro-Kyoga Group- these Upper Proterozoic rocks consist of mudstones and arkoses with a basal tillite in a belt parallel to the eastern side of the Lake Albert Rift and along the northern shores of Lake Kyoga.
Mesozoic and Cainozoic rocks- these comprise of volcanics and sediments. The main areas of volcanicity are in the eastern and southwestern Uganda. The eastern volcanics are older and range from Cretaceous to Miocene and comprise generally soda-rich agglomerates, lavas and tuffs extruded by central volcanoes of Moroto, Kadam and Elgon Mountains. In western Uganda, volcanism was confined entirely to the later Pleistocene and the volcanics are potash-rich in contrast to those of the east. They form prominent cones of Mt. Mufumbira and are also represented by tuffs ejected from explosion craters in areas between Lake George and Fort Portal. Although no active volcanoes remain in Uganda, some continue to erupt sporadically in Democratic republic of Congo within 40 km of the Uganda border
A new chapter in the Geology of Uganda
.
Vangold Resources Ltd

(Canadian, VNGRF.PK, VAN.V) licenses are located in the former Kilembe Mine concession area (previously owned by Falconbridge Ltd.) which was mined between 1956 and 1977. The mine produced over 16,000,000 tonnes of ore grading 1,98% copper and 0,17% cobalt. Bukangama East in the Kilembe lease has over 2 million t of reserves grading 1.59% Cu.
China's Gingko Investment Ltd. is planning to invest at least $100 million to revive copper mining operations at Uganda's defunct Kilembe Copper Mines. The funds will be invested over the next five years to resume copper production at the mine. The project was announced by a presidential spokeswoman who quoted Gingko Investment's Chairman, Lin Rui Hui. Lin made the remarks during a meeting with the Ugandan President Yoweri Museveni on Sunday. The former owners, Canada-based Falconbridge Ltd. (FAL), exploited only 20% of the mine's reserves, according to the state-run mines and geology department. In early 2013, a consortium of Chinese companies were awarded the concession to manage and operate Kilembe Mines for a signature fee of $4.3m (about sh11b) and an annual concession fee of $1m (about sh2.5b) to the Government. It was ultimately sold to Tibet Hima Industry Company Limited in July 2013.
Uganda: Leaders Welcome Kilembe Mines Privatisation
BY WILSON ASIIMWE, 11 JULY 2013
Kasese district leaders have welcomed the hand over of Kilembe copper mines to Chinese investors, saying the move will help revamp the mines. Godfrey Kabyanga, the municipality mayor said people will get work at the mines that have been lying idle for over 40 years. He said the privatisation is timely as many of Uganda's youth are unemployed. He added that the council will now increase its revenue base from the royalties that will be earned from the mines company. "The Government has done something good. We hope that our roads will now be repaired from the tax revenues to be got from the mines. This will boost the Council's capacity to deliver necessary services," Kabyanga said. Lt. Col. Dura Mawa, the local government chairman said the local government had benefited a lot from companies such as Hima Cement and said that it will also benefit from the Chinese firm that has taken over Kilembe mines. He said they will strive to ensure that there is a conducive environment for the investors to do their work. He asked the Government to find more investors to take over other government factories that are lying idle like the Katwe salt factory. "I ask the Government to find more investors who can take up other government-owned factories in the district such as Katwe salt factory which has been idle for over 30 years, so that people can get employment and benefit from them," said Mawa said.
Click

HERE

for an overview
Click

HERE

for an overview (MBendi)
Artisinal mining near

Busia

(East), Buhweju and Kigezi (Southwest), Mubende (central) and more recently, Karamoja in the northeast.
WCP Resources Ltd

is exploring the

Busia

project located in southeast Uganda, approximately 170 kilometres due east from Kampala and adjacent to the Kenyan border. The project comprises three separate exploration licences, Busia (EL 0069), Bude-Kitoja (EL 0027) and Makina (EL 0070) that together comprise 145 square kilometres and are readily accessible from the Kampala-Nairobi highway.

These licences are underlain by Archaean greenstones that form part of the Lake Victorian goldfield that hosts many world-class gold deposits (Geita (14.7 million oz), Bulyanhulu (11.2 million oz), North Mara (3.3 million oz gold), and Golden Pride (1.3 million oz). The rocks comprise Archaean volcano-sedimentary greenstone sequences known as the Nyanzian Series made up of intermediate to acid volcanics (andesites and dacites) and intermediate tuffs with quartzites; banded chert-iron-formation; phyllites; greywackes and volcanic conglomerates metamorphosed to greenschist facies. Prominent pre- and post-tectonic granodioritic and granitic intrusions also occur in the region. The banded chert-iron-formation (BIF) hosts the gold mineralisation at Busia and Makina, while the gold at Bude-Kitoja is hosted by sheared intermediate volcanic rocks.
IBI Corporation

, the mother company and largest shareholder of

Grey Crown Resources

, has over 2,000 sq km for gold exploration in south-east and western Uganda. Before transfer to Grey,

Busitema Gold Mine

had two exploration properties, Tira and Amonikakinei on which they have added 600 sq. km to the south and about 450 sq km to the west of Busia.
Magnus International Resources Inc

., through the acquisition of

African Mineral Fields

, acquired four gold projects in Uganda. Exploration in Lugazi in the Mukono district and at Mitoma has revealed 4 gold zones with drilling to commence at Mitoma during 2007. Once the drilling starts, the program will focus initially on the Mashonga mine area and artisanal workings in southwest Uganda, where high grade gold, together with high grade platinum and palladium grades, were recorded. Further drilling at Mashonga is also planned to test a highly promising 3km by 500m wide gold-in-soil anomaly located approximately 1km east of the mine.

At the Lugazi project in southern Uganda, the drill program is designed to investigate a strong 300m - 700m wide gold-in-soil anomaly over a distance of at least 3.5km. This anomaly is coincident with a magnetic rich horizon, which was identified following a fixed wing high-resolution airborne geophysical survey, including magnetics and radiometrics.

Drilling at the Mwerusandu project in southwest Uganda will test a high grade trench intersection (20.5m at 3.5 g/t gold) across siliceous outcrop as well as a gold-in-soil anomaly developed southwards along the contact of a granite intrusion and meta-sediments.

At the Mitoma project two gold-in-soil anomalies have been delineated about 3km apart. The Kahungye anomaly measures 500m x 600m at the northern end, extending over 4km to the southeast, while the Rugoma gold anomaly, which covers an area of about 2000m by 500m, shows co-incident elevated arsenic. The planned drilling at Mitoma is designed to understand the dispersion of gold in the underlying weathered profile.
Glencar Mining plc

(GCMXF.PK) has a ground holding in southeast Uganda of approximately 350 square kilometers in 3 licence areas on the northern margin of the Lake Victoria greenstone belt. The belt hosts a number of major gold deposits on the southern side of the lake in Tanzania including the Geita, Bulyunhulu, Golden Pride and Kukuluma deposits. SEPL4332 and SEPL4333 have areas of 256km2 and 84km2 respectively. EPL 4228 is a smaller concession covering just 4.7 km2. SEPL 4332 & 4333 are fully owned by Glencar while its interest in EPL 4228 is through an agreement with the Australian company, Lincoln Resources. The latter concession is contiguous with the licence area which incorporates the Tira mine which historically has seen intermittent small-scale gold production from an underground mine.
Thabex Exploration

Ltd

and

Devxplore

have a joint-venture agreement to explore the Mafuga Forest project, which consists of a single exploration licence covering an area of 178 km2 in south western Uganda. The gold mineralization occurs in brecciated to sheared quartzitic rocks cross cut by secondary veins of quartz, Fe-oxides and sulfides.
MAED Ltd

, the international engineering group specializing in the design, construction and operation of process plants for a broad spectrum of metals, has reached an agreement with

Anglo Uganda

to mine gold in Kamalenga in the Mubende district. Anglo has been engaged in mineral exploration in the Mubende district since the late 1980's and holds exploration and mining licenses from the Ministry of Energy and Mineral Development. The Mubende gold fields are estimated to contain more than 300 kg of gold.
Click

HERE

for an overview
Vangold Resources Ltd

(Canadian, VNGRF.PK, VAN.V) has has 287 sq km in the Kafunzo area which is located on the Tanzania border, north of the Kabanga nickel/cobalt deposit and is investigating a promising aeromagnetic anomaly.
During 2014, the government announced that the country's oil reserves had increased to 6.5 billion barrels of oil, from 3.5 billion, while natural gas reserves had also gone up to 500 billion cubic feet, from 14 million cubic feet in 2007
Tullow's Ngassa 2 exploration well in Lake Albert, Uganda in 2009
(Source: Tullow Oil)
Proven reserves
Oil: 2 500mmbbls
Gas: 0.5Tcf
The national oil company is Uganda National Oil Company (NATOIL) – not yet
The key players are
CNOOC
Total
Tullow Oil
Highlights in 2014
• 60 000bbl/d refinery going ahead expected cost USD2.5 billion – with 30000 bbl/d to be dedicated to local demand.
• First new licensing round for eight years due in the fourth quarter of 2014.
• The 1 380-km Lappset Sudan-Uganda-Kenya pipeline for crude exports will be the largest such heated facility in the world and cost an estimated USD25.5–30 billion.
Recent developments
• Neptune, Heritage and Dominion divested their acreage in 2012/2013.
• Commercial oil production is targeted to begin in 2018.
• An eight-year halt in licensing rounds is expected to end with an open bidding round in the last quarter of 2014 and the awarding of 13 blocks in mid 2015.
• The Ministry of Energy and Mineral Development (MEMD) announced in June 2014 that two consortiums from Russia and South Korea are the final bidders for the construction of a 60 000bbl/d refinery in Hoima. Negotiations could conclude as early as the fourth quarter of 2014. The refinery will be be developed in a modular manner starting with 30 000 bbl/d.
• In May 2014, Tullow Oil relinquished its Ngassa discovery, which was part of the EA (exploration area) 2 field, as it was described uneconomical due to complex geology, a fact disputed by the Government who will now include it in the areas to be re-licensed.
• In February 2012 CNOOC received the only 25-year development licence for the Kingfisher field.
• 76 of the 88 oil exploration and appraisal wells drilled in the country have hit oil, with the government reporting 20 fields containing recoverable oil & gas.
• In February 2014 the Government signed an MOU with Tullow Oil, Total and CNOOC on an integrated development plan for the Albertine Graben blocks including EA 1, EA 2 and the Kingfisher fields (EA 3A) and the construction of an export pipeline to Lamu in Kenya (800km of the 1 380-km Lappset pipeline).
• Uganda and Kenya have agreed to coordinate the development of the crude pipeline, while South Sudan is considering the possibility of involvement in the project as an alternative export route.
Uganda's oil deposits 40% higher than earlier believed
An article in Uganda's Daily Monitor on 18 September 2012 reported that an additional 1bn barrels of oil had been discovered, pushing the figures of commercially viable deposits to at least 3.5bn barrels. Energy ministry officials revealed the expanded find, which is a significant increase in the proven deposits first announced in 2006.
Ernest Rubondo, the commissioner for petroleum exploration and production at the ministry of energy and mineral resources, made the announcement last week at a conference organised by the Uganda National Chamber of Commerce. "From about two or three wells we have increased our oil barrels to 3.5bn," Rubondo said. He further disclosed that out of 77 wells drilled so far, 70 have been proven to contain oil and gas.
Uganda's oil fields, he said, are showing a comparatively higher level of productivity when measured against the experience in other countries where the chances of oil discovery in an equal number of wells usually hovers at only 10%. Thus far, US$1.5bn is the amount that has been spent in all the activities leading to the 3.5bn barrels discovery," said Rubondo. The even better news, according to the commissioner, is that exploration is still ongoing and more discoveries are expected along the way.
Before the discovery of the additional 1bn barrels, the country's exploration efforts in the Albertine Graben had shown estimated oil and gas reserves of 2.5bn barrels. However, production has been delayed by contractual disagreements, tax disputes and infrastructural setbacks, according to the energy ministry.
Parliament, which is investigating three ministers over allegations of accepting oil bribes, has also criticised the government for hiding information about the budding sector, amid suspicions of high level corruption. Now the oil companies invested in the sector, particularly Tullow Oil, want commercial exploitation to start immediately, saying it is unfair for them to hold their capital idle. At the same conference, Tullow Oil's president in Uganda, Elly Karuhganga, said with neighbouring countries discovering oil in the region, investor attention could turn to them. Karuhanga advised that before this happens Uganda should allow the companies that have invested to start commercial production as exploration continues elsewhere.
Block 1, found on the northern tip of Lake Albert, is operated by a local unit of France's Total SA, while Block 2 is operated by Tullow Oil. Total entered Uganda's oil industry early this year after it signed onto a joint venture with China's CNOOC and took up a third each of British explorer Tullow Oil's exploration assets in the country worth $2.9bn.
According to Reuters, Total expects to drill a total of eight exploration wells in Uganda by the end of 2013, spending about $650m on exploration and appraisal activity and seismic data acquisition. Uganda is expected to conduct a licensing round for hundreds of square kilometres of exploration acreage after parliament passes new oil laws expected by the end of this year. The government says only about 40% of the Albertine Graben has been explored to date and has stated it will be demanding tougher terms in new oil deals.
Imara is an investment banking and asset management group renowned for its knowledge of African markets.
Although Uganda had no proven oil or gas resources, renewed exploration efforts are taking place, and there are signs that the western Rift Valley may contain considerable hydrocarbon deposits. In September 2002, following a link up with South Africa's

Energy Africa

Ltd

,

Heritage Oil Corporation

of Cananda announced that exploratory drilling operations had begun in Block 3, located in the Semiliki Valley in western Uganda. This is the first petroleum well drilled in the country, and is intended to confirm the results of Heritage's seismic studies from 1999. That survey at Turaco-1 site, revealed a potential of 1.2 billion barrels of oil in the Semliki Valley as well as the Pakwach basin area, northern and southern Lake Albert basin, and Lake George basin area. Heritage began drilling a second well at Semiliki in the last quarter of 2003.

TotalFinaElf

of France,

RSM Production Corporation

of the United States and Australia's

Hardman Resources

also showed renewed interest in the five exploration blocks in Western Uganda.
Oil reserves

are estimated at 250 million barrels by

Tullow Oil plc

, the parent company of

Hardman Resources

, one of the companies conducting petroleum exploration in Western Uganda. Hardman has discovered oil at two wells-Waraga and Mputa-1-both located in Exploration Block 2 in Hoima district in Western Uganda. A third well, Nzizi, is yet to be flow tested but the company, encouraged by the results from the other two wells, is hopeful it will strike oil there too. The company also owns 50 per cent shares in Block 3 where Kingfisher-1 and Kingfisher-1A wells were drilled (on the Lake Albert shores). Oil was also struck at both of those wells; 13,893 barrels of oil per day during flow testing.
H

eritage Oil Corporation

is the operator and has a 50% interest in two exploration licenses in Uganda (Blocks 3A and 1). The Kingfisher deviated well in Block 3A was drilled to a total depth of 3,195 metres, which was close to the limit of the rig's operational capability. Four intervals were tested successfully in the Kingfisher well, resulting in an overall cumulative maximum flow rate of 13,893 bopd through a one inch choke. A shallower interval, at a depth of 1,783 metres, was tested in November 2006, producing 4,120 bopd over a 10 metre interval and three intervals tested in February 2007, from between 2,260m to 2,367m, produced a cumulative maximum flow rate of 9,773 bopd over a total net productive thickness of 44 metres. The oil is good quality light (between 30° and 32° API) and sweet with a low gas-oil ratio and some associated wax.
Uganda: Govt Dashes Bunyoro Hopes of Oil Wealth
East African

(Nairobi)
18 September 2007
Posted to the web 18 September 2007
David Malingha Doya
Nairobi
Bunyoro region's expectations of receiving the lion's share of proceeds from oil finds in Uganda are unlikely to be realised following a radical amendment of the country's still unpublished national oil and gas draft policy that will see the much anticipated mineral wealth being managed as a national asset.
Sources close to the process say the decision is informed by the Nigerian experience in the Niger Delta and the perception that conflict could erupt in the country over perceived favouring of some regions.
The Nigerian case has deteriorated into an armed crisis claiming many lives among the native Ogoni community, security agencies and expatriates employed in the multimillion dollar oil exploration industry. Local gangs in the Delta have targeted multinational companies operating in the region, burning installations and destroying equipment on the grounds that their communities are being deprived of their rightful share of the oil wealth.
The decision came just after the World Bank released its Country Economic Memorandum: Uganda Moving Beyond Recovery, which takes stock of the country's past growth, examines constraints to growth and recommends ways to maximise prospects for future growth.
The prospect of exploiting the oil for economic development dominated the first day of a meeting held to discuss the report, where stakeholders from the public and private sectors and the donor community all seemed agreed on the desirability of managing the deposits as a national asset.
Finance Minister Dr Ezra Suruma said, "There are two schools of thought - those who think that discovery of oil will cause chaos and those who say it gives Uganda an opportunity for faster growth. We are aware of both possibilities but we are sure that we shall manage the resource well for faster economic growth and development of the whole country."
Last year, Australia's Hardiman Resources and its UK-based partner Tullow Oil announced from preliminary tests the presence of substantial oil deposits around the shores of Lake Albert in Western Uganda.
Since then, some Ugandans from the areas where the exploration wells are located have been seeking assurances from the government that their interests will come first.
A high ranking official from the Bunyoro-Kitara Kingdom, under whose land the oil lies, said in July last year that people in the area would not stand to see the oil benefiting people elsewhere while they themselves continued living in chronic poverty.
The kingdom urged the government to at least provide social services like health centres, schools and paved roads in the region to pre-empt local hostility to the oil drilling.
Other communities in the Albertine region followed suit, saying that the deposits from which the oil was drilled in Bunyoro were likely to extend to nearby regions like the Toro Kingdom and western Lango and Acholi regions.
William Oketcho, chairman of the Parliamentary Budget Committee, said that since actual drilling is still a couple of years away, all this excitement in the oil-bearing regions is uncalled for. Indeed, some people are already rushing to buy land underneath which the oil deposits are thought to extend in the hope that they will be compensated heavily when it comes to drilling.
During the World Bank meeting, Prof Paul Collier, director of the Centre for the Study of African Economies at Oxford University in the UK, said, "If you decide to manage oil as a national asset, you must be transparent and accountable."
Prof Collier, the author of several books on Africa, assessing the possibilities of an oil boom helping to accelerate growth in Uganda, outlined four key steps to ensuring the nation benefits from a natural resource.
He said, "The four steps include issuing rights - here, I recommend an auction; working out royalties; saving proceeds; and carefully investing the oil money." Currently, the government of Uganda has contracted Hardiman Resources to do preliminary tests before the real business of drilling starts, whereupon the issue of rights will surface.
There has been talk about royalties, but the government has yet to reveal how much the country will get and has kept the Production Sharing Agreement secret. It is however understood that, globally, 60 per cent of revenues to the government is a good deal. Analysts point to Zambia as an example of a country that ended up getting a raw deal for its copper because of poorly worked out royalties.
On saving and investing the proceeds, the Norwegian model was cited - the country has been putting billions of dollars from oil proceeds in offshore assets such as securities on the New York Stock Exchange to pre-empt inflation caused by oil money.
However, Prof Collier said Norway was not the right model for Uganda.
"It is better for the money to stay in the economy of Uganda, because it is one of the most capital-poor countries, unlike Norway, which is capital-rich," he said.
Prof Collier instead advised that the oil money be invested in construction and other carefully selected projects.
The Curse of Oil in the Great Lakes of Africa
-Joseph Yav, senior researcher at the Institute for Security Studies.
[.....]
Uganda and the DRC share Lake Albert, which has become an important new frontier in the search for oil on the continent. Lake Albert, also Albert Nyanza and formerly Lake Mobutu Sese Seko, is one of the Great Lakes of Africa. It is Africa's seventh largest lake, and ranks as the world's twenty-third largest lake by volume. It is located in the center of the continent, on the border between the DRC and Uganda. It is the northernmost of the chain of lakes in the Great Rift Valley; it is about 160 km long and 30 km wide, with a maximum depth of 51 m, and a surface elevation of 619 m above sea level. In 1864, the explorer Samuel Baker discovered the lake; he named it after the deceased Prince Albert, consort of Queen Victoria. The late and former Congolese president Mobutu temporarily named the lake after himself.
Conflict is arising over oil found in Lake Albert. Reserves are estimated at less than 100,000 barrels a day for about 10 years when production starts. Tensions began to rise at the end of July, 2007, beginning of August, 2007, when a unit of Congolese Armed Forces (FARDC), captured four Ugandan marines who had apparently strayed towards the Congolese west bank of Lake Albert. But on August 3, the situation grew serious. FARDC soldiers patrolling the lake attacked an oil exploration barge belonging to Canada's Heritage Oil Corporation and killed a British contractor working for Canada's Heritage Oil Corp. The Ugandan army retaliated and a Congolese soldier died in the short shoot-out while a Ugandan soldier was wounded.
Since then, tension has been mounting along that part of the Uganda-Congo frontier that runs north-south down the 160 kilometre-long lake - although the alignment of the border has never been precisely defined. Following the discovery of oil in the Albertine Basin, both the Ugandan and Congolese armies have been deploying heavily around the shores, with some observers saying there is now a threat of all-out war.
To ease the tensions, Congolese president Joseph Kabila and his counterpart, Ugandan president Yoweri Museveni, held a one-day summit meeting in Tanzania on September 8 in an attempt to sort out the border dispute. They signed an agreement to immediately pull back their troops 150 kilometers from the border to ease tensions over an oil-rich border lake. They agreed to work together to explore and exploit oil in the Lake Albert area and to lay a joint pipeline to distribute any oil and they signed the agreement in the presence of Tanzanian President Jakaya Kikwete, diplomats and journalists. They also agreed that a joint team will begin work to demarcate the contested area of the lake. Further, they agreed to meet once a year and to raise their diplomatic missions to ambassadorial level to help improve relations.
However, few days after the meeting and agreements another military clash erupted on the lake on September 24. Reuters reported that six civilians were killed when Ugandan soldiers opened fire on a Congolese passenger boat on Lake Albert. In a conflicting version of the shooting incident, Uganda's military reported two soldiers killed, one from each country, in what it said was a gunfight during a dispute over an oil exploration vessel working on the border lake.
Uranium Hunter Corporation

concluded an agreement with NPK Resources to earn a 75% interest in the Nkoko and Kagadi uranium properties which contain over 800 km2 located in Kibaale district, Uganda, called the Kibaale project.