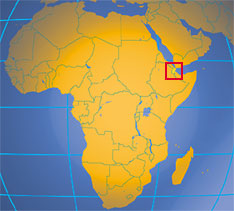 Institut Supérieur d'Études et de Recherches Scientifiques et Technique (ISERST)
CIA Factbook
Political rights and civil liberties (Freedom House)
French-English online dictionary
Arabic-English online dictionary
Travel and accommodation
The contribution of
mining to total exports in 2010 amounted to 14.5%
Djibouti Mining News
Source: CIA Factbook
Legend
Mining
It has few natural resources salt, gypsum, diatomite and construction materials are among those and little related

industry

. Salt production is carried out on a semi-industrial scale at Lake Assal and Djibouti is the 10th largest producer of salt in Africa accounting for 2.8% of total output.
Westgold Resources NL

of Australia and

Green River Geology Company (Pty) Ltd

formed a joint venture in February 2004 to explore for gold on two properties in Djibouti. Preliminary exploration work started in the first half of 2004.
A
lthough there is currently no upstream (exploration or production) oil activity in Djibouti, the government has tried to generate interest in offshore oil exploration without success.