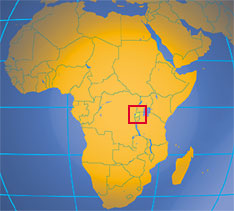 Rwanda Geology and Mines Authority (OGMR) (Office de la Géologie et des Mines du Rwanda)
Ministry of Forestry and Mines (MINIFOM)
P.O.Box 2195, Kigali
Phone: +250-252573625
Fax: +250-73036
director@ogmr.minirena.go.rw
CIA Factbook
Political rights and civil liberties (Freedom House)
French-English online dictionary
English-Swahili online dictionary
Travel and accommodation
The contribution of
mining to total exports in 2010 amounted to 27.4%
Currently (2015), there are about 600 licensed miners who are expected to meet the overall target for the mining sector to achieve $400 million (nearly Rwf268 billion) worth of exports by 2017/2018 However, in 2014, total mineral export earnings dropped by almost 10 per cent to $203.32 million (about Rwf145.4 billion), from $225.7 million (about Rwf161.4 billion) in 2013, mainly due to a decline in international prices.
Rwanda Mining News
Source: CIA Factbook
Legend
The geology of Rwanda is made up of low-grade metasediments principally quartzites and sandstones alternating with shales of the Mesoproterozoic Burundian Supergroup interspersed locally by granite intrusions. Paleoproterozoic "older granites", granitic-gneisses and minor migmatites predominate in the east of the country. Neogene volcanics are found in the northwestern and southwestern parts of the country; while Quaternary alluvial and lake sediments infill parts of the Western Rift and occur along the rivers and lakes.
Minerals in 2007 accounted for 35.9% of export earnings, and in 2008 overtook coffee and tea as Rwanda's primary foreign exchange earner. Rwanda is Africa's leading producer of tungsten (70.4%) and is ranked second in the production of tin (23.2%) and coltan metals (29.7%). In 2008 tantalum production increased by 23.1 per cent and accounted for 4.4 per cent of global output. Natural gas production from Lake Kivu shut down in 2006 but is expected to be restarted in 2011-12. Proven reserves of helium-rich methane were estimated in 2009 to be of the order of 56.65 billion m3.
Rwanda's Surging Mining Sector
BY EMMANUEL R. KARAKE, 3 SEPTEMBER 2012
Rwanda's mineral exports have increased over the past few years, with the sector emerging as a major foreign exchange earner with even much brighter prospects.
The country's economy was, traditionally, centred on coffee, tea and tourism but the mining sector has increasingly attracted attention following investment in various
mines across the country
Last year, the sector fetched $164 million up from $ 94 million the previous year.
Jean de Dieu Mutunzi, a veteran minerals dealer and employee at Phoenix Ltd, a mineral exporting company in Kigali, says that Rwanda's huge cassiterite deposits,
especially the Rutongo Mines located just 20km north of Kigali, are among the sites that have become profitable for the surrounding communities, investors and the
country as a whole.
Rwanda ranks number eighth in the world for un-melted tin which translates into 1.5 percent of global tin production.
It produces about 8,000 to 9,000 tonnes of mineral compounds combined every year, and according to Dr. Michael Biryabarema from the Rwanda Natural Resources
Authority, this production can increase fivefold if structural bottlenecks are addressed.
The government has prioritised addressing the challenges.
"At policy level we are addressing issues of geosciences knowledge, capacity building, mines cycle management," Stanislas Kamazi, the Minister of Natural
Resources, told The New Times in an interview.
The minister pointed out that there is a programme to enhance human capacity through training in earth sciences.
The government is also working on recruitment of a firm to build a mineral rights management system to assist with transparency, management and regulation.
The system would cover all transactions that take place during the mining cycle.
The minerals that rank high on Rwanda's mineral export receipt include tantalum, tungsten, gold and tin.
The country has since last year adopted a mineral tagging and sealing scheme, internationally recognised as the iTSCi project. The system aims to ensure that the
origin of all minerals can be traced.
The exercise gained currency after Dodd-Frank Act was signed into law by the US president in 2009. The act aims at barring "conflict minerals" from gaining access to
the US market.
iTSCi is an international tin supply chain initiative which aims at ensuring traceability of tin.
Dr Biryabarema told The New Times that the tagging process has ensured that all minerals from Rwanda "are traceable 100 percent."
"Tagging minerals ensures traceability. If there are leakages from outside, our job is to stop them," he said.
Rwanda is the only country within the East African region implementing the traceability and tagging schemes to guarantee transparency and ethical trading in minerals.
Kamanzi said government hired a German firm to carry out a seismic survey on an array of mineral elements and the findings will help attract more investors into the
sector.
The targeted areas are Nyagatare, Kirehe, Muhanga and Nyamagabe where the prospects of minerals are high.
"The survey is on 45 elements of mineral compounds," Kamanzi said.
Biryabarema told The New Times that there is a lot of focus in including Minerals studies at local universities and also encouraging students to pursue the programme in
other universities.
Bob McMullan, a special envoy of the Australian Prime Minister, who was in the country last month, said his country is supporting Rwanda by providing key skills
training to improve income, employment and enterprise opportunities through mining.
Experts from the London-based International Tin Research Institute (ITRI) involved in traceability of the minerals, told The New Times that there was evidence of vast
mineral potential in Rwanda.
There are even muted hopes that Rwanda could strike significant oil and gold deposits in the future although the government has been cautious not to raise public
expectation.
In May this year, Biryabarema disclosed that the government was nearing an oil sharing deal with Vanoil, a Canadian company that has been prospecting oil in Lake
Kivu since 2007.
An official at Vanoil told this newspaper that the company had finished reconnaissance seismic stage and was embarking on the prospective seismic.
"Prospective seismic is an expensive and crucial stage in oil exploration. That is why we need a contract [oil sharing contract] to secure our position in an event of
discovery," the official said on condition of anonymity.
There have been oil and gas findings in the East Africa Great Rift Valley stretch, and Lake Kivu lies in the same geographical stretch.
With or without oil, the lake still constitutes a critical resource for Rwanda, with around 55 billion cubic metres of methane gas reserves. Any significant exploitation of
the gas would not only solve this country's power problems, but Rwanda could easily become an energy-exporting nation. For now, the government is considering the
best way to make the most out of this resource, with funding among the main challenges.
At the moment, extraction of the gas is on a small-scale basis, with the extracted gas used to run boilers at Bralirwa, the country's leading brewer, in Rubavu, with
production of around 3MW at a government owned pilot plant.
And, last July, an official at Rogi Mining Rwanda, one of the country's largest gold explorers, announced that it is in the final stages of fieldworks in Northern Province to
ascertain whether the gold deposits there merit commercial production. The company is prospecting gold on 2,937 hectare under Miyove Gold Project in Gicumbi
district.
The assumption that Rwanda is resource poor could prove to be false after all as the sector's potential comes into the limelight
Investing in Mining sector in Rwanda

( Source: Rwanda Natural Resources Authority)
Metallogenic model
Rwanda is largely underlain by the Kibaran Orogeny rock system. This Kibaran Orogeny consists dominantly of basement and Mezoproterozoic rocks that have been intruded by different generations of granitic and mafic rocks. It forms a large metallogenic province that contains numerous granite-related ore deposits, which are rich in mineral ores like cassiterite (SnO2), niobotantalite (Nb,Ta)2O5, wolframite (Fe,Mn), WO4, beryl, spodumene, amblygonite, monazite, gold (Au), etc. These minerals are present in different types of mineralization. They occur as primary deposits or as alluvial or eluvial deposits.
Numerous authors consider the Sn-Nb-Ta-W deposits of Rwanda as being of magmatic origin. The so called Kibaran tin granite, responsible for mineralization is dated at 980 Ma. Primary Sn-Ta-Nb-W mineralization occurs in pegmatites and quartz vein.
Wolframite
There are three (3) metallogenic tungsten districts in Rwanda; Central, Western and Eastern tungsten belts. Mineralization is associated with quartz veins largely hosted in graphitic shale. The mineralization is also structurally controlled.
Workers at a wofram mine in Rwanda
Cassiterite
Major cassiterite deposits are associated with folded hydrothermal quartz veins, largely within anticlinal structures. These quartz veins are associated with an intense alteration of the host-rock leading to tourmalinisation, muscovitisation and kaolinisation. The mineralization is associated with a later phase in the vein development and occurs in fractures filled with big muscovite crystals. Relatively minor cassiterite mineralization is associated with pegmatites.
Rutongo Mines: History
1930 - 1985:
Tin exploitation began in 1931 and from the 1940's, the company was consistently exporting 800 tonnes a year of Cassiterite.
By the 1950s, a Belgian mining company had developed the mine into the largest producer of tin concentrates in Rwanda.
1986 - 1994:
Nationalised by the Rwandan government in 1986, production rapidly reduced to a low level due to the lack of investment. Largely closed in 1994.
1995 - 2008:
Reopened as a diggers' co-operative in 1995.
In 2008 the Rwandan government decided to privatization the mines and Ruddington Services Ltd, now TINCO, entered the privatisation process.
TINCO has 100% ownership of the present production, with a 3% export levy and the right to dilute the Rwandan Government interest in the large resources beyond the historical infrastructure down to a carried interest of 10% (first $5m of exploration and development expenditure earns 51% - subsequent Government dilution with deemed Government equity of $4.8m).
Colombo-tantalite
mineralization is only found to be associated with pegmatite veins. These pegmatite veins are currently targets of intense exploration for niobotantalite and cassiterite ores.
Investment potential in the mining sector
.
The key minerals currently being mined and traded in Rwanda are cassiterite (SnO2), wolframite (WO3), Colombo-tantalite (Ta2O5) and gold. Other key minerals include ambrigonite, beryl and semi precious stones such as tourmaline, topaz, corundum,chiastorite, amethyst, sapphires, opal, agate and flint.
Construction materials which can be used in their primary state or given a higher value are abundant. These include; amphibolites, granites and quartzites, volcanic rocks, clay, sand and gravel.
Industrial resources such as dolomite, industrial sand (glass and foundry), kaolin for ceramic and paper, quartz and feldspar exist in substantial amounts. Resources which can be used in soil upgrade for agriculture include; travertine, peat and trachytes.
Energy substances that need development in the sector include peat and geothermal potential.
Types of licences
Prospecting license (for 2 years, non renewable)
Research license (for 4 years, renewable once)
Mining/exploitation license (for 5 years, renewable if the deposit lasts)
Concession license (for 30 years, renewable if the deposit is still economic).
Procedure for obtaining exploration – exploitation- licenses
Exploration license - Following documents/Conditions required;
Establish a Rwandan company.
Digital map of area being applied for.
Business and action plans.
Application letter.
Exploitation (Mining) License - Following documents/Conditions required;
Establish a Rwandan company.
Digital map of the area being applied for.
Research License.
Business and action plans.
Certificate of environment impact assessment (EIA).
Application letter.
Contacts for more info on potential investments in Mining
Emails :
mbiryabarema@yahoo.com
info@rnra.rw
Artisanal mining takes place in the Nyungwe Forest. Gold is mined in small quantities by members of the Coopimar co-operative in Myove and Byumba.
Gold prospecting in the mineral-rich Western and Northern provinces have produced positive results, with the companies involved either having completed or are about to complete the first phase of exploration before they seek permits to begin actual mining. Although the quality and quantity of the gold quantity deposits are yet to be fully explored, early reports indicate that the Western Province is rich in the mineral, which has attracted several foreign companies. Three foreign companies and some local investors have completed surface exploration, including detailed mapping, intensive trenching and sampling to define their drilling targets. These include
Kivu Gold,
licensed by Government to operate in Karongi, Rutsiro and Ngororero districts in the Western Province;
Transafrika
in Rusizi and Rulindo districts; and
Rogi Mining
, operating in Nyamasheke, Gicumbi and Ngoma districts. "We have been exploring for seven years now, but our first stage of drilling began last year, from January to July; we drilled 2,300 metres and look forward to continue drilling approximately another 5,000 metres in search for gold," Oleg Moiseev, the Managing Director of Rogi Mining told The New Times in an exclusive interview. "The data we have collected so far indicates that there are gold deposits in Miyove and some other places that we have explored, although we are not yet certain of the quantities," he said. The company has so far invested more than $4.5 million and targets to invest another $1 million, this year, on research and exploration in the hope of spotting better drill veins. A local company,
General Mining Company
, said that it had completed a two-year exploration in Rwashanyi, Bushekeri and Nyamasheke, and according to its proprietor and general director, Jean Ntabana, "enough gold exists for proper mining to begin. "We were awarded an exploration certificate in those areas and after two years, we discovered that there were enough gold deposits. We are now in the process of applying for a mining permit as well as acquiring machinery to begin mining," said Ntabana. In Rwanda, the company holds two permits and covers four areas totaling 114 500ha that are being explored. The other company, Transafrika, says that exploration methodology yielded tangible results as well. However, the Department of Geology and Mines at the Ministry of Natural Resources is still putting other minerals ahead of the gold prospect. "Gold is for the future and not now; we have a lot of cassiterite, coltan and wolframite and we are still concentrating on these because they bring in tangible revenues," said Francis Kayumba, the Director of Regulations and Inspection in the department. The total value of mineral exports, last year, was $158.8 million making it the country's second foreign exchange earner after tourism. "Before we concentrate on gold, it is best that we realize the full potential of the minerals that are in abundance to ensure that more revenues come in to develop the country." The Director of Research at the Geology and Mines Department, Hildebrand Kanzira, said that there are potentially 10 gold rich sites in Rwanda, which, when tapped, will significantly push the mining sector forward. "The reports we received from the mining companies in their exploratory phases have good news, but before we give out licenses for mining, we must verify all the reports and ensure that the procedures abide by the law," Kanzira said. Currently, no company has a license to mine gold in the country. However, artisanal miners and residents of Karongi and Gicumbi districts reportedly turn up with ounces of the precious metal once in a while. Cassetirite remains Rwanda's number one mineral export, with 6.9 million tonnes exported in 2011, fetching US$96.8 million.
Desert Gold Ventures Inc

acquired TransAfrika Rwanda Gold SARL from TransAfrika Resources Cyprus Ltd in November 2011. Exploration on the permits prior to this date was done by TransAfrika Resources unless mentioned otherwise. Desert Gold through TransAfrika Rwanda Gold SARL has two exploration permits in Rwanda that cover approximately 114 500ha in three different localities. The permit areas are referred to the Byumba, Nyamugali and Rusizi Permits. The exploration permits lie within the Central African Kibaran Orogen stretching from Katanga, Democratic Republic of Congo, into Uganda. The Kibaran hosts Banro's Twangiza Namoya, Lugushwa and Kamitunga deposits with a total resource of 10.5 million ounces of gold ("Au"). Most of Rwanda is considered to be part of the cassiterite (tin) domain but there are two gold domains, one in the north and another in the south-west of the country. Desert Gold has permits in both the gold domains. Desert Gold's Byumba Project is the first significant gold resource discovered in the country. Sedimentary units underlying the permit areas include metaquartzite, sandstones, siltstones and sericite ± muscovite ± graphite ± chlorite ± biotite schists. The sediments are folded and faulted along the dominant north northwest - south southeast trend. The folds are open to locally tight and upright with the surface topography tending to follow the structural grain of the folded sediments, with more arenaceous units forming ridges. The bulk of the Byumba deposit is hosted within a monotonous sequence of finely bedded to laminated shale, siltstone and fine grained sandstone. Faults and shears tend to be sub parallel to the fold axes. The mineralized zone forming the Byumba deposit lies just to the north of a sinistral flexure in a large shear juxtaposing two synformal structures against one another. The structure appears to be sub-vertical and has a component of vertical displacement downthrown to the northeast. Mineralization at Byumba is confined to steeply dipping 1m to 8m wide zones separated by 3m to 15m of poorly mineralized material. Mineralization is hosted by sandstone layers with quartz-sericite-pyrite (QSP) alteration mineral assemblage indicative of fluid movement through the more porous and permeable sandstone. The most intense alteration is observed in fold closures and on fold limbs close to fold closures. It would appear that QSP alteration and gold mineralization took place during the single phase of folding. Zones of higher grade gold mineralization are parallel or nearly parallel to bedding. A number of artisanal miners are exploiting gold in alluvial and small in situ workings on the three permits. In addition, historic records show a number of artisanal workings that are now defunct. TransAfrika's exploration methodology has yielded tangible results in Rwanda. The Byumba Concession, started as a grassroots project in February 2008, has yielded Rwanda's first ever compliant gold resource statement. The 2008 – 2009 drilling campaign outlined a Canadian NI 43-101 and SAMREC compliant inferred resource of 265 000 oz Au at an average grade of 1.5g/t gold. Modelling of the 2008 – 2009 drill data provides an inferred resource of 265 000 oz Au. Higher grade zones of mineralisation occur within broad low grade envelopes. The mineralised zone is hosted within fairly steep dipping bedding parallel zones. Using a 0.5g/t cut-off shows 14 higher grade zones. These zones have strike lengths varying from 100m to 1600m. Drilling tested the mineralisation to a maximum vertical depth of 200m. The thickness of the higher grade envelopes vary in thickness from 1m to 8m with low grade separation between the shells varying from 3m to 15m. Desert Gold believes that drilling of exploration targets down dip and along strike will increase the resource significantly. Mineralisation is open down dip and along strike. Gold grades increase with depth from 1.2g/t in the oxide zone to 1.7g/t in the sulphide zone
Drill rig on the Byumba projec
Simba Gold Corporation owns 26% of Rogi Mining Limited ("Rogi") and has an option to purchase up to 100% over five years; Rogi, a private company owns the Miyove Gold Project The Miyove Gold Project comprises 2,937 hectares and is located in the northern portion of Rwanda, approximately 65 kilometres from the capital city of Kigali. Infrastructure at the property includes excellent road access, water and commercial power access. Gold mineralization on the Miyove Gold Project is concentrated in the interface of quartz sandstones and phyllites in the fault zone of northwestern extension represented by crushed brecciated, mylonitized kaolinized rocks. Mineralization is represented by low-sulfide gold-quartz formation in the form of veins and lenses of quartz often brecciated, with limonites and hematite in the oxidation zone. Reports by Rogi indicate the thickness of vein zones varies from a few metres to dozens of metres and the strike length varies from dozens of metres to plus 1,000 metres. Reports also state there is good spatial correlation between secondary gold anomalies and gold mineralization in the host rocks. It is noted that after the discovery in 1938 of in-situ gold in the Miyove area, all the historic activities were carried out within a narrow strip over the Karenda-Baradega occurrences. However artesian mining has occurred outside of the Karenda-Baradega zones over a much larger area. Based on Rogi's exploration activities, four significant types of mineralization have identified:quartz veins with stringer sulphide mineralization (quartz-hematite in the oxidation zone), weathering crust (partially redeposited) mineralized faults, gold mineralization within fault structures, alluvial and deluvial placers. To date in 2011, Simba has completed 2,300 metres of drilling on the property, focusing primarily on the Karenda zone. Highlights include: Hole MY-11-02: 24.69 m averaging 0.61 g/t gold, including 7.54 m averaging 1.12 g/t gold, Hole MY-11-05: 5.58 m averaging 1.21 g/t gold, including 2.57 m averaging 2.15 g/t gold.t
Oil and Natural Gas
Natural gas proved reserves:

56.63 billion cu m (1 January 2005 est.)
Vangold Resources Ltd

announced in November, 2007, that it will carry out a hydrocarbon potential evaluation over north western Rwanda. The area in the Kivu Graben, dubbed the 'White Elephant', is part of the great western East African Rift System.

The graben, approximately 90km wide and 200km long, trends North-North-East to South-South-West and straddles both Rwanda and the Democratic Republic of Congo.

Structurally, according to the Vancouver-based company, Kivu Graben is the southern extension of the Albertine Graben in Uganda, where there has been major oil discoverie s by

Tullow Oil

and

Heritage Oil

.

Over a period of a year, the company has been doing technical studies of the probable area that has now been narrowed to 1,631 sq kms.
Tin
Tinco Investments Ltd primary asset consists of a series of tin mines in the Rutongo area of Rwanda. It comprises five primary underground mining operations; Gisanze, Masoro, Nyamyumba, Gasambya and Mahaza. These mines also have extensive open pittable resources and large historical waste dumps with commercially exploitable tin grades. The Rutongo mines currently produce over 100 tonnes per month of 71% Sn concentrates, which are currently exported, by TINCO, to Malaysia. TINCO currently employs approximately 4,000 miners. 550 of these are company employees (performing all mine planning, drilling and blasting, recovery, and security functions), and the balance are contract miners paid per kg of cassiterite recovered.
Piran Resources

produced its first tin concentrate from the Musha and Ntunga mines, in

Rwanda

at the end of 2014. The initial production was sourced from reprocessing of tailings dumps from previous

mining

operations

.

The company pointed out that previous

mining

on the license areas was fairly rudimentary, with poor beneficiation. However, Piran has invested in modern technology to ensure higher-grade recoveries.

The pilot plant operation was expected to generate monthly production of between 5 t to 10 t of tin in concentrate.

MD

Ben Smit

said that restarting small-scale

mining

was the cornerstone of the first phase of Piran's development strategy, with the company aiming to fully mechanise the operation, construct commercial scale facilities and expand the processing capacity to 120 t/h of material per hour.

It is anticipated that

operations

would be ramped up to full-scale production within a 12-month period.

An offtake agreement is already in place with a major trading company for this

product

.

"With our offtake agreement in place, we will be selling our

product

immediately, generating early cash

flow

so we can look to expand

operations

using our own balance sheet," Smit said.
Tinco Investments Ltd's

Nyakabingo Tungsten Mine is an operating underground mine, North West of Kigali, Rwanda. Present production is averaging 35-40 t of Wolfram concentrates (at 65 - 70% WO3) per month. An independent resource report by Sound Mining Solution of Johannesburg has defined a resource of 7009 t of WO3 and a capital program is now underway to enhance present production to 70 t of Wolfram concentrates per month. TINCO Group has also lodged an application for a further 30 year mining lease on the Nyakabingo concession which is expected to be awarded in the near term. TINCO Group currently employs 750 miners at the Nyakabingo Tungsten Mine.