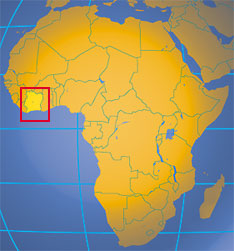 Direction des Mines et de la Géologie
Ministère des Mines et de l'Energie
B.P. V 28, Abidjian
Phone: +225-444528
Fax: +225-448462
CIA Factbook
Political rights and civil liberties (Freedom House)
French-English online dictionary
Travel and accommodation
The contribution of
mining to total exports in 2010 amounted to 0.8%
Côte d'Ivoire Mining News
Source: CIA Factbook
Legend
Geology
Almost all of the Côte d'Ivoire is underlain by rocks of Precambrian age, both pre-Birrimian Archean crystalline basement and Paleoproterozoic supercrustal metasediments/volcanics; all forming part of the West African Craton. Cenozoic sediments occur along the southern-southeastern coastal strip. The Precambrian units are subdivided into a western domain of Archean aged high grade, granulitic, gneiss and migmatite with subordinate granitoids and a central and eastern domain of medium-low grade Proterozoic rocks present as a series of NE-SW trending subparallel volcanic belts and intervening sedimentary basins. The two domains are separated by the N-S trending Sassandra mylonitic zone. The sedimentary –volcanic belts are locally intruded by extensive S-type granitoids.
Mineral commodities produced by Côte d'Ivoire
include precious metals, gemstones, natural gas, crude petroleum and derivative products.
Non-fuel mineral resources include diamonds, manganese, gold, iron, cobalt, bauxite, copper, iron ore, nickel, tantalum, silica sand and clay. Gold is economically the most important non-fuel mineral resource and is typically found in shear-zone hosted quartz veins hosted in the Birrimian greenstone belts and/or alluvial deposits. Gold production increased by 36.3 per cent in 2008 largely due to the reopening of the Angovia Mine and start-up of the Bonikro Mine. The country moved up the gold production ranking within Africa from 19th to 17th place and is expected to improve on this once Bonikro reaches its expected production capacity of 3.7 tonnes / year. Diamond production is significant but uniquely alluvial although kimberlites are known. Côte d'Ivoire is the fourth largest producer of manganese in Africa and in 2008 accounted for 1.3 per cent of total output. The Mount Nimba deposit with about 1 billion tonnes of reserves of high grade iron ore is spread between Côte d'Ivoire, Guinea and Liberia was expected to come into full production by 2011. Titanium and tantalite are recovered from beach sands and minor PGE deposits are also recorded.
The hydrocarbons are sourced in oil- and gas-bearing Cenozoic lagoonal and alluvial sediments along the Gulf of Guinea. Côte d'Ivoire is the world's largest producer and exporter of cocoa, but since 2006 oil and gas production have become the main engines of economic activity. Cote d'Ivoire's offshore oil and gas production has resulted in substantial crude oil exports and provides sufficient natural gas to fuel electricity exports to neighbouring countries. Crude petroleum production increased by 22.37 per cent in 2008 and the country was ranked the 13th largest African producer. In 2008 Cote d'Ivoire was the seventh largest producer of natural gas in Africa and along with South Africa accounted for 0.72 per cent of total output. This was despite a decrease in production of 4.7 per cent. At the beginning of 2009 proven reserves of crude petroleum and natural gas stood at 13.6 Mt and 28.32 billion m3 respectively
Click

HERE

for an overview
Côte d'Ivoire has historically produced approximately 165 000 carats per year. All of the alluvial mining is sourced from the fields located at Tortiya and Seguela which is located 100 km from Korhogo. Although kimberlites have been identified in these areas, none have been mined or evaluated.
Golden Star Resources

acquired the Tortiya diamond and gold property in 1996 based on an extensive history of alluvial diamond production. No exploration had ever been directed to the discovery of the source of these alluvial diamonds, nor the alluvial gold reportedly associated with them. Based on the regional geology and structural setting, the company believes the property has potential for the discovery of diamondiferous kimberlites and shear hosted gold mineralization. Tortiya is located in central Côte d'Ivoire in an area of potential civil disturbance and is currently (2007) under a state of force majeure.
The Birimian greenstone belts host the structurally controlled gold mineralization
Equigold NL

(Australian, ) had an indicated and inferred resource of 23,105 million t at a grade of 1,7 g/t Au or 1,283,100 oz gold at the

Bonikro

project
Newcrest Mining Ltd's 89.9% owned Bonikro operation is located in the central-southern portion of the West African nation of Côte d'Ivoire, approximately 240 kilometres north-west of the nation's commercial capital Abidjan. The nearest regional town is Hiré, which is approximately 9 kilometres from the project. Resources have been estimated at 67 Mt @ 1.3 g/t Au for 2.9 Moz and reserves at 27 Mt @ 1.3 g/t Au for 1.1 Moz on 30 June 2011. Lihir Gold Limited acquired the Bonikro gold project in June 2008, through a merger with Equigold NL. Equigold had secured the Oumé project area in 1996. Gold mineralisation at Bonikro was discovered shortly after following geochemical soil sampling over the Oumé area. The gold-in-soil anomaly was subsequently drilled, culminating in resource estimation and pit optimisation studies. In July 2006, Equigold announced the completion of a bankable feasibility study at Bonikro. Final Board approval for the development of the project was granted in May 2007 and construction of the mine began that month. Commercial production commenced in August 2008. In September 2010 Newcrest assumed ownership of the Bonikro Operation following the merger of Newcrest Mining Limited and Lihir Gold Limited. Newcrest holds 85% of the shares in Equigold Mines CI SA which in turn holds a 100% interest in the Bonikro gold project. The Côte d'Ivoire Government holds a 10% interest in Equigold Mines CI SA, with the remaining 5% held by minority shareholders. The Bonikro deposit is hosted primarily within a small granodiroite intrusion. Mineralisation extends into surrounding basalts to the south, and is controlled along a moderately dipping shear zone. Gold occurs associated with quartz and pyrite, with the highest gold grades occurring around the intersection of the shear and the granodiorite. Overall, the deposit has an average grade below 2g/t gold. Bonikro employs a conventional open pit mining method comprising drill, blast, load and haul. The operation is expected to produce approximately 2.75Mtpa (oxide ore) or 2.0Mtpa (fresh ore) extracted from one main pit. A total of 80% of the mill feed is categorised as fresh, with the bulk of the oxide scheduled to be mined in the early stages. The project will be owner operated with the exception of the drill and blast function, which has been contracted to a third party. The predominant method of gold recovery is via carbon in leach (CIL) technology, with some gold recovered via a gravity circuit. Bonikro began commercial gold production in August 2008. For the first full year, production was 150,023 ounces. Subsequent average annual gold production is expected to be approximately 120,000 ounces.
The mining operations are located in the tropical environment of the Ouest Danané department of western Ivory Coast. Located about 700 km from Abidjan, the mine is named after a nearby mountain. Ity means "black water" in Yacouba, and refers to the colour of the water in the pond that sits at the top of the mountain.

La Mancha's principal assets are the Ity and Flotouo-Zia gold deposits. Approximately 600,000 oz have been produced to date (100%). The gold doré bars are sent to Abidjan for shipment to Switzerland for refining. La Mancha'attributanle share of production in 2007, was 19 140 oz.

La Mancha expects the Ity mine to produce 53,400 oz of gold in 2008, with the Company's share representing 24,600 oz.

La Mancha holds interests in five additional exploration concessions covering 3,591 km² in the Ivory Coast.
Cluff Gold plc (CLF.L)

holds the

Mt. Yaoure permit which is located 40 km northwest of Yamoussoukro, the political capital of Côte d'Ivoire, and covers a surface area of 534 km2. The licence area includes the Angovia gold mine which operated between 1998 and 2003. The mine reportedly produced over 180,000 oz of gold during this period by heap leaching some 2 million tonnes of oxide material. Data acquired from Cogema shows additional oxide resource containing an estimated 130,000 ounces of gold at 3 g/t of resource in the area immediately surrounding the mine, which has been delineated by trenching and drilling in localities close to and along strike to the ore body exploited at the mine. In addition, the data shows a sulphide resource estimated to contain 280,000 oz of gold at 4,7 g/t underlying the exploited oxide deposit. Cluff wants to produce 40 000 oz of gold per year.
Amara Mining plc owns (90%) the Yaoure (previously Angovia) gold project The remaining 10% interest is held by the Côte d'Ivoire government. A former producer previously operated by Compagnie Minière d'Afrique (CMA), Yaoure produced 1.9 million tonnes of ore with an average grade of 3.9 g/t gold over five years, but was closed in 2003 due to the prevailing gold price. The mine was acquired by Amara Mining in 2004, and was fully commissioned in September 2009 under Amara's ownership. The Company's focus is to delineate sufficient sulphide resources to sustain a CIL/CIP operation, whilst at the same time continuing to search for lateritic and saprolitic oxide resources which could result in an early re-opening of its previous oxide heap leach operation. Drill results to date confirmed the potential for a large, mineralised sulphide deposit underlying oxide deposits and given confidence that the existing sulphide resources can be significantly increased. As at 25 March 2013, Yaoure had a 1.7 million ounce sulphide Inferred Mineral Resource (34.6Mt at 1.52g/t) and an Indicated Mineral Resource of 0.3 million ounces (8.0Mt at 1.31g/t). A further Mineral Resource update is expected in H2 2013 from an on-going in-fill drilling campaign.
Eden Roc Mineral Corporation

(Canadian) and the state run

Société d'Etat pour le Development Minier de la Ivory Coast (Sodemi)

operated the

Afema mine.
Taurus Gold Ltd's Afema Project, historically considered to be Côte d'Ivoire's mining 'jewel in the crown', is located on the intersection of the Bibiani and Asankrangwa shear zones along which many of the mines in Ghana are located. Taurus Gold's exploration activities are currently focused on developing two of the 17 known and historical workings in the area, Jonction and Aniuri. Jonction and Aniuri are considered to be Afema's flagship projects, and impressive progress has already been made, with an updated NI 43-101 compliant resource of 1.1Moz. Exploration has recently commenced on the remaining 15 targets where significant surface oxide resources have been identified. The Afema mining permit application, submitted in August 2012 is pending approval. There is evidence of numerous gold occurrences located throughout the permit area. Historically, a series of 15 deposits was developed with open pits along a 12km strike within the Afema Shear Zone. Almost all of the deposits that have been historically mined were identified during the 1940s and 1950s. Hana Lobo is a syndicate agreement between Taurus Gold and SODEMI, a mining company owned by the Côte d'Ivoire government. The permit area has substantial potential, with five highly prospective targets having been identified from historical data. A wide range of exploration has already been undertaken over the permit area, including extensive geophysics through magnetic and radiometric airborne surveys, trench exploration and geochemical sampling. Taurus Gold has also laid the groundwork for more intensive exploration, having undertaken an extensive auger drilling programme and created site infrastructure. The company has also completed a 12,000m Reverse Circulation (RC) drilling programme.
Randgold Resources (British, Nasdaq:GOLD; LSE:RRS

,

Morila

and

Loulo

gold mines in Mali, active in Senegal, Ghana, Burkina Faso and Tanzania) is exploring the Tongon gold deposit. Randgold has spent $10m on a feasibility study for the Tongon project, which contains 3,1 million oz of gold. The company announced in Ocober, 2007, that resources at its Tongon project in Ivory Coast increased by 41% to 4.39 million oz. It will now build a plant to handle 50% more ore at 300 000 tonnes per month, it added. Tongon will start production in 2010 and produce on average 245,000 oz/year at a total cash cost of $359/oz. Combined with the Yalea and Loulo mine, Randgold should have production of 600,000 oz by 2012.

Mining at Tongon began in April 2010 and gold production from the open pit operation started in December 2010. The Tongon mine comprises two open pit operations, the Southern and Northern Zones. The mine currently has a seven year Life of Mine but exploration, aimed at adding to the current reserves and extending the life of the mine, continues. In 2014 227 103 oz gold were produced at total cash cost of $872/oz.
Mark Bristow at Tongon Mine
Endeavour Mining said on 30 August 2012 that it was on track to start construction of its Agbaou project, in Côte d'Ivoire, by September 1, 2012.

COO Mark Connelly told delegates at the second day of the Africa Downunder conference, in Perth, that the A$160-million project would likely deliver its first gold by the first quarter of 2014, producing some 103 000 oz/y over eight years. The Agbaou project would take Endeavour's yearly production to some 280 000 oz, with the company's two operating mines, Nzema and Youga, currently producing at a rate of 180 000 oz/y. The project has a measured and indicated resource of 1.15-million ounces, and was one of the largest undeveloped gold resource in Côte d'Ivoire. Meanwhile, Connelly noted that the mill expansion of its takeover target Avion Gold's Tabakoto project, in Mali, would also be restarted shortly, following a March military coup that delayed the mill expansion. The $20-million mill expansion would increase throughput from 2 000 t/d to 4 000 t/d, Connelly said. The Tabakoto operation, which produced some 91 000 oz of gold in 2011, was also set for a production increase during the current year, expecting to deliver between 95 000 oz and 100 000 oz. In August, Endeavour announced its intention to acquire TSX-listed Avion Gold, offering 0.365 of its own shares for each Avion share, valuing Avion at C$0.88 a share. The acquisition would immediately increase Endeavour's gold production by some 50% to between 282 000 oz and 304 000 oz for 2012. The transaction would likely be completed by October, creating a combined company with a six-million ounce measured and indicated resource, with operations over five African countries. Connelly said that Endeavour was aiming to produce between 450 000 oz and 500 000 oz by the end of 2013.
Etruscan Resources

(Canadian, TSX:EET.TO; ETRUF.PK,

also active in Burkina Faso, Ghana, Mali and Niger) has an indicated resource of 9,684 million t at a grade of 2,1 g/t Au or 659 000 oz gold at a cut-off of 1,0 g/t Au, on the Agbaou project.

It has also submitted applications for an additional 7,000 km2 of new permits. Etruscan Resources reported in December, 2007, that reconnaissance diamond drilling in proximity to the Agbaou Gold Deposit has identified three satellite discoveries. The three satellites discoveries are respectively situated 330 meters southwest, 600 meters west and 500 meters north of the Agbaou West Deposit. Additional drilling is required to determine strike length and depth extent, however the soil and drill results suggest potential strike lengths of 200 to 400 meters for each structure.
Perseus Mining Ltd's Sissingué Gold Project in Côte d'Ivoire is an underexplored project with a current open-ended gold resource, containing 0.66Moz in Reserves with 0.925Moz of Measured and Indicated resources and 0.3Moz of Inferred resources. Sissingue is the first of nine prospects on the project to be tested by reverse circulation and air core drilling. We are targeting production at the Sissingue Gold Project in Côte d'Ivoire by 2014 and Sissingue will be a significant contributor to our goal to develop into a 400,000-ounce per year gold producer
In July 2013, Nemex Resources Ltd was granted three exploration licences totalling 1,186sq km in Côte d'Ivoire. Nemex also has three further licence applications in Côte d'Ivoire awaiting grant. Nemex's three granted licences all host high-priority targets for gold mineralisation and the licence areas are based on predictive studies targeting structurally-hosted gold deposits. The Dabakala Licence is situated in north-central Côte d'Ivoire and occupies part of the Ouango-Fetini Greenstone belt and associated granites. The attraction of this licence area is the thick sequences of volcanic-volcaniclastic rocks that have been 'wrapped-around' a large granite to the west giving rise to favourable structural sites for gold mineralisation. Furthermore, it is apparent from geological mapping conducted by a German group in 1999, that there are abundant thrust faults that appear to have offset the whole granite-greenstone terrane in blocks to the south-east. This geological setting appears similar to that reported at the 4.6 Mozs Tongon Gold Mine in north-central Côte d'Ivoire. The Abengourou area was selected by Nemex by virtue of large interpreted intersecting fault structures that have been intruded by magnetic intrusive rocks. Previous explorers in the area who conducted regional regolith sampling have claimed that there is a soil anomaly covering a significant part of the licence area and the focus of Nemex's initial exploration work will be to determine whether this claim is true. The Alepe Licence was acquired because it holds a significant shear structure that has wrapped around a granitic rock in a large shear zone, along a known mineralised trend. It is unknown whether any previous work has been conducted over this licence area.
Location of Nemex's granted projects (Dabakala, Abengourou and Alepe) in Côte d'Ivoire relative to existing gold mines or advanced gold projects (red diamonds) and the geology of West Africa. Pink areas = granites and gneisses; Green areas = volcanic/volcaniclastic belts; Yellow areas = sedimentary basins. Purple area to the west is the Archaean Kenema-Man domain.
Manganese
Côte d'Ivoire aims to quadruple its manganese production to around one-million tonnes of ore within three years, boosted by new investments from the China National Geological and Mining Corporation (CGM), Ivorian State miner Sodemi said..

The West African nation, the world's top cocoa grower, is pushing to develop its long-neglected mining sector as part of efforts to diversify the economy as it recovers from a decade-long political crisis. Having signed a partnership agreement with Sodemi in 2009, CGM has reopened the previously abandoned Lauzoua mine and in April last year extracted the first manganese, a metal used in the production of steel. "The programme is to reach 300 000 t/y over the next two years then increase to 500 000 t/y," Kadjo Kouame, Sodemi's MD, told Reuters in January 2014. "This will allow us to reach one-million tonnes of manganese per year in total from all of Côte d'Ivoire's sites, placing us on the list of major producers," he said, adding that the additional production would come from new mines expected to come online over the next three years. Kouame said Sodemi and CGM had already invested six-billion CFA francs ($12.44-million) in the Lauzoua mine, around 180 km west of the commercial capital Abidjan. Another three-billion CFA francs are due to be invested this year to purchase new equipment to improve productivity. Regional neighbours Gabon and Ghana are among the world's top manganese producing countries. However, Côte d'Ivoire has for decades largely ignored its mining potential in favour of agricultural commodities, which also include coffee and rubber, that make up the bulk of export earnings. The country's sole manganese mine currently in operation - the Bondoukou project owned by India's Dharni Sampda Private Limited - produced around 250 000 t of ore in 2012. The mine, near Côte d'Ivoire's eastern border with Ghana, holds 3.2-million tonnes of proven reserves. The company has completed exploration at a second project at Ziemougoula in the country's northwest showing 3.3-million tonnes of proven reserves with an additional 3-million tonnes of probable reserves. However, Dharni Sampda is still awaiting an exploitation permit for the property. Global crude steel production hit a record 1.548-billion tonnes in 2012, according to data from the World Steel Association, fuelling demand for manganese.

China was the top consumer and producer of steel with output for the year at 716.5-million tonnes. Kouame said Asian, and particularly Chinese, steel mills would be the primary destination for Ivorian manganese.
Nickel
Proven reserves
Oil: 100mmbbls
Gas:1.0Tcf
The key players are
Total
African Petroleum
Foxtrot
Tullow Oil
Anadarko
Lukoil
Vanco Energy
Canadian Natural
Resources (SNR)
Rialto
Highlights in 2014
• Côte d'Ivoire's economy continues to grow, and the estimated economic growth of 8.8% in 2013 is expected to continue into 2014 and 2015 thanks to the improved business climate and stabilised social and political environment.
• Several oil & gas discoveries have been made in recent years.
• Côte d'Ivoire has ambitious oil production growth targets, and the Government hopes to boost production from its current level of around 32 000bbl/d to around 200 000bbl/d by 2019.
Recent developments
• According to African Economic Outlook, the production of natural gas doubled in 2013 to more than 6 million cubic metres.
• There are plans to build a gas pipeline between Takoradi (Ghana) and the port of Assinie (Côte d'Ivoire).
• Several oil & gas discoveries have been made in recent years. It is expected that at least two offshore gas field developments will boost production.
• No licensing round has been held for a number of years, and all recent contract awards have occurred by direct negotiation.
• Qatar Petroleum is expanding its West African presence, having recently signed two energy-related agreements with Ivorian Government. The first agreement is for Qatar to supply LNG to Côte d'Ivoire from 2015. The second is for potential joint oil exploration in Ivorian waters.
• The Saphir-1XB exploration well operated by Total on Block CI-514 found liquid hydrocarbons offshore west of Cote d'Ivoire. The well is the first discovery in the San Pedro Basin, a frontier exploration area.
• Total is planning on expanding its offshore exploration activities and has earmarked USD300 million for drilling exploration wells.
Click

HERE

for an overview
Côte d'Ivoire relies on oil, natural gas and hydropower to satisfy energy consumption demand. In addition to satisfying domestic demand, Côte d'Ivoire's oil exports bolster overall economic activity in the country, and represents 28 percent of the country's total export revenue. According to the World Bank, oil exports have surpassed cocoa exports, which traditionally have been the mainstay of Cote d'Ivoire's economy. Côte d'Ivoire's oil production, which is primarily located offshore, should increase slightly in 2007 and 2008.
Côte d'Ivoire's oil production increased from 56,000 barrels per day (bbl/d) in 2005 to 89,000 bbl/d in 2006. New fields coming online, as well as field enhancement work allowed for the increasing oil production. Production is forecast to increase slightly over the next 2-year period, with the possibility of reaching 110,000 bbl/d by 2008. According to estimates by

Oil and Gas Journal (OGJ)

, Côte d'Ivoire had 100 million barrels of proven crude oil reserves as of January 2007. The vast majority of reserves are located offshore in shallow marine areas and in deep offshore waters.
n 1975, Côte d'Ivoire established the Société Nationale d'Operations Pétrolières de la Côte d'Ivoire (Petroci) to oversee the country's oil operations. In 1998, the government re-structured Petroci by dividing it into four entities, which include: Petroci Holding (responsible for portfolio management of the oil sector), Petroci Exploration-Production (responsible for upstream hydrocarbon activities), Petroci-Gaz (responsible for the natural gas sector), and Petroci Industries-Services (responsible for all other related services). Foreign companies involved in Côte d'Ivoire's oil sector include

Canadian Natural Resources Ltd

,

Dana Petroleum

(U.K.),

Devon Energy

(U.S.), Oil India Ltd, Pluspetrol (Argentina), Sinopec (China), and Tullow Oil.
Oil production:

32,900 bbl/day (2005 est.)

Oil proved reserves: 220 million bbl (2006 est.)
Natural gas production:

1.3 billion cu m (2004 est.)

Natural gas proved reserves: 28.32 billion cu m (1 January 2005 est.)
Devon Energy Corporation

operates the Lion and Panthere fields on Block CI-11, which, according to IHS Energy GEPS Reports, netted the company 3,600 barrels of oil equivalent per day (boe/d) in 2006. Devon's partners on Block CI-11 include Petroci,

Pluspetrol

of Argentina, and

International Finance Corporation

. In addition to Block CI-11, Devon holds interests (ranging from 35 percent to 80 percent) in several other blocks in Côte d'Ivoire. As of April 2007, Devon was considering selling its Côte d'Ivoire interests .

Tullow Oil

has production, development and exploration interests in several offshore blocks - CI-103, CI-105, CI-107, CI-108 and CI-26, Special Area E. Block CI-26 comprises the producing East Espoir oil field, the West Espoir field, which started production in July 2006 and the Acajou discovery, which is expected to be developed as a subsea tie-back. The East Espoir field in Special Area E commenced production in February 2002 and averaged 18,960 boepd during 2005. However during 2006, the field achieved record production of over 30,000 bopd following a successful infill drilling programme. Oil production from the first West Espoir development commenced in July 2006. The development remains within budget and is on schedule to reach peak production of 10,000 boepd in late 2007. The project includes a new wellhead tower, tied back via a 5.5 km pipeline to the Espoir FPSO where fluids produced from East and West Espoir are co-mingled and processed using the existing facilities. Together the two fields are currently producing over 35,000 boepd.
Source: Tullow Oil
In August 2005,

Canadian Natural Resources (CNR)

brought its Baobab oil field onstream, with initial production averaging 48,000 bbl/d. According to IHS Energy GEPS Reports, Baobab achieved peak production of 52,000 bbl/d during the first quarter of 2006. However, due to sand control problems, Baobab was producing only 25,000 bbl/d during the later half of 2006. The offshore field is located in Block CI-40. CNR is operator of the block with a 57.6 percent interest and is joined with partners

Svenska Petroleum Exploration AB

(27.4 percent), and Petroci (15 percent). CNR also operators the Espoir field, which is located in Block CI-26. In 2006, the Espoir field produced an average of 31,000 bbl/d of oil. The field has a life expectancy of 20 to 25 years, with production expected to peak at 35,000 bbl/d of oil. The West Espoir field began producing in mid-2006 and is expected to peak at around 13,000 bbl/d of oil in 2007. CNR holds 58.7 percent interest in Block CI-26 and is joined with partners

Tullow Oil

(21.3 percent) and Petroci (20 percent).
Vanco Energy Company

has estimated that 2.7 billion barrels of oil is located in the San Pedro ridge and other deposits in Block CI-112 off the western coast of Côte d'Ivoire . India 's Oil and Natural Gas Corporation (ONGC) Ltd (21.2 percent),

Oil India

(10.4 percent) and China 's

Sinopec

(27 percent) signed on to the CI-112 project in December 2004, reducing Vanco's stake to 27 percent. This is the first African deepwater exploration venture for all three state-owned firms. In March 2005, Vanco drilled the San Pedro 1 well on Block CI-112, but later plugged the well due to a lack of hydrocarbons. In October 2005, Vanco signed two production sharing agreements ( PSAs ) with Côte d'Ivoire for Blocks CI-401 and CI-101.