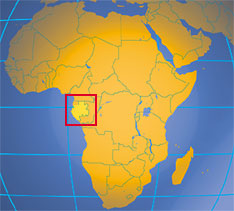 Direction des Mines et de la Géologie
CIA Factbook
Political rights and civil liberties (Freedom House)
French-English online dictionary
Travel and accommodation
Gabon Mining News
Click

HERE

for an overview
Alluvial diamonds have been recovered from Makongonio, in the south near the border with Congo and in the Mitzic region.
De Beers

commenced diamond exploration in Gabon in 1998. The country hosts a potentially prospective area of 190 000 km². De Beers currently holds some 33 000 km² in three prospecting permits in the central-northern and southern parts of the country. Reconnaissance and follow-up sampling was completed over all of the company's ground holdings (over 66 000 km²). Four airborne magnetic surveys have been flown to date (two in 2000 and two in 2002) covering a total area of approximately 18,000km². A total of forty-seven new kimberlites and related bodies were discovered by De Beers during the 8 years of operation within Gabon. Currently, no active exploration is taking place, but De Beers still maintains a presence in the country.
SouthernEra

actively explored for diamond deposits in Gabon from 1999 to 2004 and discovered eight possible kimberlitic bodies sub-cropping in various small streams that were positive for kimberlitic indicators. In addition to the discoveries at the Makongonio Project, two ultramafic dykes were discovered in July in trenches within the Kango diamond permit, in northwestern Gabon.
Motapa Diamonds Inc

holds 2 exploration permits encompassing 3.3 million hectares. Reconnaissance stream sediment sampling over 75% of the license area had yielded abundant chromite and ilmenite grains indicating the presence of kimberlite in certain areas of the Lebiri license.
Goldstone Resources Ltd

's Oyem and Ngoutou permits in Gabon were granted during April 2011. Both permits contain robust gold in soil anomalies in excess of 15 kilometres length. Diamond drilling of nine holes has been completed at Oyem. Assay results from the first two drill holes yielded gold concentrations of up to 9.5 g/t in a 120 metre wide deformational zone. Results from the remaining seven drill holes are still outstanding. Diamond drilling at Ngoutou is planned to commence during the first quarter of 2013.
Searchgold Resources (Canadian, also active in Guinea) was exploring the Bakoudou deposit with a combined oxide-sulfide measured and indicated resource of 277 380 oz Au (2,100,000 metric tons at a grade of 2,45 g/t Au in oxide ore and 570 000 metric tons at a grade of 6,11 g/t Au in sulfide ore).
SouthernEra (Canadian, TSX:SDM; AIM:SRE) investigated the gold occurrence at Koumba, western Gabon.
On October 21, 2010, China signed an agreement in Libreville to open a manganese mine in central Gabon and market the mineral. The agreement was signed by Julien Bekale and Huazhou's VP Zhang Longzhu. Julien Nkoghe Bekale said

Huazhou Mining, a subsidiary of China's CITIC group

, would invest 40 billion CFA francs in the mine at M'Bembele, 200 km southeast of Libreville. In the first two years, it was planned to extract 800,000 to 900,000 tonnes a year, rising to 1,040,000 tonnes thereafter over the course of 30 years. The site expected to employ 255 Gabonese and 85 Chinese. The Industrial and Commercial Mining Company of Huazhou (CICMHZ) said production at a manganese mine in the central region of M'Bembélé (Gabon) should reach a peak of 750,000 tonnes in 2013. Capacity: 900,000 tonnes a year, rising to 1,040,000 tonnes thereafter, over some 30 years.
Click

HERE

for an overview
Oil production:

268,900 bbl/day (2005 est.)
Oil proved reserves: 1.827 billion bbl (2006 est.)
Natural gas production:

100 million cu m (2004 est.)

Natural gas proved reserves: 33.98 billion cu m (1 January 2005 est.)
The onshore

Shell

-operated Rabi-Kounga field contains the vast majority of Gabon's proven oil, while additional reserves are located in the offshore Tchatamba Marin and Etame fields.
In July 2006,

Addax Petroleum

purchased the interests of

Pan-Ocean Energy

in Gabon for $1.4 billion. The acquisition makes Addax the largest producer in Gabon, with total production of more than 100,000 bbl/d. According to Addax Petroleum, some of their near-term development plans include the continued drilling in the Tsengui and Obangue fields (where production has already increased by 20,000 bbl/d in the first half of 2007), completion of an export pipeline, which will transport oil from the onshore Obangue field to the Coucal pipeline system and export terminal at Cap Lopez, and future development of the Koula field.
Tullow Oil

recently increased its acreage position in Gabon and as a result holds interests in 18 licences including eleven producing fields. Oil production from Gabon during 2006 averaged 15,125 bopd net to Tullow, representing 23% of the Group's total.

In a recently completed deal Tullow acquired a package of assets from the Gabonese Government through a 50:50 Joint Venture with AIC-Petrofi Limited. The package comprised interests in three producing fields and back-in rights to a further nine Exploration Licences. Two additional fields, where Tullow has back-in rights, are awaiting development approval and are expected on stream over the next 18 months.

The acquisition adds production of approximately 550 boepd net to Tullow from the Obangue (3.75%), Tsiengui (3.75%) and Oba (5%) fields. This figure is expected to rise to approximately 1,000 boepd by early 2008 as development of the three fields progresses and when the two additional developments are brought on stream.

The exploration licences are located in areas of significant potential and when combined with Tullow's existing Gabonese interests give the Group exposure to almost 40% of Gabon's currently licensed acreage.

Development of the first Etame satellite, the Avouma (7.5%) field, was successfully completed in December 2006 and first production commenced in mid January 2007. Detailed planning for a further Etame satellite, the Ebouri discovery (7.5%) is under way with a view to first production during 2008.

Gabon is regarded as a key growth area within the Tullow portfolio, with a range of exploration, development, commercial and acquisition activities. Opportunities to expand the Gabon portfolio are continually being assessed.
Click

HERE

for an overview (MBendi)
COMUF

, a subsidiary of Areva, mined the uranium deposits in the Mounana area in southeastern Gabon from 1960 to 1999. The most famous of these deposits is Oklo. The ore was mined in a quarry type operation as well as underground. It was concentrated in the site processing plant. COMUF produced a total of 26,000 metric tons of uranium. Mining operations were shut down in June 1999 due to a lack of economically recoverable reserves. The facilities were dismantled and the site is in the final phase of reclamation.