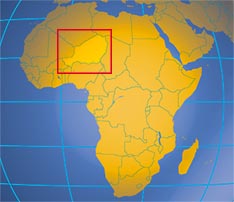 Direction de la Géologie
CIA Factbook
Politcal rights and civil liberties (Freedom House)
French-English online dictionary
Travel and accommodation
The contribution of
mining to total exports in 2010 amounted to 19.4%
Niger Mining News
Click

HERE

for an overview
Gold
Geology
Semafo Inc

's

Samira Hill Mine

is located on the 50-kilometer gold belt commonly referred to as the Samira Horizon. It is approximately 90 kilometers west of Niamey, the capital of Niger. At the end of 2012, the re-assessment of future cash flows to be generated by the mine led to a $60 million impairment charge. This exercise also demonstrated this non-core property's acute sensitivity to fluctuations in economic and technical parameters. Samira Hill is a non-core asset and the Corporation decided to review strategic alternatives for this project. They announced a $10 million reduction in capital expenditures in March 2013 followed by an additional $6 million reduction in capital expenditures. For the remaining nine months of 2013, capital expenditures are forecasted at $11 million. In addition, a decision has been made to wind down operations to an eventual care and maintenance status at Samira Hill in 2013. Semafo has agreed to sell its 80% interest in the Samira Hill gold mine to

Middle Island Resources

of West Perth, Australia. The remaining 20% of the mine belongs to the government of Niger. The purchase price includes a cash payment of US$1.25 million and a net smelter return of 1.2% on Middle Island's portion of the output. The NSR is payable only if the price of gold is above US$1.450/oz and is capped at US$12 million. The sale is subject to the usual conditions. It is also dependent on Middle Island raising A$5 million equity capital, taking over Semafo's exploration permits, and transferring certain mining equipment to Semafo.
Etruscan Resources (TSX:EET, 40%) and Semafo (40%) operate the

Samira Hill Gold Mine

; the first commercial open pit gold mine in Niger. The pre-production mineable reserves from the Samira Hill and Libiri pits are estimated to total 10,08 million t grading 2,2 g/t Au from which 618 000 oz will be recovered over a 6,3 year mine life. Etruscan also investigated the Koma Bangou deposit which was originally discovered by

ONAREM

(the state owned mining company) in 1985. Etruscan subsequently joined up with ONAREM and carried out feasibility studies on the property, defining a reserve of 315 000 oz of gold.
St Jude Resources

(bought by

Golden Star Resources Ltd

) explored the Deba and Tialkam areas.
GeoAfrica Gold Corporation

(Australian) had prospecting permits close to the Algerian border near the Air Massif.
In Petronas' and

ExxonMobil

's Agadem Block, the companies discovered an estimated 350 million barrels of oil equivalent. Oil exploration has been carried out for more than 20 years in Niger's Djado region on the border with Libya, but no commercial finds have been discovered.
Click

HERE

for an overview (MBendi)
History
Le Commissariat à l'Energie Atomique (C.E.A.), through its exploratory arm le Groupement Afrique Madagascar (G.A.M.) has been actively engaged in uranium exploration in Niger since 1956. Their interest became concentrated in and around Arlit in1961. Systematic drilling during a 5-6 year period lead them to the Arlette deposit (Arlette is the mine,
Arlit
rlitis the town). In 1968 a mining concession was awarded to the C.E.A. for the Arlette deposit and at the same time La Société des Mines de l'Air (Somair) was formed for exploitation of the deposit. A second joint venture effort by the C.E.A. resulted in the Akokan (Akouta) project 10 km south of Arlit. La Compagnie Minière d'Akouta was formed for exploitation of the
Akouta deposit
. Within the Agadez basin region other joint venture agreements were concluded between:
Geology
Compagnie Minière d'Akouta (COMINAK)

, owned by the Niger government with French, Japanese and Spanish interests and operated by Areva NC (COGEMA), mined approximately 2 000 t U3O8 in 2006.
Societe des Mines et de l'Air

(SOMAIR),

operated by Areva NC (COGEMA),

mined approximately 1 000 t U3O8 in 2006.
Four uranium projects (Imouraren, Afasto W, Techili and Abkorum), which are in the same area as the two operating mines, are in an advanced stage of evaluation. They are potential targets for new exploration, in keeping with COGEMA's strategy of revisiting old targets. Areva and

China National Nuclear

could develop uranium deposits in Niger which would double production of the metal from the African continent. Areva is considering producing 4,000 tonnes of uranium a year starting from 2011 from the deposit in Imouraren. The Areva and China National Nuclear projects would help boost uranium production capacity to 10,000 tonnes/year within five years from the present 4,500 tonnes.
Orezone Resources Inc.

(OZN:TSX, AMEX) through its wholly-owned subsidiary, Niger Resources Inc., has been granted two uranium exploration permits by the Government of the Republic of Niger. The two permits totaling 980km² are located adjacent to Areva's exploration permits (previously Cogema) and within 40km of its SOMAÏR and COMINAK uranium mines which have been in production since the early seventies. Niger is the world's fourth largest Uranium producer.

The permits, named ZELINE 1 and ZELINE 4 are within the Tim Mersoï sedimentary basin.
In a July 2006 joint-venture, the Nigerien government granted SinoU the rights to develop a uranium mine complex in Azelik in the Agadez region of Niger. The joint-venture, known as Niger Azelik Mining Industry, is co-owned by SinoU (37.2%), the Nigerien Government (33%), ZXJOY Invest (24.8%), Korea Resources (4%), and Trendfield Energy and Resources (1%). In addition to the uranium mine, the complex will include two coal-fired power plants and a hydrometallurgy plant. On April 24, 2009, the Nigerien government announced that the Exim Bank of China had granted them a preferential loan of 650 million CNY for the development of the mine. The loan is repayable in 15 years with a 5 year grace period and an interest rate of 2 percent. Trial operation of the mine began on December 10, 2010, with the first drum of yellowcake uranium being produced on December 30.

.
Homeland Energy Corporation

through its subsidiary,

Uranium International Limited

, acquired a 100% interest in two exploration licenses in the Republic of Niger. The Agelal license is adjacent to that which hosts the Arlit and Akouta deposits, and represents an area formerly held by Cogema. Over 36 holes were drilled by Cogema within the boundaries of the current Agelal license, several of which intersected uranium mineralization at depths of between 600-1,000 metres below surface. The Aserka license is located to the immediate southwest, somewhat deeper in the basin, due north of the Teguida uranium deposit and roughly 35 km west of the Imouraren deposit. Niger has also granted eight uranium prospecting concessions to

Uranium International Ltd

in the northeastern area around Agadez.
Bayswater Uranium Corporation

(Canadian) applied for approximately 2 million acres of concessions in Niger. Bayswater subsequently entered into agreements for uranium concessions totaling over 7800 sq. km. All of the land holdings fall between 60 and 400 km from the Arlit and Akouta uranium mines which together have produced over 100,000 tonnes of U308 to date. The concessions fall into three distinct packages around the Arlit-Akouta area. The Tikikitene and Eghizi concessions are side by side, lying from 60 to 130 km to the northwest, The Anwala concession lies 240 km to the southwest, and the Emi Lulu concession sits approximately 400 km northeast.
Northwestern Mineral Ventures Inc

(Canadian) is exploring their 100%-owned In Gall and Irhazer uranium concessions in Niger. Uranium anomalies have been identified during Northwestern's recently completed airborne survey. Results have revealed four radioactive structural domes that are geologically similar to others that have been proven to host uranium mineralization in Niger.
North Atlantic Resources Ltd

(Canadian)

acquired the Abelajouad uranium exploration permit in 2006 and has 4 pending uranium exploration permit applications in Niger. The Company anticipates that it will begin exploration work on its uranium exploration projects in Niger in the first quarter of 2007.

Orezone Resources Inc

and North Atlantic Resources Ltd announced in February, 2008, the formation of a new uranium exploration company that has a combined land holding of 4,000 km2 in the heart of Niger's uranium production area in West Africa. Orezone and North Atlantic Resources Ltd will each hold a 50% interest in the new entity to be named

Brighton Energy Limited

.

Under the terms of the amalgamation, Orezone will transfer to Brighton its wholly-owned subsidiary Niger Resources Inc. which holds two permits (Zeline 1 and Zeline 4) located adjacent to Areva's exploration permits and within 40 km of its

SOMAIR

and

COMINAK

uranium mines which have been in production since the early seventies. North Atlantic will transfer to Brighton its wholly-owned subsidiary Selier Energy Niger SARL which holds three permits (Abelajouad and Assaouas 1 and Assaouas 2) located adjacent to and south of the Areva mining and exploration permits and proximal to the Arlit fault, which is the dominant control structure for uranium deposition.
Semafo Inc

(Canadian, TSX:

SMF.TO

;

SEMFF.PK

, and operating the Kineiro gold mine in Guinea and Samira Hill gold mine in Niger) has been granted five uranium exploration permits by the Ministry of Mines. The permits, covering 2,375 square kilometres, are located in the geological setting known as the Tim Mersoï sedimentary basin, east of the Arlit fault.
Global Uranium Corporation

,

a private Ontario corporation, is exploring the Tin-Negoran 1, 2, 3 and 4 concessions, totaling approximately 2000 km2. The concessions are located on the main uranium bearing trend that hosts numerous uranium deposits in central Niger, west of the Air mountains, near the town of Agadez. Previous work on one of the properties by a Japanese company identified a uranium resource. Global Uranium had been granted two new uranium concessions in Niger, bringing the total number of concessions in Niger held by the firm to six, the company said on 3 October, 2007.
UraMin Inc

(now Areva) has been awarded four exploration areas in the Arlit section of the Agadez region, more than 1,200 km (750 miles) north of the capital Niamey. Under Niger's mining code, if uranium deposits are discovered, the state will take a 40 percent stake in the projects, 10 percent for free, while it will pay for the remaining 30 percent.
Niger Uranium Ltd

said in December, 2007, it planned to start an aggressive exploration programme and has identified five priority targets for drilling.

The 50-50 joint venture company between UraMin Inc and Northwestern Mineral Ventures Inc said first drilling is expected to be completed by February. 2008.
Niger Mining Services SARL (NMS)

, a wholly owned subsidiary of

Signet Mining Services Ltd

, was established in June 2007. NMS holds five uranium concessions in Niger, covering approximately 2 500 square km. Of the five concessions, two are double concessions. All three blocks are situated within the Tim Mersoï Basin, between the towns of Agadez and Arlit.