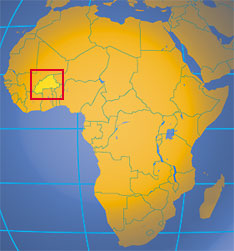 Bureau des Mines et de la Géologie du Burkina (BUMIGEB)
CIA Factbook
Political rights and civil liberties (Freedom House)
French-English online dictionary
Travel and accommodation
The contribution of
mining to total exports in 2010 amounted to 40.7%
Burkina Faso Mining News
Source: CIA Factbook
Legend
Geology
Burkina Faso is predominantly underlain by rocks of the Guinea Rise which borders the Gulf of Guinea and extends from Sierra Leone in the west to Ghana in the east. This rise or dome feature is composed of probable Archean aged migmatites, granitic gneisses and amphibolites overlain by north to northeasterly trending greenstone belts of metasediments and metavolcanics dominated by units of the (Paleo-)Proterozoic Birrimian Supergroup .
Burkina Faso is part of the West Africa Craton which includes two principal Precambrian domains: the Réguibat Rise to the North and the Man Rise or Leo Rise in the South, separated by the late Proterozoic to Palaeozoic Taoudéni Basin. These two domains display similar organization with Archean terranes (3.5–2.7 Ga) located to the west and Palaeoproterozoic rocks (2.2–2.0 Ga) to the east (Bessoles, 1977; Cahen et al., 1984; Camil, 1984).
Situated in the heart of West Africa, the geology of Burkina Faso is dominated by Palaeoproterozoic or Birimian rocks that underlie most of the country.
Younger rocks, Paleozoic age, crop out only in the far west and southeast of the country, respectively as part of the Taoudéni and Volta sedimentary basins.
The Birimian rocks consist of predominantly northeast to north-northeast-trending greenstone belts hosting the volcano sedimentary rock sequences followed by granitoîds and complex migmatitic gneisses.
The majority of the country's mineral occurrences is hosted by the greenstone belts divide in to several highly prolific belts: Banfora greenstones belts in the westernmost part, followed by the Houndé and Boromo greenstones belts in the West. Then the Kaya-Goren and Djibo greenstones belts respectively in the Center-North and the North. Lastly the Tenkodogo greenstone belts in the East.
Gold occurs throughout the country

Zinc

Manganese

Copper

Nickel

Antimony

Diamond



Burkina Faso's mineral resources include gold, manganese, copper, zinc, silver, limestone, marble, phosphates, pumice and salt but gold is by far the most important mineral to the economy. Mineral commodities produced in 2008 were limited to gold and various industrial and construction materials. Gold production, with the opening of the Kalsaka, Mana and Youga mines, increased by almost 250% in 2008 and Burkina Faso was ranked the eighth largest producer in Africa. Burkina Faso is set to become Africa's fourth largest gold miner by 2012. Birimian-age greenstone belts cover large parts of Burkina Faso and host the known structurally controlled quartz vein and stockwork mineralization, Gold is recorded from 7 major districts in Burkina Faso and in addition alluvial diamonds have been recorded but to date no major discoveries have been announced. In addition to gold the country's most significant mineral resources are zinc and maganmese. The Kiere Manganese Mine (600,000 tonnes @ 45-55% Mn) opened in December 2008 and a feasibility study on the Tambao deposit (19 Mt @ 52 % Mn) was completed and mine construction is due to start in 2009-10. The Perkoa zinc and silver mine is expected to start construction in 2010. Exploration for copper and uranium is ongoing.
Maps and images
Goldcrest Resources Ltd

(Canadian, GCL.V} is exploring the Gaoua copper-gold project in Burkina Faso. The drilling of the Gaoua Cu-Au prospect is being executed under an option agreement that the company signed with

Phelps Dodge

Exploration Corporation, a wholly-owned subsidiary of Freeport McMoRan Copper & Gold Inc. Most of the breccia-hosted mineralization consists of hypogene chalcopyrite with which gold values appear to be closely correlated. (see Volta Resources Inc under Gold)
Geology
Birimian-age greenstone belts cover large parts of Burkina Faso and host the known structurally controlled mineralization.
Orezone Resources (Canadian, TSX:OZN.TO; Amex:OZN, and also active in Niger) is exploring a number of properties including Essakane, where Gold Fields

(

NYSE:GFI; JSE:GFIELDS)

is the operator, earning 60%. The

Essakane deposit

hosts an 1,9 million oz indicated resource at 1,60 g/t Au and 1,5 million oz of inferred resource at 1,70 g/t Au (0,50 g/t Au cut-off). Further drilling by Gold Fields increased the indicated resource to 2,6 million oz at a cut-off of 1 g/t or an indicated resource of 3,3 million oz and inferred 800,000 oz of gold at a cut-off of 0,5 g/t (April, 2007). The pre-feasibility study showed that an open cast mine and a 5,4 million tonne/year carbon-in-leach plant were viable and could produce 300,000 oz of gold a year. Gold Fields sold its 60% stake in the Essakane gold prospect in Burkina Faso for $200m to its partner in the project, Canada's Orezone Resources, in September, 2007.

"While the Essakane project is expected to make a good return and deserves to be built, Gold Fields' relatively small stake in the project mitigates against it becoming a Gold Fields franchise asset," said Gold Fields CEO Ian Cockerill.

The prospect has four million ounces of measured and indicated resources and 1.3 million ounces of inferred resources at a 0.5 g/t cut-off. It would cost $346m and take 18 months to build a mine and CIL plant with an annual capacity of 5.4 million tonnes.

The mine is envisioned to produce 292,000 oz of gold a year at a cash cost of US$356/oz.

Orezone will decide whether it will pay Gold Fields $150m in cash and $50m in shares or the entire amount in cash. Gold Fields has spent $47m on the project already. Intiédougou (Golden Hill) has an inferred resource of 157 000 oz gold at 1,4 g/t Au. The Bondi deposit has an indicated resource of 162 964 oz at 2,88 g/t Au. The Sega deposit has an inferred resource of 300 000 oz at 2,8 g/t Au. The Bombore deposit has a resource of 1,1 million oz gold at an average grade of 1,5 g/t Au. Licences also cover known gold occurrences at Tomena and Seguenega.

Orezone (TSX: ORE) announced in August 2012 that the company added 1.6 million ounces gold to the overall resource tally on its Bombore gold project in Burkina Faso, pushing the 3.5 million ounces gold it counted in 2010 to just over five million. Meantime, Orezone managed to kick gold grade up a notch. In 2010 Orezone reported 61 million tonnes @ 0.81 g/t gold indicated for about 1.6 million ounces gold and another 61 million tonnes @ 0.96 g/t Au, inferred, for 1.9 million ounces gold. In comparison, Orezone said on Tuesday it had 125 million tonnes @ 1.03 g/t Au for 4.13 million ounces gold in measured and indicated resources, along with 32 million tonnes @ 1 g/t Au for 1 million ounces gold in inferred resources. The improvement in gold grade owed in part to more conservative cut-off grades. In 2010 its base case cutoff for oxide resources, for instance, was 0.3 g/t Au, whereas in the latest resource Orezone went with 0.45 g/t Au. That conservatism undoubtedly reflected rising operating costs in the mining sector and pressure to maximize return for every tonne. Indeed the resource falls within a pit that has been modeled on operating estimates, all of which have risen markedly over the past two years for all miners. For example Orezone assumed mining costs of $1.90 for oxide material this time round versus $1.10 in 2010. Such cost ressure made it harder to squeeze out five million ounces. And gave Orezone a chance to brag. Pascal Marquis, Orezone's senior vice president of exploration, pointed to cost escalation in a statement, saying "Even with such increases, we were still able to reach our target of a plus-five million ounce deposit at a grade of 1 gram per tonne."The initial focus at Bombore is on oxide material that makes up 70 percent or 1.8 million ounces gold of measured and indicated resources.

IAMGOLD

commenced management of the Essakane project following the acquisition of Orezone Resources in February 2009.

Essakane gold mine
Goldbelt Resources Ltd (Canadian, GLDRF.PK, GLD.V) is exploring the Inata deposits, an estimated resource of 15,65 million tonnes grading an average of 1,9 g/t Au (948,000 oz gold) in the measured and indicated categories and 4,06 million tonnes grading 1,4 g/t gold (190,000 oz Au) in the inferred category, as well as known occurrences at Belahouro

,

Houndé, Bougouriba. (The Bougouriba belt, south of Houndé, is currently host to 20,000 artisanal miners) and at Quedrogo, Koupela region. The updated resource estimate for Iata in July, 2007, was 25.1 MT @ 1.7 g/t gold for 1,396,930 ounces of Measured and Indicated Resources (5.2 MT @ 2.3 g/t gold for 378,480 ounces of Measured Resources and 19.8 MT @ 1.6 g/t gold for 1,018,450 ounces of Indicated Resources) and an additional 7.1 MT @ 1.3 g/t gold for 297,910 ounces of Inferred Resources (includes the Sayouba and Minfo resources as previously estimated). This new estimation, calculated by Multiple Indicator Kriging using an 0.5 g/t gold cut-off grade, represents a 16% increase in the tonnage and a 16% increase in the contained gold of Measured and Indicated Resources from the previous estimate completed in March 2007. On October 4, 2007 Goldbelt announced the results of the Final Feasibility Study for the Inata Project which was coordinated and compiled by GBM Minerals Engineering Consultants Limited of London, England. The Study outlines a 2,250,000 tonnes per annum mill throughput utilizing a cyanide-in-leach process plant and cash operating costs of US$ 336/oz. The project will have a 7 year mine life with payback after 2.7 years at a US$650/oz gold price. The Internal Rate of Return for the project is 49.75% and the undiscounted Net Present Value is US$128.0 million. Goldbelt Resources Ltd. announced on December 13, 2007, that

Wega

Mining ASA

, through its wholly-owned subsidiary Wega Mining Inc, bought a controlling interest in the company. Wega Mining ASA is an Oslo-based international mining company focused on exploring, developing and operating gold, copper and zinc deposits. Wega Mining currently holds exploration licenses in Guinea, Canada, Portugal, Ecuador, Romania and Norway, and a gold-copper development project in Canada. The Goldbelt license portfolio in southwest Burkina Faso has been expanded considerably from 7 licenses occupying 1,655 km2 to 14 licenses covering 3,184km2 due to the recent acquisition of the Barrick projects in Burkina Faso
Semafo Inc's (Canadian, TSX:SMF.TO

;

SEMFF.PK, and operating the Kineiro mine in Guinea and Samira Hill mine in Niger) Mana

project

with the Nyafé and Wona deposits totalling 9,443,000 tonnes of ore at an average grade of 2,89 g/t Au. Following the detailed drilling work done during 2007 and the updating of operating costs taking into account increased gold prices from $450 to $550 per ounce, Mana mineral reserves increased by 3% compared to 9,196,700 tonnes of ore having an average grade of 3.06 g/t and containing 902,900 oz of gold over 2006.
Orbis Gold Ltd

Natougou project has 18 Mt @ 3.4g/t Au for 2.0M ozs contained gold. Positive Scoping Study results indicate potential for low cost open pit mine production up to 213000 ozs of gold per annum over an initial 6.2 year mine life.

A

Definitive Feasibility Study (DFS) commenced and is scheduled for completion in

mid-2015

.
Goldcrest Resources Ltd

(Canadian, GCL.V} is exploring the Gaoua copper-gold and Kampti and Titao Sud gold projects in Burkina Faso. The drilling of the Gaoua Cu-Au prospect is being executed under an option agreement that the company signed with Phelps Dodge Exploration Corporation, a wholly-owned subsidiary of Freeport McMoRan Copper & Gold Inc. Most of the breccia-hosted mineralization consists of hypogene chalcopyrite with which gold values appear to be closely correlated. Canadian gold exploration companies

Birim Goldfields

and

Goldcrest Resources

have agreed to merge, they said on January 30, 2008. Both companies own property in Burkina Faso, and Birim is also exploring in neighbouring Ghana.
Roxgold Inc is a gold exploration and development company with its key asset, the high grade Yaramoko exploration permit located in the mineral-rich Houndé greenstone region of Burkina Faso, West Africa. The Yaramoko Concession is located in North-East portion of Hounde Greenstone Belt. Paleoproterozoic (2200-2000 Ma) NNE-SSW elongated belts stretching 400 kilometres. Multiple gold and base metal deposits identified. Eastern part of belt is a 6 km thick basalt sequence bounded to west by Boni shear zone, making contact with younger Tarkwian type sediments and further west more intermediate to acid rocks. Gold most commonly hosted in quartz veins in dilation and shear zones in granitoid, felsic porphyry and volcanics. Also in sheared volcanics with no conspicuous quartz veining. Gold mineralization occurs in an WSW trending sub-vertical structures The Company recently delivered a positive Preliminary Economic Assessment and an updated resource estimate for Yaramoko's 55 Zone. A Feasibility Study is expected in Q2 2014.The Yaramoko permit covers approximately 167km2 hectares in the Province of Balé in southwestern Burkina Faso. The property is located approximately 200 kilometres southwest from the capital city of Ouagadougou. Yaramoko lies directly south of, and is contiguous to, the SEMAFO Inc. property hosting its flagship Mana Gold Mine and lies within the Hounde greenstone belt. On August 27, 2013, Roxgold released an updated resource estimate for the 55 Zone. The resource estimate is based on 99,077 metres of drilling and was prepared by AGP Mining Consultants Inc.) in accordance with National Instrument 43-101 Standards for Disclosure of Mineral Properties. The updated resource estimate returned 1,904,000 tonnes grading 13.88gpt for 850,000 contained ounces of gold in the Indicated category and 860,000 tonnes grading 9.88gpt for 273,000 ounces in the Inferred category with a 3.0gpt cut-off
Volta Resources Inc

is focusing primarily on its most advanced project in Burkina Faso, the completion of a Definitive Feasibility Study at the Company's cornerstone

Kiaka Gold Project.

The resource at Kiaka has recently been significantly enhanced with an updated NI43-101 compliant resource for the Kiaka deposit completed in January 2013. The Kiaka Gold Project now comprises Measured and Indicated Resources of 4.86 million ounces of gold and Inferred Resources of a further 1.01 million ounces of gold -- the largest undeveloped gold resource in the region. Over 97% of these resources are contained within a large, single open pit, with the balance found in a small satellite open pit located 700 meters to the southwest. Volta Resources also updated the NI43-101 compliant resource for the

Gaoua Copper-Gold Porphyry Project

in south-western Burkina Faso. Indicated Resources now stand at 139 million pounds of copper and 0.24 million ounces of gold and Inferred Resources at 2,008 million pounds of copper and 3.17 million ounces of gold. These resources are contained within two open pits, Gongondy and Dienemera, with both having the potential for extension along strike and down dip. Importantly, drilling at another two targets, Mont Biri and Boussera, has confirmed comparable porphyry-style copper-gold mineralization at potentially economic grades and widths that will warrant follow-up. In addition, in excess of 20 regional geophysical targets supported by copper and gold soil anomalism have been identified on the project footprint. Volta Resources is currently considering the best options to optimise value of this project in order to direct current resources to advancing Kiaka. Volta Resources also holds two additional early stage gold exploration projects in Burkina Faso. In 2013, work will be restricted to mapping and auger drilling utilising the Company's tractor-mounted power auger rigs, in order to refine targets for drilling follow-up later. The Nassara Gold Project is located in the south-western corner of the Gaoua group of properties while the Titao Gold Project is located at the junction of the northern end of the Hounde Belt and the Goren Belt.
Cluff Gold plc (CLF.L) is exploring the Kalsaka deposit located approximately 150 km north west of Ouagadougou, the capital of Burkina Faso. The orebodies identified to date at the project comprised within the exploitation decree, contain a mineral resource of 600,000 oz of gold (13,7 million t@1,4 g/t) and, at a gold price of US$400 per ounce, an ore reserve of 290,000 oz of gold (5,1 million t@1,8 g/t). Cluff wants to produce 60 000 oz of gold per year.
Amara Mining plc's Kalsaka is a producing gold mine in Burkina Faso. The other interests in the project are held by the government of Burkina Faso (10% non-dilutable, free-carried) and a local entity IMAR-B (12%). Kalsaka and neighbouring Sega (which is due to begin production in Q3 2013), are expected to produce 50-60,000 ounces of gold in 2013. Kalsaka produced over 53,000 ounces in 2012. As at 31 December 2012, Kalsaka had an estimated 38,000 ounces of proven and probable reserves, at an average grade of 1.4g/t. Inclusive of the mineral reserves, it hosted 269,000 ounces of gold in the measured and indicated categories, at an average grade of 1.3g/t, with an additional 178,000 ounces of gold in the inferred category at 1.3g/t, in the current mine area. Kalsaka's production profile was enhanced by the recent acquisition of the neighbouring Sega project. Located 20km north of Kalsaka, Sega hosts an Indicated Resource of 450,366oz (8.3Mt at 1.69 g/t) and an Inferred Resource of 147,344oz (2.9Mt at 1.58g/t), providing an opportunity to enhance Kalsaka's production profile with limited upfront capital expenditure. The Company plans to start mining at Sega in Q3 2013, and a preliminary economic assessment on Sega is underway.
High River Gold Mines Ltd

(Canadian, TSX:HRG.TO

) has an indicated 8,6 million tonnes at a grade of 3,0 g/t Au or 827 000 oz gold

at the

Taparko-Bouroum project

. High River Gold Mines announced commercial production at its Taparko-Bouroum gold mine, in Burkina Faso in September, 2007.

The criteria established for commercial production required all components of the processing plant to operate for 30 consecutive days at 60% capacity or more.

Mill throughput during the 30-day period, which ended on September 24, totalled 60 825 t, which represents an average capacity usage of 74%.

High River Gold said in a statement that the mill was currently operating at over 80% capacity.

The Taparko-Bouroum gold mine produced 3 623 oz of gold during the 30-day commercial production evaluation period.

Gold production for 2007 was expected to total about 30 000 oz, with production for the year planned at 100 000 oz, and rising to over 140 000 oz in the third year of operation. About 214 000 t of ore remain stockpiled, ready for processing.
More information at Taparko
Nordgold operates nine mines in Russia, Kazakhstan, Burkina Faso and Guinea. Nordgold has two development project, four advanced exploration projects and a diverse portfolio of early exploration projects and licenses in CIS, West Africa and French Guiana.The Taparko mine is operated by SOMITA SA, a company 90% owned by Nordgold's subsidiary High River Gold. The remaining 10% belongs to the Government of Burkina Faso. Mining at Taparko commenced in 2005, with the first gold poured in late 2007. The Taparko mine has been developed with three open pits. Mining of the Bouroum mine, which consists of three deposits, commenced in the final quarter of 2013.


Nordgold has an interest in the Bis sa gold mine through their 100% stake in High River Gold (HRGWA). Bissa Gold SA, which owns both the Bissa mine and Bouly deposit, is 90% owned by Nordgold through HRGWA and 10% by the state of Burkina Faso.
Jilbey Gold Exploration Ltd

(now merged with High River Gold)

has drilled out a measured and indicated 1,373 million tonnes grading 3,33 g/t or 147 250 oz gold at

Bissa Hill

.
St Jude Resources Ltd

(Canadian)

is drilling a deposit at Goulagou.
Golden Star Resources Ltd

announced in October, 2007, that it will sell its 90% stake in the Goulagou and Rounga properties, in Burkina Faso, to

Riverstone Resources Inc,

a Canadian gold and uranium explorer.

The company explained that Riverstone would spend C$4-million on exploration programmes on the properties over the next four years, before it would buy the properties for $18,6-million in cash, or in common shares.

Golden Star would also receive up to two-million shares of Riverstone over the term of the option and would receive two-million common share purchase warrants of Riverstone at exercise prices of C$0,30 to C$0,45. In 2005, Golden Star acquired the 90% stake in Goulagou and Rounga through the merger with

St. Jude Resources.
True Gold Mining

initially commenced operations in Burkina Faso in 2003 with the acquisition of the Rambo property.The company optioned the Goulagou and Rounga properties from Golden Star Resources Ltd in October of 2007. The Tougou and Youba permits adjoining Rambo were granted to Golden Star in 2008. In late 2011 True Gold exercised its option and in 2012 acquired Golden Star's interest in the Goulagou, Rounga, Youba and Tougou permits. These properties are contiguous with True Gold's Rambo and Kao permits and collectively form the Karma Project. Today, True Gold's Karma Project and Liguidi Project account for a combined total of over 1,000 square kilometres of exploration permits.

True Gold Mining Inc. (TSX-V; TGM) reported in October 2015 that mining had commenced at the Goulagou II (GGII) deposit at the Karma Gold Mine in Burkina Faso. The GGII deposit is the first of six deposits that will be mined over an 11.5 year period. The Company remains on track for gold production at the end of Q1, 2016. The GGII deposit has reserves of 273,000 leachable ounces of gold (contained in 7.6 million tonnes at 1.12 g/t gold) 1, and will be mined during the first two years of production.

Riverstone Resources Inc

has fifteen Exploration Permits and seven separate project areas, with one to four permits in each. In total, the Company controls close to 3,000 square kilometres.
Sanu Resources Ltd (Canadian, SNU.V,

also active in Eritrea

and Morocco) has four exploration licences (Moule, Nyieme, Loto, and Kodyel) totaling 827 km².
Goldplat entered into an agreement in December 2009 with Sanu Exploration (BVI) Limited, a wholly owned subsidiary of NGEX Resources Inc, to acquire Sanu's option over the 246 sq km Nyieme gold project in Burkina Faso . The Nyieme exploration licence includes known high-grade quartz vein structures, with drill core results showing up to 17.83 g/t gold over one metre and 11.67 g/t over five metres.


In December 2010 Goldplat announced a maiden JORC-compliant resource at the first target of the project totalling 685,000 tonnes at 2.61 g/t gold for 57,501 ounces of gold at a cut-off grade of 1.0 g/t Au for all categories.



Birim Goldfields Inc

optioned the 223 sq. km Sangolo property in April 2007. It is located within the prospective Hounde Gold Belt which hosts Semafo's Mana Project (combined gold reserves and resources of 1,045,800 oz) and is 15 km from Orezone Resources' Bondi and Golden Hill Projects (combined gold resources of 320,000 oz). Drill planning is underway on the Baobab and Acacia zones; the sites of active artisanal mining. Canadian gold exploration companies

Birim Goldfields

and

Goldcrest Resources

have agreed to merge, they said on January 30, 2008. Both companies own property in Burkina Faso, and Birim is also exploring in neighbouring Ghana.
Etruscan Resources Inc (EET.TSX) reported on 5 October, 2007, that construction at its Youga Gold Mine located in Burkina Faso, is nearing completion with commissioning of the main plant circuits scheduled to be completed in November and first gold production in December.The Youga Gold Project will initially be comprised of open pit mining of five pits with the ore being processed though a conventional CIL/gravity plant having a design capacity of one million tonnes per annum. Mineable reserves are 6.6 million tonnes with an average grade of 2.7 grams per tonne contining 580,000 oz of gold. Etruscan expects to achieve commercial production at Youga in March or Apri, 2008,l with the facility targeted to produce between 60,000 to 70,000 oz of gold in calendar 2008. The company's exploration program will focus on the three different gold belts, namely: the Youga Gold Belt where a follow-up drilling is planned to ascertain a historic 200,000 ounce resource that was reported by Ashanti Goldfields; the Banfora Gold Belt, following up with a pitting and auger drilling programme on regional gold-in-soil anomalies that delineated four primary and eight secondary drill targets; and the Boromo Gold Belt where it is after expanding its strategic land package.
Endeavour Mining operates the Youga Gold Mine, located approximately 180km southeast of Ouagadougou, the capital city of Burkina Faso. Youga has been in production since 2008 and produced 91,030 ounces of gold in 2012. Ore is processed through a conventional gravity-CIL plant with a design capacity of 1.0 Mtpa. Youga is a hard rock, drill and blast open pit operation that employs contractor mining. Grid power is delivered to site from Ghana via a 21 km transmission line. In early 2013, Endeavour completed a Preliminary Economic Assessment on the Ouaré deposit which is located 40km to the northeast of Youga to explore the economics of trucking the Ouaré material to the Youga plant to add three years to Youga's mine life.

Endeavour Mining Corp., through its wholly-owned subsidiary Endeavour Gold Corporation took over Avion Gold in 2012.

Avion Gold acquired the Hounde Project from Avocet in October 2010. An initial indicated and inferred resource of 610,000 ounces of gold was reported, but the company hoped to increase the resource to over 1 million ounces by the end of 2011.

The Houndé project began construction in April 2016 and is progressing as planned, with more than 50% complete by the end of 2016. First gold pour is anticipated by the fourth quarter of 2017.
AIM Resources

has added to its interests in Africa, with the acquisition of prospecting rights for two gold exploration tenements in Burkina Faso. The Naboué and Bonzan tenements cover an area of 141 km2, and 151 km2 respectively, and are situated about 20 km along strike from the formerly operating Poura gold mine. he new prospecting sites were in close proximity to the company's Perkoa zinc project, in Burkina Faso, which would allow it to use personnel and equipment resources already in the area, and start gold exploration immediately.
Taurus Gold Ltd's Daramandougou site consists of three separate permits along a 7km strike of mineralised shear hosted quartz veins and contains significant historical workings. 3D geological modelling, based on both historical and Taurus Gold data and a NI 43-101 report were completed in the first quarter of 2012. Besides this advanced project, Taurus Gold also has 13 other permits in Burkina Faso, and numerous identified anomalous targets will commence in 2013. Preparatory work for these projects has been completed, with substantial geophysical, geochemical and drilling data already in place.
Golden Rim Resources has four grassroots projects in Burkina Faso for a total landholding of 3,800 km2. The Company's primary focus is exploring its Balogo Project in southern Burkina Faso. The project has yielded some of the highest gold intercepts to come out of the country to date, with RC drill hole BRC071 intercepting 57m @ 40.6 g/t (1.3 oz/t) gold, incl. 8m @ 245 g/t (7.9 oz/t) gold.
The Korongou Project covers an area of 65km2. It is located 230km NE of Ougadougou, in the highly prospective Lower Proterozoic Birimian "Samira Hill" greenstone belt in Burkina and is traversed by a significant NE-trending fault splay which is connected to the major Markoye Fault system. This fault system controls a number of major gold deposits in Burkina Faso, including Kiaka (5.9 Moz gold), Bomboré (5.2 Moz gold) and Essakane (6.2 Moz gold). The mineralised fault system extends into western Niger where the 2 Moz Samira Hill is located.
More than 20 gold mineralised, parallel, NE-trending shear structures have been identified in trenches, pits and drilling within a 1km wide corridor in the eastern portion of Korongou. The mineralisation lies in a package of highly altered volcanic and volcanoclastic host rocks and is associated with a major auger gold anomalies and a prominent 6km long dilational structural jog along a regional NE-trending shear zone.
Epsilon has produced approximately 20,000 oz of gold from the permit area since 1997. From 2007 - 2015, Epsilon operated a small 10 tonne/day plant (gravity + cyanidation) at Korongou. Oxide ore was extracted from a number of small pits to 8m depth. The plant recovery averaged between 80% to 85%.
Since February 2013, Golden Rim has conducted geological mapping and rock chip sampling, ground magnetics/IP geophysical surveys, auger drilling and Reverse Circulation (RC) drilling.
Geological mapping & rock chip sampling program was completed over the entire 16km of strike of the mineralised shear corridor at Korongou. A total of 450 rock chip samples were collected. High grade rock chip gold assays included: 818 g/t gold, 142.1 g/t gold, 122.3 g/t gold.
A major auger drilling program (4,379 holes for 19,924m) was completed at the Banoussai Prospect (NE portion of Korongou). The auger drilling was conducted at 50m x 25m and outlined the Guitorga gold anomaly (>50 ppb gold) over an area of 3.5km x 0.4km. The anomaly remains open to the NE and SW. The auger sampling returned a number of high grade assays, including: 8,126 ppb (8.1 g/t), 7,001 ppb (7.0 g/t), 6,850 ppb (6.9 g/t) and 6,822 ppb (6.8 g/t) gold.
A 447 line km Induced Polarisation (IP) and ground magnetic geophysical survey (100m x 25m spacing) was completed over the 16km long x 3km wide main structural corridor at Korongou. At least 14 chargeable and resistive anomalies are associated with the Guitorga auger gold anomaly. Gold mineralisation is frequently associated with disseminated sulphides (i.e. pyritisation that increases chargeability) and silicification (increase of the resistivity by the reduction of the porosity of the rock).
A coincident magnetic low anomaly was identified with the Guitorga gold anomaly and this anomaly may be related to magnetite destruction in the rocks due to hydrothermal alteration associated with gold mineralisation. Two test lines totalling 5km of pole-dipole IP were completed for a better structural understanding of the auger anomaly.
Golden Rim completed 3 campaigns of RC drilling at Korongou (April-May 2013, May 2014 and April-June 2015) for a total of 130 holes for 15,851m.
Significant gold mineralisation was intercepted in multiple NE-trending parallel zones in the drilling at the Banouassi Prospect. The best RC drilling intersections include: 21m at 5.6 g/t gold, 8m at 3 g/t gold, 10m at 4.5 g/t gold and 9m at 3.2 g/t gold.
An initial Exploration Target of approximately 500,000 ounces to 611,000 ounces of gold at an approximate grade range of 1.8 g/t to 2.2 g/t gold has been identified at the Banouassi Prospect to a vertical depth of 70m. Most of the gold zones included in the Exploration Target are open along strike and at depth. In particular, a 900m gap in the drilling between the Guitorga North and Guitorga South areas offers scope to expand the Exploration Target.
Goldrush Resources' flagship project is the Ronguen gold deposit where, in early 2008, the company defined an inferred gold deposit of 249,000 ounces of gold (5.9 M tonnes at a grade of 1.31 g/t Au). Goldrush has also recently confirmed the presence of prospective targets at its Ouavousse permit.


First Mining Finance Corp.

and

Goldrush Resources Ltd.

entered into a

n

agreement

in 2015

whereby

Goldrush bec

a

me a wholly-owned subsidiary of First Mining. Gryphon Minerals has been exploring it's 100%-owned Banfora project in the south-west. This project is located in a major gold-producing area, with the project consisting of six exploration licences over an area of 1 200 km2.

Ampella Mining acquired five permits in the Batie West project in 2008. Aggressive exploration has revealed the multi-million ounce gold potential of this region, with six new gold discoveries. Montreal-based Searchgold has acquired two new permits on the wholly-owned Dou-Taouremba project.




Tambao is a manganese deposit and potential mine site in the Oudalan Province, located in the Sahel Region, which the far northeastern part of Burkina Faso. Tambao has been estimated to be one of the largest deposits in the region.
The Tambao manganese deposit consist of two 80 meters high hills mainly composed of manganese oxides produced by the weathering of a manganese- rich Birimian metavolcanic and volcano-sedimentary series. About 70% of the deposit derives from metacarbonates mainly composed of rhodochrosite, associated to primary oxides(manganosite and hausluannite) and manganese silicates as rhodonite and tephroite.
Its development, a major priority of the Burkinabe state, has been an on and off project since the 1990s. Barely served by roads or other infrastructure, the Tambao reserves are some 210 kilometres (130 mi) north of Kaya and 350 kilometres (220 mi) northeast of the capital, namely Ouagadougou. The Tambao Airport has been recently built to serve the deposit and the corresponding villages. For at least two decades it has been considered the most potentially lucrative mining resource in Burkina, and is believed to be the region's largest manganese deposit, estimated at 20 million tonnes at 52% to 53% Mn, The site's inaccessibility and lack of infrastructure have prevented wide scale exploitation. In 1993 InterStar Mining carried out 6 months of operations here, but were plagued by lack of supportive resources. Large scale exploitation was only again attempted by the Fompex consortium in 2004 and was quickly halted Apart from total lack of infrastructure (power, water, construction or employment base) the biggest hurdle to commercial exploitation of the Tambao reserves is the lack of an all weather roadway capable of supporting the transport fleet needed to move ore the 210 kilometres (130 mi) to Kaya, the nearest city connected to the Burkinabe road network. In 2010, the Burkinabe government carried out talks with investors from India aimed at building a 250 km railway line from Tambao to Kaya. Later that year, the Burkinabe government tendered a series of openings for mining operations in Tambao. In 2010 two consortia emerged offering to develop an integrated mining and rail system which, in some proposals, would not only mine and process ore, but build longer rail lines to feed into the Ivorian rail network for export at the port of Abidjan. Major contenders were a Singaporean/Indian joint venture, the Nice Group company, and a tie up of the Japanese firm Mitsui Rail Capital and Brazilian mining giant Vale S.A.
GNR fights Frank Timis over Burkina's Tambao Manganese mines
Pan African Minerals Limited ("PAM"), a subsidiary of the Timis Corporation, has been awarded the rights to the Tambao manganese deposit in Burkina Faso during a ceremony on 11 August 2012. Tambao is situated in the remote north-eastern part of the country. Initial ore resource estimated that Tambao contained a geological resource of 14 to 17 million tonnes at a grade of approximately 51.5% manganese. The grant of the mining rights to the manganese deposit, which is located in the Sahel region of the north of Burkina Faso, is part of a wider infrastructure development project for the North of the country. The integrated Tambao project will be developed in two phases. In the first phase, PAM will export 1 million tonnes of manganese ore per annum and will refurbish the existing rail line between Ouagadougou and Kaya, while building a dedicated mineral haul road of approximately 90 kms to deliver the ore to the Kaya rail head. In the second phase, Pan African Minerals will export a minimum of 2 million tonnes of ore and will extend the rail line from Kaya to Tambao to enable an all-rail export corridor from Tambao to Abidjan.
In addition, Pan African Minerals will undertake a feasibility study to determine the possibility of building a dam on the Beli River for the production of hydro-electric power and water, and the company has also agreed to pay for the asphalting of the Dori-Gorom Gorom – Tambao road.
ACM Corporation is a privately held mining company with two manganese mining operations in West Africa through its subsidiary, Metal Mass Pty. Ltd. Its first mine, Kiere, is in production, operated by Metal Mass subsidiary company Burkina Manganese S. A. Its second mine, Ansongo, located in Mali, was expected to be in production Q1, 2012, and is operated by Metal Mass subsidiary Mali Manganese S. A.
Phosphates
The northeastern Neoproterozoic
Volta Basin
in Burkina Faso, Benin and Niger, contains the largest of a series of deposits and sedimentary accumulations that occur in three Neoproterozoic phosphogenic basins/regions distributed along the margins of the West African craton. The other two are the Taoudeni Basin and the Anti-Atlas region.
Five main phosphatic areas include
Kodjari
and
Arli
in flat-lying sections of the basin,
Tapoa
and
Mekrou
(the most important) in the folded portion of the basin, and
Aloub Djouana
in a structurally complex folded and metamorphosed unit.
Kodjari
and
Arli
are 60 km apart, both on the NE-SW trending northwestern margin of the basin, while
Aloub Djouana
, which is 30 km SE of Kodjari, is on the eastern side of the basin. All three are in far eastern Burkina Farso, around 485 km by road to the east of the capital Ouagadougou.
Tapoa
is also on the northwestern margin of the basin, 70 km NE of Kodjari, but in neighbouring Niger. The
Mekrou
series of deposits are generally 20 to 30 km south to SE of Tapoa in Benin and Niger.
The Volta basin is best developed in Ghana, narrowing to a fracture controlled depository that is only around 50 km wide to the north where it contains the deposits detailed above. The host sequence dips gently to the east where they overlie pre-1.7 Ga crystalline Birrimian basement to the west, and become more deformed to the SE, towards the NNE-SSW-trending Dahomeyide structural belt which is overthrust from the east onto the Volta basin sediments at ~615 Ma. The Dahomeyides represent a portion of the Pan-African (Cadomian) chain that extends northward into the Hoggar chain and are interpreted to comprise metamorphosed basement.
The stratigraphic sequence is divided into three units:
(i)
a ~1000 to 650 Ma Lower Voltaian Series of sandstones and conglomerates (possibly of glacial origin), which include hematitic claystone and conglomerate in Niger and Benin - overall regarded to be of shallow continental origin;
(ii)
a middle series of mainly claystones of the 675 to 615 Ma Oti Group, and equivalent shales, silty shales, sandstones and greywackes of the Pendjari Group in the Tapoa-Mekrou area in Benin and Niger; and
(iii)
the Upper Voltaian Series of predominantly arenaceous sediments of the Obosum Group which is Late Neoproterozoic the Cambrian in age.
The bulk of the mineralisation, particularly in the shallower dipping sections of the basin, are contained within the ~100 m thick Kodjari Formation in the lower half of the Oti Group. The type section at Kodjari commences with breccia lenses conaining fragments of older quartzite from the underlying Lower Voltaian deposited on a striated pavement. These are overlain by a green tillite containing polished and striated boulders of granite, rhyolite, quartz, sandstone, amphibolite, schist and gneiss in a matrix of clay-sand-carbonate. The tillites are overlain in turn by 0.5 to 3 m of limestone which is dolomitic (and baritic), often brecciated or slumped, followed by 25 to 30 m of green-orange chert with intercalations of silty-shale and tuffaceous beds/silica-rich volcanic ash. Overlying these are 0 to 30 m of argillaceous to micaceous sitstone that may contain some phosphate, passing upwards and laterally into the 0 to 15 m (generally >10 m) thick phosphate bed (20 to 30% P
2
O
5
) that comprises a fine to very fine-grained argillaceous siltstone, that rests directly into the bedded chert. These are all overlain by 1500 to 2000 m of green and black shale, pyritic mudstone, clayey-siltstone, argillaceous and feldspathic sandstone with thin intercalations of greywacke and limestone that comprises the Pendjari Group. The succeeding Upper Voltaian Obosum Group is absent in the Kodjari district.
The phosphorites at Kodjari are well bedded and essentially composed of structureless grains of brown, cryptocrystalline, isotropic apatite that range from 35 to 40, up to 200 µm, with a mean diameter of 80 µm. They are characterised by their fine grain size and good sorting, and are commonly rich in argillaceous and ferruginous impurities. Intraclasts and pseudo-oolites are present but rare, but where present are composed of nucleii of brown, cryptocrystalline isotropic apatite, encapsulated by a rim of colourless, fibrous, crystalline apatite or chalcedony. The detrital grains are essentially angular silt-sized quartz grains which make up ~1% of the rock. The cement, which represents 20 to 25% of the rock, is composed of microcrystalline quartz, crystalline and colourless apatite, small prisms of apatite, and some clay with associated iron oxides and hydroxides.
According to Trompette
et al., 1980, these deposits contain in excess of 100 Mt of ore, including:
Kodjari
- 60 Mt @ 27.5% P
2
O
5
,
Arly
- 2.8 Mt @ 29% P
2
O
5
, both at a maximum 20 m overburden.
The reserves of the deposits, cited by McClellan and Notholt (1986), are:
Aloub Djouana
- 224 Mt 15% P
2
O
5
,
Kodjari
- 80 Mt @ >18% P
2
O
5
,
Arly
- 4 Mt @ similar grades.
Click

HERE

for an overview
Geology
Perkoa is a
volcanogenic massive sulphide (VMS) deposit.

The massive sulphide Zn-Ag-Ba deposit is located in western Burkina Faso (12°22'N, 2°36'W), west Africa.
It is hosted by the Paleoproterozoic Birimian Supergroup of west Africa and comprises a main orebody, containing >90 percent of the reserves, with various satellite bodies, and is hosted by andesitic dykes, sills, breccias, tuffs, tuffite and dioritic to granitic dikes, structurally overlain by andesite, cumulate rich basic rocks and carbonaceous schist.
The main orebody is semitabular with dimensions of 400x450 m, with an average thickness of 10 m. The satellite orebodies have an average thickness of 4 m.
The immediate hosts are tuffaceous, and are intruded by a 2175±1 Ma quartz diorite in the structural footwall (stratigraphic hanging wall). The main orebody is subparallel to, and is on average 15 m from, the steeply dipping intrusive contact. The satellite orebodies are discontinuous but also show a preferred orientation subparallel to the intrusive contact, on average 75 m stratigraphically below the intrusion.
The massive sulphide ore is predominantly composed of Fe-rich sphalerite (30%), pyrite (25%), barite (10%), hexagonal pyrrhotite (5%), magnetite (5%), and white mica. Quartz is mainly present as host rock relics. Significant quantities of hydrothermal quartz were developed in the structural footwall of the deposit, where the main orebody is close to the quartz diorite (0.5 m away). Albite, (Ba, K) feldspar, Ba rich biotite, chlorite, tourmaline, andradite rich garnet, ilmenite, rutile, titanite, and galena are subordinate. Trace amounts of chalcopyrite, arsenopyrite, Ag rich tetrahedrite, and molybdenite are also found within the massive sulphide ore. A strongly altered quartz-microdiorite dyke containing disseminated zinc spinel + magnetite ± Fe-poor sphalerite occurs adjacent to the massive, Fe-rich sphalerite ore of one of the satellite orebodies.
The magmatic rocks in the Perkoa area have a juvenile character according to the Nd-Sm isotopic data, like most Birimian rocks, although the Perkoa basalts show the influence of a subduction component in various discrimination diagrams. Birimian basalts from other areas have geochemical signatures of MORB or oceanic, within-plate basalts. The massive sulphide ore has been metamorphosed during a regional thermal event under predominantly isotropic stress, probably 100 to 200 m.y. after the emplacement of the quartz diorite. Sphalerite and magnetite were remobilized, whereas pyrrhotite formed at the expense of pyrite. Peak metamorphic temperatures of >460°C at pressures of >1 kbar are indicated by almandine rich garnet, the presence of andradite, and geothermometers involving arsenopyrite and pyrrhotite. Due to the metamorphic modifications of the ore and host rock, however, it is not possible to establish the age relationships between the main ore forming event and granitoid intrusions. As a result, it is not known whether ore deposition took place close to a palaeo sea floor or in a subvolcanic environment (i.e., a skarn).
The estimated ore reserves are 5.7 Mt @ 18.2% Zn, 10% BaSO4, 0.06% Pb, and 26 g/t Ag (50 ppm Cu).
AIM Resources

(Australian) is developing the Perkoa zinc project which has a proven and

probable reserve of 6,3 million t with a grade of 14,5% zinc at a 9 % cut-o ff , making the deposit, which is open to a depth of 600 m, equate to 907,700 t of contained zinc.
Perkoa close to production - Blackthorn
Published: 26th September 2012
PERTH (miningweekly.com) -
ASX-listed Blackthorn Resources Ltd was expecting first concentrate from its
Perkoa joint venture (JV), in Burkina Faso, by the end of October or early November.
The company said on Wednesday that the cold commissioning process at the plant, which was currently
under way, was expected to take four weeks. Commissioning of the front-end of the processing plant
started in the first week of September, and around 4 000 t of waste rock has since been crushed.
Meanwhile, Blackthorn said that focus underground remained on advancing the decline development as
much as possible, to establish the lower level stopes, with ore production in the first year coming
primarily from the open pit operation.
The open pit was also progressing well, with a total of 13-million cubic meters excavated from the
open pit, exposing the orebody. Two separate stockpiles have been established to stockpile the oxide
ore and the soil for reuse during rehabiliation work.
"In mid-2008, at the start of the global financial crisis, construction at the Perkoa JV was slowed down to
a very slow pace," said MD Scott Lowe.
"In late 2010, we completed the JV transaction with Glencore and handed over management of the
project to them. We are now very pleased for our shareholders, JV partner and for the people of Burkina
Faso that the commissioning phase of the project has begun and that production will begin in the
following months."
In the first year, the feed to the plant was expected to be predominantly lead and silver ore from the
open pit, supplemented by underground zinc ore production. During the second year of operation this
would change to around a 50/50 ratio of lead and silver ore versus zinc ore.
From year three onwards, the majority of the feed would be zinc ore, with some silver and lead from the
underground operation.