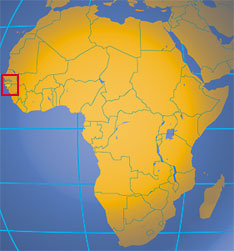 Direcção Geral, Geología e Minas
Comissariado dos Recursos Naturais
Bissau
CIA Factbook
Political rights and civil liberties (Freedom House)
Portuguese-English online dictionary
Travel and accommodation
The contribution of
mining to total exports in 2010 amounted to 0.9%
Guinea-Bissau Mining News
Source: CIA Factbook
Legend
Geology
Geologically, Guinea Bissau can be divided into three tectono-stratigraphic units. In the extreme northeast Neoproterozoic rocks occur comprising metavolcanics and low-grade to unmetamorphosed sediments belonging to the West Africa polyorogenic belt at the margin of the West Africa Craton. Eastern Central Guinea Bissau comprises Palaeozoic strata dominated by sediments of the Bove Basin and to the west these Palaeozoic rocks are unconformably overlain by Cenozoic to Recent sediments mainly of marine origin.
Geological: : Geology 3 maps ;Geophysics : 1 map; Carta Geológica da Guiné-Bissau na escala 1:400,000 DGGM (Direcção General de Geologia e Minas), an ongoing project.
Mining
The economy of Guinea-Bissau depends mainly on agriculture and fishing. Mining was limited to small-scale production of construction materials. The country's prospective mineral resources include phosphate rock, bauxite, diamonds, gold, heavy mineral sands and unexploited deposits of petroleum. Development of these resources however is not a near-term prospect. The Neogene carbonates of the Farim deposit are estimated to contain a phosphate rock resource of more than 166Mt at 29 per cent P2O5. Offshore oil prospecting is underway in several sectors but has not yet led to commercially viable operations.
In March 2002, U.K.-independent Premier Oil plc announced the results of its first exploratory well on the Sinapa prospect (Block 2) offshore Guinea-Bissau. The Sinapa-1 exploratory well has been designated plugged and abandoned with oil shows. Despite the disappointing results, Premier Oil plans to retain its acreage in Guinea-Bissau, and is in the process of reviewing seismic data on its holdings. In addition, Premier Oil planned to drill exploration wells, Eirozes and Espinafre, towards the end of 2006. The national oil company of Guinea-Bissau,

Petroguin

, is planning to offer the country's new deep-water acreage to prospective investors. Exploration activity in the region has sparked interest in the remaining 11 offshore blocks.