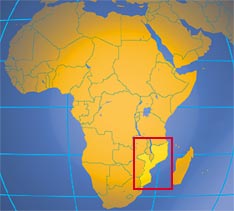 Direcção Nacional de Geologia
CIA Factbook
Political rights and civil liberties (Freedom House)
Portuguese-English online dictionary
Travel and accomodation
The contribution of
mining to total exports in 2010 amounted to 57.0%
Mozambique Mining News
E C Meikles (Pty) Ltd

of Zimbabwe mines bauxite at Monte Snuta at an estimated rate of 12 000 t per year.
Coal
Click

HERE

for an overview
The African Development Bank (ADB) expects that in 2020 Mozambique will be Africa's second-largest coal exporter, with annual sales of close to 110 million tons.
Beacon Hill Resources plc produced 96,000 t/yr of coal in Chipanga XI Mine in 2010. The company plans to open a new mine to increase its coal production to 220,000 t/yr. In addition to Minas Moatize, Beacon Hill holds a majority interest in the Changara Coal Project, an exploration project that is located within close proximity to its flagship Minas Moatize Coal Project
Riversdale Mining Ltd. of Australia along with its partner Tata Steel Ltd. of India opened the new Benga Mine in Tete Province in 2011, which is estimated to have 502 Mt of coal reserves.
The Indian state-owned

International Coal Ventures Ltd

(ICVL)

announced in November 2014 that the first shipment of coal from its concession in central Mozambique has arrived at port in Visakhapatnam in eastern India. The premium hard coking coal from the Benga mine is destined for use by the Steel Authority of India. In October 2014, ICVL acquired three concessions in Mozambique from the Anglo-Australian company Rio Tinto - its 65 per cent stake in the Benga open cast coal mine, and the Zambeze and Tete East projects, all in Tete province (the remaining stake is owned by Tata Steel). Of these, only Benga is in production, currently mining five million tonnes of coal a year. However, the company is looking at increasing production to twelve million tonnes per year. In a statement ICVL pointed out that "this shipment marks the beginning of establishing a long term and reliable source of supply". It added, "with huge reserves now under the control of ICVL, coal output would be progressively increased for meeting current and the growing requirements of the Indian steel majors". The company argued that "ICVL is putting in place a strong management team to make the mining operations efficient and cost effective. With transport infrastructure in Mozambique under expansion, ICVL would be well positioned to take advantage of increasing volumes from its Mozambique assets for imports to India". ICVL is a joint venture between five Indian state owned concerns, namely the Steel Authority of India Ltd (SAIL), Coal India Ltd, Rashtriya Ispat Nigam Ltd (RINL), NTPC Ltd and NMDC Ltd. It was set up to acquire coal assets abroad, in order to guarantee secure supplies of coking coal for the Indian steel industry. SAIL and RINL are increasing steel production and by 2015 will need 25 million tonnes per year of coking coal, most of which will be imported.
Copper
Baobab Resources plc

is exploring the area around the Mundonguara copper-gold mine (closed since 1989), with an existing high grade inferred resource of 226,000t @ 3.9% Cu, 0.7 g/t Au and 27 g/t Ag (Non-JORC).
Click

HERE

for a comment
Gold in Mozambique
Click

HERE

for an overview
Tsoza Refinaria de Ouro de Mocambique started gold production in 2010 in Manica Province, which was the country's first gold refinery. The production capacity of the refinery is 11,000 kg/yr of gold.
Gold deposits in Mozambique
(
Source: Southern African Development Community, Mineral Resources Survey Programme No 4, 2001)
Gold mineralisation
Manica Province
Stratigraphy and general geology
Monarch Mine
The regional trend of the
Manica greenstone belt
, on the Zimbabwean border, which hosts the known gold mineralization and only operating mine in the past, is east west. It consists of intensely metamorphosed and strongly foliated volcanic rocks, with subordinate banded ironstone, tuff and greywacke. The surrounding rocks are granite or gneiss from the Archaean basement. Structurally, the greenstone belt is complex with at least four major deformation phases identified.There are three east-west striking major shear zones which control the gold mineralization.
A

lluvial deposits within the Revue, Inhamurra, Muza and Chimezi rivers. An estimated resource potential of these alluvial deposits amounts to 112 million m3 at an average grade of 0.25g/m3, yielding approximately 25 t of gold.
The Niassa province in the northwest of Mozambique has seen an increase in gold exploration and mining, in particular by artisanal workers. Gold is located within structurally controlled quartz veins located within Proterozoic greenstone belts located close to the shores of Lake Nyasa. Currently all gold production in this region comes from artisanal alluvial workings that grade at between 0.5 – 3 g/m3. It is estimated that about 12 t of gold has been produced from this region since 1990.
Pan African Resources plc (AIM:PAF) is developing the

Manica

project where an orebody with an estimated 12, 5 million t at a grade of 2,58 g/t Au or 1,038 million oz of gold, has been outlined. Pan African released a resource update in September, 2007, which increased the estimated resource at Manica 18% to 1.55 million oz from the previous 1.31 million oz. A bankable feasibility study should be completed on the Manica project by July 2008. The company has completed 17 462 m of drilling at the site and intends to drill another 15 600 m during 2008. In January, 2008, the Manica project had a gross in situ mineral resource of about 16,28-million tons at 2,96 g/t. In the meantime, the Fair Bride prospect resource at the Manica project, has increased by 20%, to 1 245-million ounces, while the Guy Fawkes prospect has emerged as a significant new potential exploration target.
ASX-listed Auroch Minerals, which in January 2013 raised $3-million to augment its cash of $5.3-million, is carrying out exploration drilling within the Odzi-Mutare-Manica greenstone belt in central Mozambique, on the corridor that links Beira to Zimbabwe The project, 4 km from the town of Manica, is close to power lines and roads and has access to mining-related migrant labour and semi-skilled labour that serviced neighbouring Zimbabwe and South Africa. The company has completed 7 400 m of diamond drilling and defined the project into a number of sectors, with the Guy Fawkes sector the current focus. Information received when the project was acquired from the JSE-listed Pan African Resources showed historical grades of 2 g/t to 7 g/t. The company is working on a long-term gold price of $1 200/oz and foresees a number of openpittable opportunities in the mining of near-surface gold. Two contractors are in place to bring down mining and processing costs. Of the 81 employees, 71 are Mozambicans. Auroch has spent more than $2.5-million since January, on top of $19-million spent earlier by Pan African, which remains a significant shareholder.
British based company Xtract Resources announced in October 2015 that it had entered into a joint venture with Mineral Technologies International to develop an alluvial gold mine in the central Mozambican province of Manica. The two companies expect to extract 32,000 ounces of gold per year. According to figures from Xtract, the operating costs will be 203 dollars per ounce and under these conditions the cost of setting up the mine will be recouped in less than six months. The life of the mine is estimated to be ten years. Xtract Resources is also developing an open pit gold mine in the same license area. This is due to begin production in 18 months, and will produce 48,000 ounces of gold per annum over the mine's ten year lifetime. Earlier in October 2015, Xtract bought the Manica gold licence from the Australian company Auroch Minerals for 10 million dollars.
Baobab Resources plc

is exploring gold occurrences in the Manica, Bandire / Sussendenga and Furnacungo/Angoni areas. The company's principal asset is the Mundonguara copper/gold mine which last produced in the 1980s, where drilling is planned to confirm an existing high grade target and to explore for down dip and along strike extensions, lower grade haloes and to quantify the tenor of the 30 metre thick oxide cap. Other prospects within the Company's twenty one Prospecting Licences host a

variety of commodities including copper, gold, nickel, uranium, silver, lead, zinc, iron ore and fluorite.

Zambezi Nickel Ltd

is exploring the Mavita Project comprising two prospecting licences, LPP 1045 and LPP 1046, located in the Manica province of central western Mozambique. The geological setting of the Mavita Project area places it within the eastward extension of the Archaean Zimbabwean Craton and includes several areas of significant aeromagnetic and stream sediment geochemical nickel anomalies, coincident with mapped ultramafic lithologies. None of these anomalies have been drill tested to date.
Oil and Natural Gas
• In December 2012, an agreement was reached between Anadarko and Eni to facilitate a work programme in which the two operators will jointly plan and construct.
Natural gas production:

80 million cu m (2004 est.)

Natural gas proved reserves: 127.4 billion cu m (1 January 2005 est.)
Sasol Petroleum International

is exploiting the Temane Gas Field and the first gas was put into the gas transmission pipeline at the central processing facility on the Feb 18, 2004 and delivered to Sasol's Secunda plant in South Africa on the February 21, 2004. A total of 2,618,894,658 Nm3 of gas and 619,440 bbls of condensate were produced up to August 2005.
Noventa

is operating the Marropino opencast tantalum mine expected to reach its capacity of 300,000 lb/year in the second quarter of 2007. Noventa currently has ore reserves of 11,4 million tonnes. The company has 12 licences in Mozambique and is exploring deposits at Morrua and Mutala; the latter having been mined on a small scale for 30 years. Reserves and resources of tantalite amount to 19 million pounds.
OmegaCorp Ltd

is exploring the Mavuzi Project, located roughly 40 km northwest of the provincial centre of

Tete

in northwestern Mozambique and comprising four granted licences covering approximately 700 km

2

. The central licence covers the historical Mavuzi Uranium Mine. It is also exploring the The Zambezi Valley Project, approximately 300 km due west of Tete in northwestern Mozambique. The single licence covers over 600 km

2 and lies on the border with Zimbabwe.