Silver has long been valued as a precious metal, used in currency coins, to make ornaments, jewelry, high-value tableware and utensils and as an investment in the forms of coins and bullion. Silver metal is used industrially in electrical contacts and conductors, in mirrors and in catalysis of chemical reactions. Its compounds are used in photographic film and dilute silver nitrate solutions and other silver compounds are used as disinfectants and microbiocides.
The most common silver-bearing minerals recovered by flotation are argentiferous galena, native silver, argentite (Ag2S) and tetrahedrite (Cu,Fe,Ag) Sb4S3). Often these minerals float with the base metals such as copper and lead sulphides or are the primary target mineral (tetrahedrite).
Tetrahedrite -

(Cu,Fe,Ag)

12

Sb

4

S

13
Pyrargyrite (
Ag
3
SbS
3 )
Silver News
Silver market basics
Silver price latest: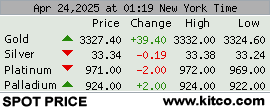 Click HERE to view latest price trends
Links to silver supply and demand
Global fabrication demand for silver dropped slightly in 2012, to 846.8 million ounces, according to the Silver Institute. Supply of the commodity from above-ground stocks also fell 7.5 percent that year, to 261.3 million ounces.
From January 2000 gold went from $300.00 per ounce to almost $1,900.00, while silver, in the same time period went from roughly $4.50 to almost $46.00. The bulk of gains were captured from the end of 2008 to the peak prices, in both gold and silver, in the summer of 2011. Gold's gain from roughly $750.00 to $1850.00 was impressive but even more impressive was silver's gain – from just over nine dollars to $46.00.
The World Silver Survey 2007, released on May 24, 2007, by the Silver Institute, forecasts that the current fundamental/supply demand picture for silver is "at least supportive of prices well into double-digits," in the absence of a major externally-driven setback to industrial demand. The authors of the survey - London-based metals consultant
GFMS
- suggested that "for silver to break out to the upside or downside would therefore seem to require intervention from investors." A downside could occur if a slide in global GDP growth prompted investors to liquidate their positions.
I
nvestment and the launch of a silver exchange-traded fund (
ETF
) were the primary drivers of the silver price in 2006, which rose 58% during the year. Global mine production rose just 0,1% in 2006 to 646,1-million oz (20,095 t), as growth in Peru, China, Chile and Mexico was countered by a dramatic fall in Australian output.
GFMS
expected
, in November, 2007, that mine production is to increase by 23 million oz (3.6%) in 2007 with growth being driven by higher silver production from La
Coipa
in Chile, initial output from San Cristobal in Bolivia, a rebound at
Cannington
in Australia and higher production in Mexico. The outlook for 2008 is a 7% increase in international mine production, mostly coming from a full year's output in San Cristobal, initial production at
Coeur
d'Alene's
San
Bartolome
silver mine in Bolivia, and start-ups at
Goldcorp's
Penasquito
project and the Delores project, both in Mexico. A price range of $13.20 to $16.50/oz over the next 12 months has been forecast by the consultancy, based on
investment
demand.
List of silver stocks with latest financial data
Rank

Country

World Mine Production, By Country (Metric tons)

1

Peru

3,854

2

Mexico

3,553.84

3

China

2,900

4

Australia

1,635

5

Russian Federation

1,400

6

Bolivia

1,325

7

Chile

1,301.02

8

United States

1,250

9

Poland

1,206

10

Kazakhstan

678.23

11

Canada

608

12

Argentina

350

13

Sweden

265

14

Indonesia

215

15

Morocco

195

16

Turkey

180

17

Guatemala

128.42

18

India

95

19

Uzbekistan

85

20

South Africa

77.78

21

Finland

70

22

Bulgaria

55

23

Papua New Guinea

52

24

Brazil

37

25

Philippines

33.81

26

Greece

30

27

Namibia

30

28

Iran, Islamic Republic Of

25

29

Korea, Democratic People's Republic Of

20

30

Romania

18

31

Honduras

15

32

New Zealand

14.26

33

Tanzania, United Republic Of

12

34

Mongolia

10

35

Saudi Arabia

9.5

36

Colombia

9

37

Tajikistan

5

38

Serbia

4

39

Armenia

4

40

Ireland

4

41

Spain

3.5

42

Nicaragua

3

43

Ghana

3

44

Sudan

1.7

45

Japan

1.5

46

Korea, Republic Of

1.5

47

Zimbabwe

1.2

48

Ethiopia

1

49

France

0.7
Fresnillo Mine, Mexico
Source:

www.thetimes.co.uk
Top 3 Primary Silver-producing Mines of 2012
Cannington mine, Australia
The Cannington mine is a fly-in, fly-out mining and processing operation located in Northwest Queensland, Australia. It produced 32.23 million ounces of silver in 2012, the most of any mine in the world, as per the Silver Institute. The deposit was discovered in 1990, and full production was achieved in 1997. Its life expectancy is 25 years and it has proven and probable silver reserves of 24 million tons. Cannington also contains reserves of lead and zinc.
The mine is wholly owned and operated by BHP Billiton (NYSE:BHP,ASX:BHP,LSE:BLT), a major producer of commodities, including aluminum, copper, silver and uranium. The company has been operating since the mid-1800s.
Cannington was BHP's sixth-most profitable mining operation in 2011 and contributed $1.19 billion to the company's earnings before interest and tax, The Australian reported. In comparison, the project's net operating base was only $202 million. As such, analysts place the value of the Cannington mine as high as $5 billion.
Fresnillo mine, Mexico
In second place is the underground Fresnillo mine, located in Mexico, northwest of Zacatecas. The asset, which its operator, Fresnillo (LSE:FRES), says is the world's largest primary silver mine, produced 26.38 million ounces of silver in 2012.
Fresnillo notes on its website that it is the world's largest primary silver producer and the second-largest gold producer in Mexico. The Fresnillo mine is its flagship property, but overall, the company has seven mines in operation throughout Mexico, plus three projects in the developmental stage.
The Fresnillo mine has been in near-continuous operation since 1554 and has a long tradition of silver mining, states the company. Its total reserves include 308.5 million ounces of silver and 733,000 ounces of gold, and its mine life clocks in at 12.5 years. The average ore grade of the silver at the mine is 281 grams per ton.
Dukat mine, Russia
The Dukat mine is the largest silver deposit in Russia and the third-largest in the world. It was discovered in 1965 and now operates in conjunction with four others to form the Dukat hub. The Dukat hub, officially formed in 2008, is located in the Magadan Region of the Russian Far East and is the flagship operation of Polymetal International (LSE:POLY).
The Dukat mine — combined only with output from the hub's underground Goltsovoye silver mine — produced 15.5 million ounces of silver in 2012, according to the Silver Institute. As a whole, during the 2012 fiscal year, the Dukat hub produced 19.2 million ounces of silver. The hub's production timeline is expected to extend through 2023.
Dukat's operating company, Polymetal​, is a leading gold and silver mining group that works on assets in Russia and Kazakhstan. It first acquired the Dukat mine in 2000, and open-pit mining began at the site in 2001.
Other major silver mining companies
Coeur

d'Alene

Mines Corporation [NYSE:

CDE

] announced in May 2007 the takeover of Australian headquartered

Bolnisi

Gold

NL

and

Palmarejo

Silver and Gold of Canada, to form what

Coeur

described would be the world's leading primary silver producer. The deal is worth $1.1 billion.

Coeur's

big target in the merger deal is

Bolnisi

and

Palmarejo's

Palmarejo

project in Mexico which is scheduled to start producing some 12 million ounces of silver a year and 110,000 ounces of gold with production possibly commencing in early 2008. It is considered that when in production it will be one of the largest, single silver mines in the world with the potential of becoming the lowest cost silver producer. Output from

Palmarejo

would nearly double

Coeur's

production levels by 2009 when the company is expected to produce around 32 million ounces of silver and 290,000 ounces of gold. Overall, the company would then possess a mineral resource base of over 364 million oz of measured and indicated silver mineral resources (inclusive of silver mineral reserves) and 96,6 million oz of inferred silver mineral resources as well as 3.4 million ounces of measured and indicated gold mineral resources and 0,95 million ounces of gold inferred mineral resources.
Peñoles

[

PE&OLES.

MX

]

mines in Mexico and claims it

operates the world's richest underground silver mine (

Fresnillo

), the richest underground gold mine (La

Ciénega

), the largest open-cut gold mine (La

Herradura

) and the largest under ground zinc mine (Francisco I.

Madero

) in Mexico.
Pan American Silver Corporation

(Canadian), founded in 1994, expects its silver production to grow to 25 million oz per year by 2009. Pan American achieved record production of 17.1 million oz in 2007. In 2002, the Company owned and operated four silver producing assets. By the end of 2006, it had grown its portfolio to seven operating mines, with an eighth under construction. The company mines in Argentina, Bolivia, Chile and Peru. Indicated and measured reserves in 2006 amounted to 81,433 million oz
Silver producers in the USA
The United States, which put out 32.6 million ounces of silver in 2012, is the world's ninth-largest producer of the white metal, according to the Silver Institute.
Much of the nation's silver production comes from Alaska and Idaho, and it is often mined from veins that contain other minerals. As a result, many of the top silver producers in the US are not exclusively concerned with silver, and many more are involved in exploration and development in addition to production.
Here's a look three companies that, despite operating in various other parts of the world, are also three of the largest primary silver producers in the US.
Coeur Mining
(TSX:CDM,NYSE:CDE)
Coeur Mining, formerly Coeur d'Alene Mines, describes itself as the largest US-based primary silver producer. It has projects in the US, Mexico, Bolivia, Argentina and Australia. Its mines in the US are Alaska's Kensington mine, which produces gold, and the Nevada-based Rochester mine, which produces both gold and silver. Rochester is a surface mine that is made up of the main Rochester deposit and the nearby Nevada Packard deposit. It produced 2.8 million ounces of silver in 2012, and in 2013, Coeur expects it to produce 4.5 to 4.9 million ounces of silver.
Coeur Mining produced a total of 18 million ounces of silver in 2012, placing it ninth on the Silver Institute's list of the world's top 20 silver producers.
US Silver & Gold (TSX:USA)
US Silver & Gold produces silver, copper and lead and, according to its website, is the second-largest primary silver producer in the US. Its operations are in Shoshone County, Idaho, near where the state shares a border with Montana. The company's Galena mine includes silver, as well as copper and lead, and has reserves of 23.2 million ounces. The entire Galena Complex has produced more than 220 million ounces of silver since modern mining began in 1953.
The company produced 2.3 million ounces of silver in 2012 and expects to increase its silver production by 10 percent in 2013, according to its annual report. Aside from Galena, US Silver & Gold's other key asset is the Montana-based Drumlummon mine, which has historic production of 1 million gold-equivalent ounces.
Hecla Mining (NYSE:HL)
Hecla Mining discovers, acquires, develops, produces and markets silver, gold, lead and zinc. Established in 1891, it is the oldest precious metals mining company in North America, its website notes.
The company has several operations, including a gold mine in Canada, a silver-, lead- and zinc-producing mine in Idaho and the Greens Creek silver mine in Alaska. It produces unrefined silver bullion bars at Greens Creek, selling them directly to customers or refining them further for sale to precious metals traders. Hecla recently acquired a stake in Brixton Metals (TSXV:BBB), as well as the entirety of Aurizon Mines.
Greens Creek was the 10th leading primary silver-producing mine in 2012, having produced 6.39 million ounces of silver. The company as a whole produced 9.5 million ounces of silver in 2011.