Chromium metal has proven of high value due to its high corrosion resistance and hardness. A major development was the discovery that steel could be made highly resistant to corrosion and discoloration by adding metallic chromium to form stainless steel. This application, along with chrome plating (electroplating with chromium) currently comprise 85% of the commercial use for the element, with applications for chromium compounds forming the remainder.

Chromium is mined as

chromite

(FeCr

2

O

4

) ore.
Rank

Country

World Production, By Country (Metric tons, gross weight) in 2009

1

South Africa

9,682,640

2

India

3,900,000

3

Kazakhstan

3,629,000

4

Turkey

1,885,712

5

Oman

784,082

6

Russian Federation

750,000

7

Brazil

630,000

8

Finland

613,543

9

Zimbabwe

484,482

10

Pakistan

320,000

11

Australia

224,809

12

Albania

203,850

13

China

200,000

14

Iran, Islamic Republic Of

188,000

15

Madagascar

84,000

16

Viet Nam

55,880

17

United Arab Emirates

34,350

18

Sudan

31,890

19

Cuba

25,000

20

Philippines

15,268

21

Afghanistan

7,000

22

Greece

1,400
Year of Estimate: 2008
The Bushveld Complex in

South Africa

has 80% of global reserves and produces approximately 50% of world chromite.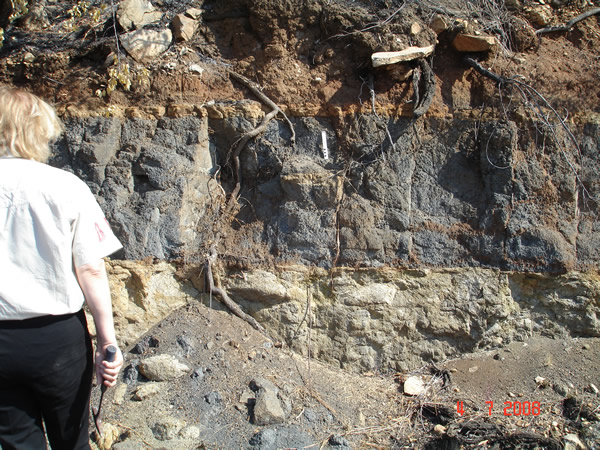 Chromite in the eastern Bushveld Complex, South Africa
Source:
http://www.bgr.bund.de/DE/Gemeinsames/Oeffentlichkeitsarbeit/Pressemitteilungen/BGR/bgr-090910-bilder.html
Chromite mining in Africa
Click

HERE

for an overview
(MBendi)
South Africa
Drilling underground in one of the chromite seams, South Africa.
Glencore plc, together with its pooling and sharing venture partner, Merafe Resources Limited, have a combined capacity in excess of 1,4 million tonnes of ferrochrome per annum derived from 18 furnaces at four metallurgical complexes. All of the group's chrome mines are shallow, underground mines. The gently dipping reefs of chromite are accessed by decline shafts. Mining is of a board and pillar nature and is currently conducted at depths ranging from 50 to 350 metres below surface. All development is on reef, thereby minimizing waste dilution. In addition to ore from its own mines, ore is purchased from nearby platinum producers, where chrome rich fines are discarded as a waste product.
Samancor

is the second largest charge chrome producer in the world, producing, subject to market conditions, in excess of 1 Mt of charge chrome, approximately 70 Kt of MCFeCr, and some 40 Kt of LCFeCr per annum. In addition, Samancor Chrome sells more than 700 Kt of chrome ore per annum, approximately 500 Kt of which is sold on the export market. The mines are located on the eastern (Eastern Chrome Mines) and (Western Chrome Mines) limbs of the Bushveld Igneous Complex. Typical production levels amount to some 3 million t per annum of saleable chromium ores for both internal consumption (approximately 2,3 million metric tonnes per annum) and local and export sales (approximately 0,7 million t per annum).

Eastern Chrome Mines is situated approximately 350km north-east of Johannesburg, close to the town of Steelpoort in the Mpumalanga Province, and consists of three underground mines, one opencast mine and one tailings re-treatment plant typically produc

ing around 1,7 million t of saleable product per annum.

Western Chrome Mines is situated approximately 130km north-west of Johannesburg, close to the town of Mooinooi in the North West Province, and consists of two underground mines, one opencast mine and two tailings re-treatment plants typically producing around 1.3 Mt of saleable product per annum.

Samancor is one of the largest ferrochrome producers in the world, providing three grades of ferrochrome namely charge chrome, intermediate carbon ferrochrome and low-carbon ferrochrome. Samancor started importing chrome ore from India in 2007 because it could not produce the volumes of ferrochrome it wanted to produce locally.
International Ferro Metals Ltd

is an integrated ferrochrome producer that listed on AIM (AIM code: IFL) in September 2005 and started production in January 2007, three months ahead of schedule. Head office is based in Sydney, Australia and the production facilities are located in the North West Province of South Africa. Reserves at Buffelsfontein and Skychrome are sufficient to produce 530,000 tons of ferrochrome per year for 40 years. An updated resource and reserve has indicated positive increases in tonnages and grades for ferrochrome producer International Ferro Metals' (IFM's) Sky Chrome and Lesedi mines in the Bushveld Complex, in the North West province, the company stated on 20 August v2013. The total resource had increased by 64% from 125-million tons to 206-million tons, with the average chrome oxide (Cr2O3) grade having increased from 34.49% to 37.57%. In addition, the total reserve had increased by about 6% to 92-million tons, with the average Cr2O3 grade having reduced marginally from 28.11% to 27.85%. The improvements in resource grade and tonnages largely reflected the remodelling of the resources at the Sky Chrome and Lesedi mines, as well as the conversion and addition of the inferred resources at Sky Chrome mine.
Chrometco Ltd explored the Rooderand chromite deposits north of Rustenburg and a deposit on the farm Naboom near Lebowakgomo. The company announced on 27 September , 2007, that it had sold its Rooderand chrome project to a private company, DCM Chrome, for R60m in cash. The farm Rooderand covers an area of 534.6ha and is underlain by three commercially viable chrome-bearing horizons, the LG6, the LG5 and the MG4 chromitite layers. South Africa's Bushveld chromite reserves constitute 75% of global reserves. Chrometco acquired the Rooderand mining rights in early 2004 and when it listed in August 2005 the intention was to undertake further exploration work on this farm, with the ultimate aim of proving-up chromite mineral tonnage. Chrometco drilled 2 core drill holes and 24 percussion drill holes, and in doing this identified the outcrop of the MG 4 seam over a strike length of 1,2 kilometres. Chrometco opened a bulk sample pit and undertook limited laboratory evaluation of the MG 4 chrome seam material. Previous mining took place on the adjacent property which is up-dip of Chrometco's Rooderand portion 2. Chrometco did not undertake a feasibility study on developing a chrome mine and no further geological work has taken place during the current financial year due to the offer to purchase. Chrometco was in the unique situation of holding a valid mining license on an undeveloped property with significant geological information available on its chromite resource at Rooderand.
Societe Kraomita Malagasy

(Kraoma), which is Madagascar's main chromite producer, produces around 40,000 t/y of concentrates plus 80,000 t/y of lumpy ore from the Andriamana complex, and a further 20,000 t/y from the Befandriana mine.
Zimbabwe Mining and Smelting Company

(ZIMASCO) produces high carbon ferrochrome from mines and smelters in

Shurugwi

, Mutorashanga and Kwekwe.

Sinosteel Corporation

agreed to buy Zimasco Consolidated Enterprises Ltd, the holding company for Zimbabwe's largest ferrochrome producer, for an undisclosed amount, Sinosteel said in September, 2007.

Zimasco produces 210 000 tonnes of high carbon ferrochrome annually, accounting for about 4 percent of global ferrochrome production, said its website.

State-owned Sinosteel and Zimasco inked the deal on September 19, following preliminary agreements earlier this year, according to the Sinosteel website.

Sinosteel has been one of China's more proactive state-owned firms in investing overseas. It has invested in iron ore mining and exploration in Australia, plans to build a steel mill in India, has uranium exploration ventures in Australia and Niger and has entered a ferro-chrome joint venture with South Africa's Samancor Chrome.