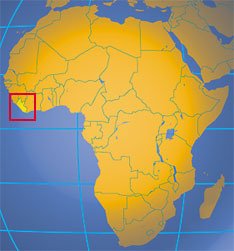 Liberian Geological Survey
CIA Factbook
Political rights and civil liberties (Freedom House)
Travel and accommodation
The contribution of
mining to total exports in 2010 amounted to 20.6%
Liberia Mining News
Source: CIA Factbook
Legend
Geology
Liberia forms part of the West African Craton, more specifically the segment known as the Man Terrane. The rocks forming this crystalline shield area consist of an older series of granulitic and migmatitic gneisses and amphibolites with subordinate granitoids. Remnants of slightly younger supracrustal rocks of sedimentary and volcanic origin are aligned predominantly in a NE-SW direction. Phanerozoic sediments are only exposed along a narrow coastal strip.
Mining
Mineral production in Liberia is presently limited to diamonds, gold and construction materials. Diamond production had increased by over 216% since the resumption of exports was legimitised. It was ranked 14th in Africa. Gold production doubled in 2008 but the country is still not in the top twenty producers in Africa. The country has substantial iron ore reserves but mining ceased during the 1990's with the onset of the civil war. Liberia's iron ore reserves at grades of 30-70% are probably the largest in Africa and there is renewed interest in the exploitation of the iron ore deposits specifically in Nimba county which has more than 1 billion tonnes of reserves hosted mainly by Precambrian Banded Iron Formations; the high-grade ores are the result of enrichment through laterization.
Artisanal and Small-Scale Mining (ASM) in Liberia - work of ASM-Protected Areas and Critical Ecosystems (PACE) project:

the

ASM-PACE Liberia Case Study Report

"details a case study of historical and contemporary artisanal and small-scale mining (ASM) in and around Sapo National Park (SNP), assesses the ecological, social, and economic impacts of ASM, the key motivations of diggers/miners, the responses of affected stakeholders, including the sustainability of the 2010 SNP eviction and makes recommendations for future action. It is intended that the lessons learned from the SNP case will feed into the development of sustainable responses both locally and in protected areas in other countries, either directly through ASM-PACE intervention programmes or indirectly through publications (tools, guidance notes, and project reports)"; read the full introduction to the case study on the

ASM-PACE

website.
Geological Setting and Exploration Potential
Described now as one of the last areas of virtually unexplored rocks in the world, interest and exploration in Liberia has rapidly increased, since the end of 14 years of civil war, as international companies come to understand its potential for major bedrock gold deposits and diamond rich kimberlite pipes.
Two thirds of Liberia is underlain by Archaean and Proterozoic rocks of the Leo Man Shield, which is part of the West African Craton that, prior to continental break-up, was once part of a larger Craton in West Africa and Brazil. Shield areas host around 50% of the world's giant gold deposits (>100 tonnes gold) and a multitude of smaller deposits, of the 1M oz class; important komatiite-hosted nickel sulphide deposits; the Great Dyke PGE deposits; volcanic hosted massive sulphide deposits; and important kimberlite and lamproite-hosted diamond pipes. West Africa is famous for its Birimian volcano-sedimentary belts and granitic rocks, which are between 2,200 million and 2,000 million years old. In Liberia the Birimian occupies the eastern third of the country and borders to the west the older cratonic core. It is this geology that has made Ghana Africa's second largest, and Mali its third largest, gold producer.
The Republic of Liberia fronts on to the Atlantic Ocean for some 560 km to the southwest and is bordered to the northwest by Sierra Leone, to the north by Guinea, and to the east by Côte d'Ivoire. Portuguese explorers visited Liberia's coast in 1461 and, during the next 300 years, European merchants and Africans engaged in trade. Today sixteen ethnic groups make up 95% of the Liberian population. Americo-Liberians (descendants of former U.S. slaves) make up approximately 2.5% of the population, and Congo People (descendants of former Caribbean slaves) 2.5%. Traditional religions are practiced by about 70% of the population, 30% of whom also follow Christian religions, 10% are Christian and 20% Muslim. English is the official language, but African languages are used extensively. The history of modern Liberia dates from 1816, when the American Colonization Society, a private United States organization, was given a charter by the United States to send freed slaves to the west coast of Africa. The first wave of emancipated slaves who landed in Liberia was western influenced and educated, alien in origin, life-style, culture, language, religion and habits to the indigenous Africans. In many respects, they re-created an American society in Liberia and Monrovia, the capital, was named after President Monroe. The original settlers who survived in the first wave of immigration formed the nucleus of the settler population and the ruling minority until 1980.
Mineral Sector Overview

(Source:

Liberian Geological Survey,

Ministry of Lands, Mines and Energy)
Geological Overview
Crystalline rocks of Precambrian age

Western half of country typically of Archean age

Eastern half, lenses of Proterozoic greenstones belts occur surrounded by rocks of probable Archean age

Rocks of Pan African age extend northwesterly along most of the Liberian coastline from the Cestos shear zone
Mineral Concessions
Permits rapid geologic assessment to determine potential
Maximum area: 2,000 km2
Validity: initial period of six months
Maximum size of area: 1,000 km2
Validity: initial three (3) years; optional renewal two (2) years
Right to conduct pilot mining during exploration
Mineral Development Agreement (MDA)
:
Validity: 25 year renewable until reserves exhausted

Duty-free privileges on mining equipment

Most terms are negotiable since it is a concessionCan be applied for during or after exploration

Free repatriation of profits and dividends

Income tax not exceeding 30%

Maximum size of area: 1,000 km2

Exploration Land rental of USD 0.25/ acre per annum

Mining Land rental of US$ 3.00/acre per annum
Gold and Diamond Development
After a period of sustained exploration since 1998, the
Mano River Resources
has launched a feasibility study that will lead to the production of gold from a mine to be developed within the next twelve months in the Gola Konneh District, Grand Cape Mount County.
The feasibility study is expected to confirm the existence of over 1.5 million ounces of ore which will result in an operating mine that will process over 100,000-150,000 ounces of ore annually. The mine, to be named the New Liberty Gold Mine, will be the first industrial mining type in the Liberia, departing from the small-scale alluvial type operation that has over the decades characterized the extraction of the mineral.
Overview of Mineral Exploration in Liberia
Alluvial diamonds mined widely in Northern and Western Liberia

Highly prospective Archaean craton

Kimberlite dykes and pipes suggest primary source

Recent discovery of cluster of diamondiferous pipes at Weasua
Overwhelming prospectivity for major gold deposits

Strong E-W and WNW shear zones associated with greenstone

Widespread occurrence of gold workings in all provinces

Part of the west African gold fields which hosts Sangura mine (Guinea), Ity mine (Ivory Coast), Syama mine (Mali), etc.
Iron Ore
1951-1985 > 613 Mt of ore mined

Estimated > 3,443 Mt reserves

Liberia was #1 producer in Africa
Major deposits
Heavy mineral beach sand deposits containing ilmenite, rutile, zircon and thorium are present in coastal zones along a 300 mile NW-SW coastal stretch as raised beaches up to 20ft high. Bauxite: bauxite occurs in the North and Southeastern parts of the Country. Detailed exploration work needs to be carried out to ascertain the total reserves.
Barite:
preliminary reserves estimate of 19 veins by Dresser Minerals in 1970 gives a total of 553,150 tons of barite to a depth of 500ft with in the Gibi. Further exploration could expand this. Phosphate: Bambuta phosphate deposit is located in the Clay district in Western Liberia, it has been proven to have high grade phosphate mineralization
Manganese:
The Mount Dorthrow Manganese deposit is located in Grand Gedeh county, Eastern Liberia. Commercial grade has not yet been established.
Kyanite:
Prospecting and exploration activities have revealed reserves up to 10 million tons of Kyanite bearing rock containing approximately 2.5 Mt in Mt. Montro in Grand Bassa county. Hydrocarbon potential: Information gathered from regional geological and geophysical data revealed that the continental shelf of Liberia can be rated as having fair to good hydrocarbon potential. According to latest NPV studies, Liberia's best potential for petroleum accumulation lies within deep waters.
Mineral Prospecting and Development
Recent feasibility study confirmed the existence of over 1.5 million ounces of ore which will result in an operating mine that will process over 100,000-150,000 ounces of ore annually. The mine, to be named the New Liberty Gold Mine, will be the first industrial mining type in the Liberia, departing from the small-scale alluvial type operation that has over the decades characterized the extraction of the mineral.
The mine will help to expand revenue to the economy and promote social and economic development in the community through employment, improved roads, bridges, schools and a clinic.
The same company through its Kpo Resources Mineral Development Agreement (MDA), has reported success in kimberlite discoveries. Analysis applied on a small 74kg sample conducted at the SGS Lakefield laboratory in Canada yielded a recovery of 57 micro diamonds with a total weight of 0.035 carats.
Also, total kimberlite mineral chemistry reveals abundant high chrome G10 garnets and diamond inclusion chromites which are suggestive of high rating for diamond potential. Drilling has also been carried out with the aim of delineating 4 kimberlite pipes.
Enough encouraging findings have now provided reasons to move to the next stage of a bulk sampling program. Mano has engaged the Ministry in this respect and has made indication of its intension to import and establish on site a 5 ton per hour Dense Media Separation (DMS) Plant with the objective of collecting about 2,000 tons of material from each kimberlite to be processed through the plant. This is a standard method used in bulk sampling, and Mano has indicated its desire to undertake this activity under the surveillance of the Kimberley Process Scheme so as to engender transparency.
Diamond
The UN Security Council in December 2006 renewed for six months an embargo, initially imposed in 2001, on the trading of rough diamonds from Liberia, but the ban was lifted on 27 April 2007.
Liberia May Be Largest Diamond Exporter...YDMC Research Reveals (Source: http://www.concern-liberians.org/)
A renowned geologist, Stephan Haggerty says that Liberia has the potential to be the world's largest diamond exporter based on findings in the northwestern part of Liberia. Stephan Haggerty is a professor at Florida International University, USA, a former professor at the University of Massachusetts, and a distinguished research professor. He has done research in diamond exploration and deep earth studies with major emphasis on West Africa, South Africa and India. He gets funding for his research from NASA and the National Science Foundation and Industry. Mr. Haggerty has published 130 peer-reviewed articles; 6 in science, 7 in nature; 14 book chapters; 5 book reviews; 13 open file reports and 13 abstracts to national and international meetings and conferences.
Mr. Haggerty, a Fulbright Fellow has received honors from many countries and was voted 60th in the top 100 scientific stories by Discover Magazine. He also served as a consultant for the USA, Liberia, Sierra Leone, India, Syria, UN, various mining companies including BP; DeBeers; and Delta. The researcher is on the board of at least three mining companies presently.
According to this man of vast experience in the mining field, Liberia has a bright future in diamond mining as seen through the evidence of large (perhaps largest) kimberlitic dike deposits in northwestern Liberia. Mr. Haggerty's discovery of large kimberlitic, which carries diamonds from dikes in the northwestern part of Liberia, is a new discovery in the diamond mining business.
In the past in diamond mining, geologists sought after pipes believing that those pipes held better deposits and now with this new discovery, dikes, especially ones found in northwestern Liberia have been found by Mr. Haggerty to have the potential to hold larger deposits.
The Youssef Diamond Mining Company (YDMC) which Stephan Haggerty is the President of, through the Lands and Mines Ministry, has been given mining rights in parts of Grand Cape Mount and Gbarpolu Counties.
The CEO of YDMC, Roger Youssef says that the findings made by Mr. Haggerty have the potential to generate some US$500m in just one of the dikes Haggerty has named from studies.
Mr. Youssef continued that they are planning bulk sampling soon as previous sampling has developed grade 'A' type diamonds. He noted that in the shortest possible time, the company will begin to tap into Liberia's large diamond deposits.
He called on the Ministry of Lands, Mines and Energy (MLME) to continue dialogue as these findings have the potential to create jobs, bring development and end poverty in the country.
The progress report program was also witnessed by the University of Liberia, Geology students who asked that Mr. Haggerty come and lecture at the University. For his part, the Acting Deputy Minister for Operation at the MLME said for long, the country has not tapped into this resource and surely Haggerty and YDMC will help the country know hidden deposits of the valuable stone.
"Stephan Haggerty is truly a marvel as this brilliant scientist has discovered Liberia's diamond potential which is estimated to surpass South Africa. Its now left with the collaboration between the YDMC and the Government of Liberia to make sure that those at the grassroots benefit from proceeds that will be generated from these diamonds, unlike past experiences," the Deputy Minister said. Mr. J.B. Konuwa, a local mining authority is the consultant for the company.
DIA

M

O

N

D

E

X

P

LORAT

I

O

N

I

N

NW

LI

B

ER

I

A

: DISC

O

VERY

OF

A

N

E

W

K

I

M

B

E

RL

I

TE

P

IPE AND

T

H

E

R

E

C

O

G

NI

T

I

O

N

O

F

A DIA

G

N

O

ST

I

C

B

O

TAN

I

C

AL

IN

D

ICA

T

O

R

.
Flo

r

i

da

I

n

t

e

r

n

a

t

i

on

a

l

U

n

i

ve

r

s

i

t

y

, M

i

a

m

i

FL

U

S

A

.
hagge

rt

y

@

fi

u

.

edu
1 Introduction
An exploration program on behalf of the Youssef Diamond Mining Company has advanced on several fronts with outstanding results. A paradigm shift in diamond exploration protocols was originally adopted by focusing on kimberlite dikes [fissures] that pervade the province and extend into neighboring Sierra Leone and Guinea. Large kimberlite pipes (hectares in diameter), were thought to simply not exist in the Man Shield of West Africa, a consequence of deep erosion over the past 100 million years. Dike targets are wider than most (~10 m) in dense and tropical swampy terrain. The tectonic control of kimberlites is complex, with diverse lithologies equal to, or greater than kimberlite dike systems globally. Discovery of a new diamond-bearing kimberlite pipe is reported and a species of Pandanus (stilt-like aerial roots) that delineates the brecciated pipe but not the associated affinitic dikes is recognized.
2 Methods
Ilmenite has been used as a critical kimberlitic-indicator-mineral [KIM]. The mineral is rounded (by gas abrasion in the erupting kimberlite and by alluvial transport), becomes larger (up to 10cm in diameter) in size and more abundant as the parent kimberlite is approached. Delicate, cryptocrystalline leucoxene (anatase + magnetite-hematite), in white to grey alteration rims, magnetic and clearly visible in the field, is only present in eluvium and in alluvial deposits some 50-100 m from a kimberlite. From selected ilmenite compositional parameters e.g. Mg vs Ti (distinguishing kimberlitic from non-kimberlitic ilmenite); Mg vs Cr (an indicator of diamond prospectivity); Mg vs Fe3+ (which serves as a proxy for diamond preservation); and ternary variables of Ilm-Geik-Hem (that reflect mantle oxidation states), it is concluded that the kimberlites examined to date have significant diamond reserves.
3 Kimberlite Dikes
Our discoveries include a well-defined regional trend for kimberlite dikes along reactivated fracture zones, Archean in age (Liberia Trend N26°E), coupled with kimberlite dikes of Mesozoic oceanic transform age (Sierra Leone Trend N56°E), as shown in Figure 1. Absolute ages correspond to the global Mesozoic intrusion event for kimberlites between 80 and 120 Ma. Cross-cutting relations confirm that the Liberia Dike Trend is indeed older than dykes along Sierra Leone Trend. The former are in reactivated fractures that opened during the initial rifting of Gondwana, whereas the latter are contemporaneous with drifting of the fragmented super-continent. Both intrusion events are considered to be driven by plumes from the core-mantle boundary at ~2,900 km.
Overburden of brown organic-rich soil on the dikes is ~1m thick; this is underlain by an in-situ eluvial horizon and is followed by solid unaltered kimberlite. Chilled margins at the country rock granite are glassy, grading to affinitic, and to coarsely crystalline textures at dike interiors. Explosive blows on the dikes are brecciated and have marked, dislocation sheared - contacts (Fig. 2). There are few polycrystalline xenoliths in the dikes and blows but discrete ilmenite, garnet [E-eclogitic and P-peridotitic], clinopyroxene, and zircon are abundant (Fig. 3).
Dikes in both orientations, as well as blows on these dikes are diamond-bearing; the blows, as predicted, contain fewer (~30%) microdiamonds than the associated dikes. Caustic fusion of 645 kg of kimberlite yielded (0.3 stones/kg) of microdiamonds (<0.5 mm) that are predominantly white/colourless (99%) clear transparent and displaying good clarity with very little surface corrosion. Minor etch features, such as ruts and tiny etch pits (trigons) are noted on less than 30% of the population. The microdiamond population is dominated by octahedral crystals (49%) and composite octahedral crystal aggregates (33%). Very few dodecahedral crystals (10%) clearly indicate the diamonds have not experienced severe dissolution during pre-or post-kimberlite emplacement, which is commonly the case in most kimberlites from southern Africa.
4 Kimberlite Pipe
The micro-diamond dike data set are consistent with the artisanal recovery of diamonds over the past 70 years at Camp Alpha in Cape Mount County, and with the fact that West Africa produced an astounding 10% of the world's diamonds in 1977; these included some of the largest diamonds [>300 ct] ever reported. With this in mind, and from an earlier (1979) observation by the author, the question arose as to whether the diamond recoveries were intrinsically related exclusively to swarms of kimberlite dikes rather than isolated pipes. It was not until very large ilmenites [>10 cm in diameter] were found that a pipe was suspected. From soil tests and systematic pitting, a diamond-bearing kimberlite pipe [~500 m in length x 30-50 m in width], is now confirmed en echelon to the Liberia Dike Trend [N26°E]. With a 10:1 aspect ratio the elongate kimberlite pipe is unusual but not unique: In South Africa, Du Toits Pan at 870 m is 10:1; K1 Venetia at 678 m is 7:1; and Pipe 2 in Finland is 10:1. Two exposed sections [~250 m2] of the new pipe show that the organic overburden, eluvial horizon, and depth to fresh kimberlite is similar to the stratigraphy found in the dikes. The xenolith suite, however, has abundant eclogite with ilmenite and in this respect the assemblage is very similar to the Koidu Pipe in neighboring Sierra Leone.
5 Bulk Chemistry
Bulk chemical X-ray fluorescence data were obtained on samples from well exposed kimberlite pavements, in which the organic overburden and the eluvial blankets were removed; by jack hammering, we are reasonably well assured that the effects of surficial weathering are minimized. The central cores of the dikes are pristine and correspond to Type 1 kimberlites in South Africa and Koidu, Sierra Leone in major and trace element plots. The fine grained, affinitic dike contacts surprisingly show minor crustal contamination with higher SiO2, CaO, Sr, Rb and lower MgO, Nb, Ni, Cr and Ti. Overall, MgO is approximately equal to SiO2, and both Cr and Ni exceed 1000 ppm.
6 Botanical indicator
The brecciated pipe, but not the affinitic dike complex, is delineated by an unusual "plant" with aerial [stilt-like] roots, thorn-encrusted palm fronds, and reaching heights of 10-15 m may be a new species in the genus Pandanus (Fig. 4); root-casts (rhizoliths) have extracted
magnesium, alkalis and phosphorous from the kimberlite leaving residues of hard Si-enriched tubes in the soft eluvium. This diagnostic growth is confirmed at two other sites in the area and holds enormous potential for the exploration of kimberlite pipes in Liberia and possibly elsewhere in West Africa.
Aerial root Pandanus grove in kimberlite pipe
7

Acknowledgements
T

h

a

n

k

s

to

Y

D

M

C

f

o

r

p

e

r

m

issi

o

n

to

p

r

e

s

e

n

t

t

h

e

se

r

e

s

u

l

t

s;

t

h

e

a

d

va

n

ce

d

a

n

a

l

y

t

ic

a

l

f

a

c

i

l

i

t

ies

a

t

F

IU

f

o

r

S

EM

an

d

E

M

P

A

;

an

d

M

S

A

f

o

r

t

h

e

m

icr

o

-

d

ia

m

on

d

d

e

ter

m

i

n

a

t

ion

s.
Click

HERE

for an overview
Artisanal mining

of the alluvial terrace gravels located along the Lofa River, Mano River and Morro River, in the Lofa province of northeastern Liberia, and in the Gbapa area on the Guinea boarder.

Diamond Fields International Ltd

through its subsidiary company Diamond Fields (Liberia) Inc. ("DFL") has been actively exploring both the Grand Cape and Grand Geddeh exploration permits, which are held under a joint venture agreement with Ducor, a Liberian registered company. Regional exploration of the two properties has defined 10

diamond anomalies associated with G10 garnets in the Grand Cape property, and seven gold anomalies, six of these anomalies being located with the Grand Geddeh property.

The Company has now changed its exploration strategy from regional assessment to specific evaluation of these exploration targets. The current focus of activity has been on a gold anomaly within the Henry Town region of the Grand Cape property, where native gold is exploited by local artisans, which previously returned gold values of up to 13g/t gold in DFL's grab samples. The gold is contained in quartz veins associated with a Birrimian (Proterozoic) age transgressive left lateral shear zone, which boudinages and

juxtaposes basement gneisses and supracrustal lithologies.


An exciting diamond find has been made in Liberia, Incubex Minerals chief operating officer Dr John Bristow said on 20 August 2013. Bristow said the discovery of what appears to be a kimberlite pipe had been made by South Africa-born geologist Steve Haggerty, CEO and chief exploration officer of Youssef Diamond Mining Company (YDMC).

The pipe is located in Liberia's Camp Alpha region of Cape Mount County. The US-funded YDMC has been working in deep jungle in a cratonic area regarded as highly prospective and is now taking steps to scope and develop a plant for the conducting of the pipe's economic evaluation. If the pipe turns out to be economic, it has the potential to boost Liberia's developing economy. The pipe, along with an associated kimberlite fissure system, is almost certain be the source of the diamonds that have supported a downstream alluvial artisanal diamond mining community for the past seven decades. In neighbouring Sierra Leone, the Steinmetz group has the Koidu diamond mine. YDMC said in a media release that the pipe had a proven length of 438 m and a width of up to 45 m. The Star of Sierra Leone, which was discovered in the Koidu area in 1972, is said to be the largest alluvial diamond ever discovered. The 968.9-carat diamond, which New York City jeweller Harry Winston reportedly bought for around $2.5-million 41 years ago, is described as having perfect chemical purity.
Click

HERE

for an overview
Geology
Highly deformed greenstone belts in gneissic terrain in the Archean age Man Shield. Gold deposits are associated with high strain zones adjacent to or within shear zones. Mineralization occurs in pyrrhotite and arsenopyrite bearing mafic to ultramafic schists that have undergone greenschist to amphibolite grade metamorphism.
Mano River Resources Inc

(Canadian, MNO.V, also active in Sierra Leone and Guinea, now Aureus Mining Inc) had extensive holdings in western Liberia. The most advanced prospects, King George and Larjor (KGL), have a combined indicated 1,078,127 t at a grade of 5,23 g/t Au. In March, 2007, the company released the results of a feasibility study on what was then called the New Liberty Project ( 3 open pits) with Proven and Probable Reserves of 4,6 million tonnes grading 3,9 g/t Au containing 573 000 ounces of gold (JORC and National Instrument 43-101 compliant).
Aureus Mining Inc (formerly Mano River Resources) has been actively exploring the area since 1998 when the Bea Mountain Exploration Licence was granted in 1998, covering an area of roughly 1,000km2. A Mineral Development Agreement for 25 years followed in 2001. The civil war between 2001 and 2003 limited exploration work, but exploration gained momentum once more after the democratic elections in 2005. In 2010 a Class "A" mining licence was granted for a production area of 457km2 and definition drilling undertaken. The New Liberty gold deposit is situated in an area of intensive alluvial gold mining, known as Gold Camp. The subsequent discovery of primary deposits up-stream led to the development of two major hard rock artisanal mining camps, Larjor and Kinjor. The Weaju Prospect, situated some 30km to the east/north-east of New Liberty, has been the focus of intermittent mining activity over the last 50-60 years. To date 400m of drilling have been completed, with eight diamond drill holes confirming the presence of a high-grade lens of gold mineralisation. The Gondoja Hills area, 10km north-east of Weaju, is historically one of the most productive gold districts in western Liberia. A total of five diamond drill holes have now been completed at Gondoja.

Key highlights of the NI 43-101 compliant feasibility study of New Liberty released in 2012 include:

Proven and Probable Reserve of 8.7 Mt at 3.3g/t for 910 koz of contained gold, which is an increase of 4% from the initial Reserve statement in February 2012.

There is scope to increase current Reserves further through drilling of inferred resources on hanging wall lenses within the pit as well as drilling of inferred resource blocks just below the bottom of the current optimised pit.

Average annual gold production of 120,000 oz over the first four years of production at an average grade of 3.7g/t with total gold production of 846,000 oz over the eight year mine life

Life of mine ("LOM") operating cash cost will average US$ 685 / oz, using contract mining

Initial capital cost estimate of US$ 140 million (excluding contingency)

Total revenue is US$ 1.2 billion and pre-tax cash flow of US$ 338 million based on an average gold price of US$ 1,400 / oz

The Feasibility work was completed to within a 10% cost accuracy based on firm tenders received from suppliers and contractors.

The Company believes that there are multiple, further opportunities to optimize the project and this work is in progress and will be completed in Q1 2013. A mine build and production schedule will be outlined in Q1 2013 Open pit mine and gold plant designed to treat 1.1 Mtpa of primarily unweathered ore. The plant design incorporates two stage crushing, ball milling, gravity concentration and a Carbon-in-Leach ("CIL") circuit for a full steady state recovery rate of 93%.

Experienced senior management team being developed. GM Construction, a Metallurgical Manager and an Environmental Manager were all recruited in the last 12 months.

25 year, renewable, Mineral Development Agreement and mining licence in place and EIS permit expected in early Q4 2012 following the completion and submission of the EIA to the Environmental Protection Agency of Liberia in July 2012. With receipt of the environmental permit, Aureus can move quickly to obtain any other procedural and functional permits required for construction There is strong interest in financing the project from various banks and financial institutions. Indicative financing terms have been received from a number of financial institutions, giving the Company significant optionality on debt financing. Aureus Mining (formerly Mano River Resources) said in March 2013 that it was expected that in 2014, the first gold would be produced from the New Liberty Gold Mine. Aureus announced 23 July 2013 it has discovered around a million ounces (30 tonnes) of gold beneath two towns in western Liberia and said that as a result thousands of residents would be relocated. "The re-location exercise is about moving people of the towns of Kinjor and Lajor to a new site because they are sitting on the pit; the mine," said Shirk Sonii, spokesman for the Aureus Mining Company which has the mining concessions in the area. Aureus Mining is engaged in the exploration and development of gold deposits in under-explored areas of Liberia and Cameroon. This is the first commercial gold mining operation in Liberia, and Aureus' Liberty Gold Mine is expected to produce 120,000 ounces per year over an eight year span with production on track for the first deposits to be recovered in the last quarter of 2013. In monetary value, it is expected that the company will receive $120 million from its annual sales. According to Sonii, thousands of residents must be relocated to land about five hundred miles away from the blasting zone. Scheduled to be resettled October this year, residents of Kinjor and Lajor have agreed to relocate given what the company has promised to them. "We are pleased to relocate because they are going to build better structures than those we are currently living in... They are now building a school for our children," Kinjor town head Lasana Sambola told AFP by phone. Since the end of a civil war a decade ago, Liberia has accrued over $18 billion in direct capital investment mainly for the mineral, oil and agriculture sectors.
Typical mineralization at New Liberty. The gold is hosted by sulphidic ductile shears in a metamorphosed and silicified ultramafic intrusion.
Source: http://sprottglobal.com/natural-resource-investing/site-visits/?albumId=3307
Hummingbird Resources has 3 gold projects in Liberia with the Dugbe 1 Project at the definitive feasibility stage. The Dugbe Shear Zone area consists of 2,000km² in central eastern Liberia, lying some 40km northeast of the coastal town of Greenville. The Dugbe 1 Project is underlain by Birimian geology, making it highly prospective for gold, and is currently Hummingbird's most advanced project, with over 61,000m of drilling and a 3.8 Moz gold resource. Hummingbird released on 8th April 2013 a Preliminary Economic Assessment on the Project. On an owner operated mine of 3.5Mtpa the project has an NPV of $337m and an IRR of 43%. Initial Capex is $212m with payback in 3 years with average production over 20 year LOM of 125,000oz.

This licence covers 80km of strike length of the major, regional Dugbe Shear Zone which is a prominent northeast – southwest trending structure.

In addition to the drilling, approximately 8.000 soils have been taken in the Dugbe licence area, leading to nearly 8,000m of trenching.

In February 2012, the announcement of a new 2.05Moz gold Inferred Resource at the Tuzon deposit (52.8 million tonnes at 1.21 g/t Au), a figure achieved after only four months of drilling, making our resource growth one of the fastest in Africa last year.

The Tuzon deposit is open in several directions, and the drilling of an additional 4,650m in 21 holes in Q1 2012, confirms an extension of up to 400m to the north of the Tuzon deposit. More than 15,000m of diamond drilling has been completed since Q3 2011.

Gold assay results from soils at Dugbe Block D have been highly encouraging and show an east-west trending gold in soil anomaly, with coincident arsenic in soils, measuring 1.4km across, with two distinct anomaly highs which are open to the west and east. A programme of 850m of trenching over 5 trenches has been completed, with assay results pending.

At Dugbe Block B over 400 high-density spur samples have been taken on low ridges which appear to be associated with silicified zones and abundant nearby artisanal workings. These zones broadly tie up with previous coincident gold/arsenic soil anomalies, and line up well with the regional east-north-east trend which is prevalent in this area. 900m of gold in soil anomalies have been trenched so far in 2012.
Coarse gold visible in core sample
Diamond Fields International Ltd is exploring the Henry Town and Guyama shear zones, in Liberia and the Henry Town zone has shown the existence of near continuous anomalous gold mineralisation.
Resources giant BHP Billiton has increased its drive for African iron ore, a move that will allow it to diversify its reliance on Australian mineral stores in the longer term.

The bulk of BHP Billiton's iron ore production comes out of Australia, where the resources industry is currently fighting a proposed 40% tax on resources "super profits".

At the weekend it was reported that BHP Billiton has signed a landmark mineral development agreement with the government of Liberia.

The agreement is expected to pave the way for new iron ore operations in Liberia's Nimba, Bong, Grand Bassa and Margibi counties.

According to independent newspaper the Liberian Observer, some details of the agreement released by the government put BHP Billiton's total investment portfolios in the country at about $3bn.

Negotiations reportedly took 18 months to conclude.

Super tax is greatest global risk

The Australian newspaper reported that BHP Billiton was planning to develop an iron ore hub in West Africa.

It said BHP Billiton planned to combine development of its Nimba iron ore deposit in Guinea, on the Liberian border, with that of the four Liberian deposits it has been excavating.

Nimba is expected to cost more than $2bn to develop.

"The company believes the area is home to some of the world's richest deposits of iron ore and says it has parallels to the 1960s start-up of Western Australia's famed Pilbara iron ore region," the newspaper reported.

While there has been no direct connection between the Liberian deal and Australia's new tax regime, BHP Billiton has said the tax would force it to prioritise global investment opportunities ahead of those in Australia.

Mining groups have viewed the proposed new tax as the greatest sovereign risk facing their companies globally.(Source:

-Net Bridge | Mon, 14 Jun 2010 18:04

[

miningmx.com

]